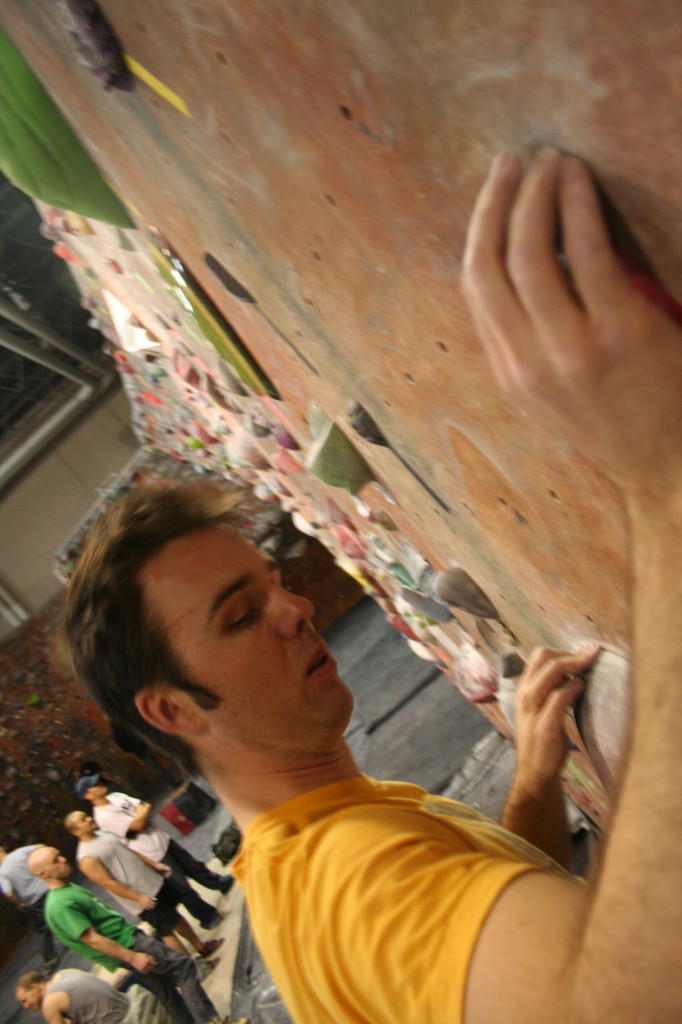 We moved to Utah nearly a year ago- waltzed into Momentum, cause we didn't know where else to climb, and said, "Where do you sign us up?" Climbing for us is an outlet, a must have family bonding item. So naturally when we moved it was near the top of the list- right after the nearest grocery store.
The kid bouldering section is extensive, fun, and safe. They have numerous kid routes and friendly employees. In addition to their impressive square footage, they have added benefits like a cardio and weights room, yoga classes, climbing teams, lessons and kids camps. New to climbing? Fitting a harness, tying into a toprope, toprope belaying and bouldering safety lessons are included with admission and rentals are $5 for shoes and a harness.
Momentum has made climbing indoors with kids easy and fun.  I can check the webcams to see how busy it is, we run over during lunch and let the kids climb and run their energy off. They even have a great coffee shop and free wifi Internet for those days when your climbing buddy is running late.
RAFFLE OFFICIALLY CLOSED!
The best part? Momentum has given us 4 day passes (valued at $15 each) to raffle off to our readers!  So if you are from Utah, or planning on visiting soon, and want to do some FREE climbing, here is what you need to do:
Go to our Facebook page:( https://www.facebook.com/pages/The-Kid-Project/116626285112524) and hit the "like" button.
Leave a comment on this post that you have done it…and that is all!
Using a random number generator, we will choose one lucky winner on Tuesday, November 29 and will post the information on our site as to how you should retrieve those passes.
Raffle officially closes on Tuesday, November 29 at 12pm. 
Open to U.S. residents only.
For more information on Momentum visit www.momentumclimbing.com