3,000 mile road trip from Colorado to Washington down the coast to California and back? I'm in, just disregard my giant belly housing my unborn son at 7mos. I'm generally up for an adventure, but this was charting new territory for me and despite the challenges, both foreseen and unforeseen we had a great trip.
We left in the evening in a borrowed minivan…folded down one of the side seats and put a single air mattress on the floor so we could trade out sleeping. In addition, this allowed me to stretch out to reduced the need for frequent stops.  We drove straight through (with plenty of bathroom stops and of course the occasional gas station nacho and ice cream).
Our first stop was a rental house on the Olympic Peninsula in Washington for a few days and we also camped for 2 nights in the Hoh Rainforest. The camping toilet became my best friend, not having to leave the tent in the pouring rain multiple times a night was wonderful. We went on several hikes, went kayaking with a group of sea lions, gathered our own oysters and grilled them for dinner.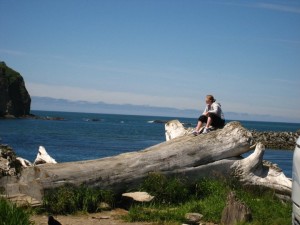 Next, we spent 2 days in Seattle then drove down the coast to California, car camping one night on the way. When I say car camping I mean we inflated an air mattress and put it in the back of the van.  After staying with family for a few days in California we hit the road for home having made a lot of great memories (some of which I won't remember due to pregnancy brain) and traveled over 2000 miles by car.
Here is what I learned:
Pregnant women are at a higher risk of getting blood clots. Frequent stops and stretching are a must, so be flexible with how long it will take to get to your destination.
Snacking: Bring healthy snacks and try to avoid ice cream at every pit stop. I gained 8 pounds in 2 weeks.
Swelling: My ankles more than doubled in size. Try to elevate when not driving, and bring shoes that you can "grow" into.
Comfort: Air Mattress is a must. Bring as many pillows as you need to sleep comfortably, I was up to 7 at this point.
Sunscreen: You burn easier when pregnant.
Helpful gear:
Camping potty: I will never camp pregnant without one. If it doesn't fit in your tent (ours didn't) put it in the vestibule, you don't have to leave the tent to go in the middle of the night. An added bonus when you're camping in a rain forest.
Air Mattress: as mentioned above. Great for the tent. We also had a minivan so we put the air mattress in the back and slept in the van a couple times too.
Tummy Belt: I think you can get them at Motherhood Maternity. It helps hold up the extra weight of your belly, a must when hiking, and it will save your back.
Camelbak: Staying hydrated is always important but especially when pregnant.
All that being said, have fun!  Laugh at yourself! You think getting dressed in a tent is tough? Try it when you can't sit or roll over. My husband learned to stay near the tent so when I was ready to get out I could yell "HOIST" and he could come pull me out of the tent. Remember, pregnancy IS part of the adventure.