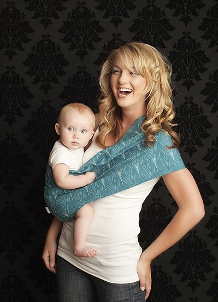 A few things about us: 1. we aren't a stroller family 2. we are habitual "baby-wearers" when the kids are young but 3. I am a sceptic when it comes to baby slings. I learned this week, though, that the Seven Sling has a place in my baby gear repertoire!
(FYI, my youngest child is 18 months, a walker, and roughly 20 lbs.  I am reviewing this product based solely on this information and do not have experience using the Seven Sling with an infant.)
One of the greatest battles of three kids is this: they all want to do what the others are doing, but their ability levels are all different. Case in point: we go to the store, Esme (youngest) wants to walk with the big kids. But 10 minutes later wants me to carry her the rest of the way. Not ok. She might only be 20 lbs but my back and arms are still aching by the end of it and shopping took twice as long as I toted her around the store.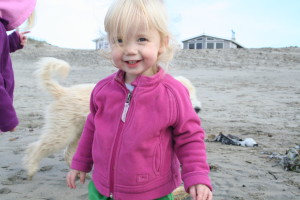 So I stuck the Seven sling into my purse (fits quite nicely) and this time when Esme wanted "up peeeze" I stuck her in it. Ta-da! Two free hands! Her weight held close to my body and on my hips! Happy baby, happy mom.
Of course there are a few negatives…because it wraps over only one shoulder that shoulder carries a lot of weight and can tend to get tired. And while you technically have two hands free, the wrap over the shoulder inhibits movement of that arm.
The best uses for this product? Well, probably not a 5 mile hike. But for the around town, traveling, zoo, park, or store times where Esme will want to oscillate between walking and being carried? Yes, it might very well save my day! Or my arms…
Oh and did I tell you I LOVE the fabric? In my opinion the pictures online did not due the colors justice. The Northern Lights sling I received was cuter in person. Even my husband noticed. The fabric is sturdy, so it won't loose its shape, but is smooth (for easy in and out). These slings would also make great gifts!
This part is for you: RAFFLE OFFICIALLY CLOSED
Seven Slings offered to sponsor a giveaway! Yay, right?  We all love free stuff.  Especially USEFUL free stuff.
Here is how you enter: Leave a comment sharing your favorite color sling from the Seven Slings site.  For an extra entry share this post on Facebook, Twitter, or Google+ and leave us a SECOND COMMENT telling us you did so and the url if applicable. Raffle entrants will be assigned numbers based on the order in which they commented. Raffle officially closes Friday, December 9th, 2012 at 12 p.m.  Happy Monday everyone!
Reviews are based on my own honest opinion and experience.