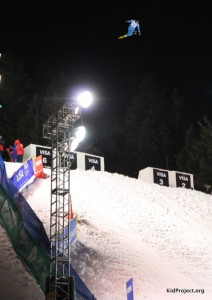 Sometimes it amazes me what I will do out of sentiment. It's not that I don't love freestyle skiing in itself — I do. However, much of what I love is the feelings, memories, emotions and experiences I had growing up and living in the "freestyle" world during my teen-years. So when the 2012 VISA Freestyle World Cup came to Deer Valley, I talked my husband into saddling up the horses and heading up for an event.
Just getting there [out the door] was an adventure in itself, as any family with multiple toddlers can attest. There were early naps, multiple naps, snacks packed, meals planned, layers accumulated. But we did get there.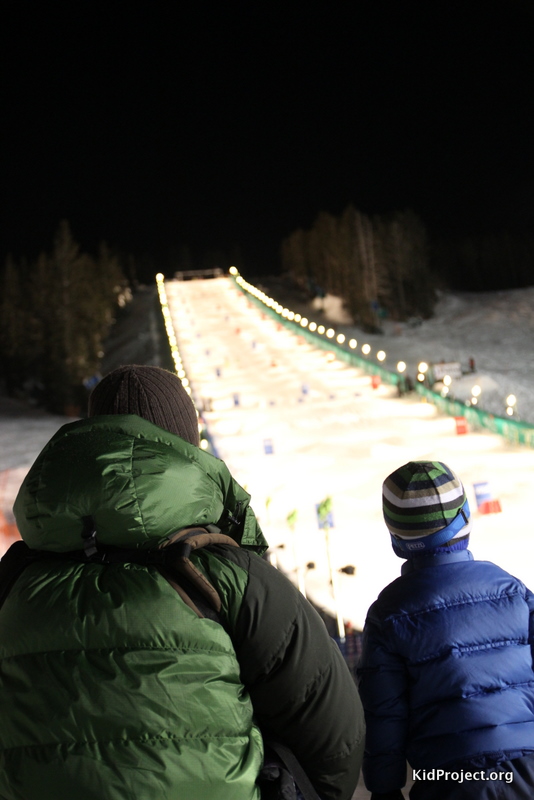 We got to take a moving carpet and the world's slowest chair lift up to the event [in addition to some light hiking], but it was worth our mini-trek up the mountain. As we came over the last hill, lights dancing off the snow, mogul skiers training on the bump course, aerials right next door…I was filled with nostalgia. I don't mean to imply I ever skied a World Cup [not even close]. That perhaps, was never my aim. But I was getting to introduce my own kids to something that used to be a mighty large part of my life as I grew up. I delighted in their wide eyed wonder. I chuckled as my son asked if he could do that [moguls] and I said, "sure, after you learn to turn."
But my trip down memory lane was short. It wasn't long before the kiddos were cold, the baby tired, and I was silently kicking myself for not bringing more layers and at least a couple packets of hand warmers. Even after all the posts I've written, after the variety of situations and all the gear and clothing we've bought, I still found myself unprepared for how cold it would be. What was worse was knowing the answers to these problems were sitting at home in drawers… Ah…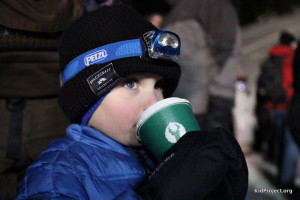 One thing I was thankful for? Our adventure budget. Yes, there is actually a part of our budget called "adventure $." We all know between the gear and travel, our money seems to fly itself right out the window. But beyond that, adventures can be expensive because sometimes they go sour and the only answer is to buy yourself out.
I cannot tell you the amount of times our planning was insufficient or we were simply caught off guard – an extra meal out [or two], a night at a hotel, an extra pair of long johns from the base ski shop…you never know. And we certainly don't always know. So we set aside money just for it. Why? So that on top of hungry kids and crying babies, tired parents and gear anomalies, we don't have to stress out about money too. So I was thankful for our Adventure Budget. The extra food we bought, the hot chocolate to warm the kids, extra layers bought and paid for…Oh and candy hearts saved the day!
What did you do this weekend? And did you learn anything from it?