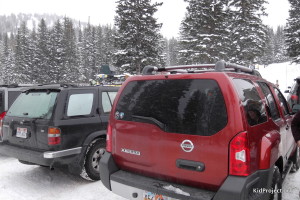 Since we moved to Utah, just over a year ago, we have begun our Tour de ski resorts. I grew up in Colorado and have skied nearly every resort it has to offer, but I had never skied Utah until I moved here.
Well, this last month and a half it was Brighton's turn, cause…they had cheap ticket packs on sale at Costco. Never having heard anything about it, we jumped in. The first trip was amazing…but let me explain. We "just happened" to have scheduled a ski day for us (all day sitter for the kids) and the night previous it dumped 26″ of powder. We fought hoards of powder hungry people (first storm of the season) and enjoyed hours of deep white bliss. How could we not love Brighton?
Well, we went back this weekend and while they had 40″ of new snow over the last 3 days, most of it was skied off. On the flip side we were able to enjoy the third-row-from-the-lift parking spot. And we got there at 8:30am. [This is a distinctly Utah thing. It always "wows" me, cause you don't find this in Colorado.] So we began to figure out what the day-in-day-out Brighton was really like.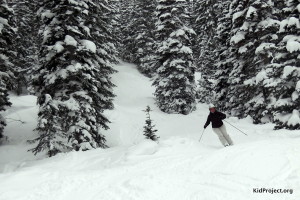 I'll be honest, I spent the first half of the day disappointed. Nothing nearly as steep or long to get your heart racing like at Snowbird or Alta. No moguls. [I grew up skiing Winter Park/Mary Jane. So you know…] Just a lot of, well, snowboarders wearing ridiculous ensembles. You know the ones – XXXL jacket unzipped, pants so baggy you almost want to tail the person to the first jump and see if they stay on.
But we did find a few pockets of gold while we were there. Something few ski areas can boast: Lots of great tree skiing. We hit the trees looking for powder remnants [not much] but had an absolute blast! The best part was realizing that when our kids graduate from the bunny hill at Snowbird, there is a ton of terrain waiting for them at Brighton. While we love the Little Cottonwood resorts – they sort of go from bunny hill to double diamond extreme, with little in-between. And the low key, no stress feel of the place is perfect for a family. So do you have kids who can turn, stop, and love to race through the trees and catch random air off beginner friendly jumps? Then hit Brighton when you come to Utah!