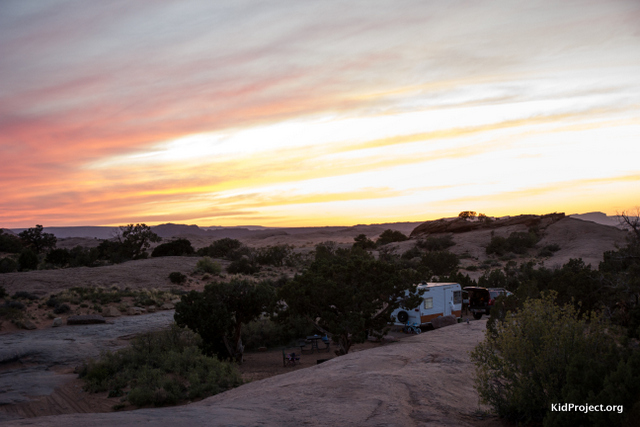 Moab, UT. For me it is a little slice of heaven. Funny though…we went there many times during college and nearly every trip became epic in someway. Things just always seemed to go wrong – running out of water while backpacking, cold nights, injuries from biking… And yet we always go back and we always leave with fond memories. And we are always astounded by the beauty there.
Well, that same group of friends that always traveled together in college is now spread out all over the world, and for whomever could make it, we planned a sort of reunion trip to Moab, family style.
By family style I mean this: 16 adults, 14 kids ages 5 and under [one kid turned 6 while we were there], and 2 dogs. Wow.

Our family went four days early. A little extra vacation mixed in with the need to reserve a ton of camping sites during one of the busiest Moab weeks. We celebrated Easter desert style [and I am convinced I want to camp every Easter now]. We hiked Arches National Park, we biked on the slick rock, dug in the dirt, climbed a few routes, and enjoyed fabulous warm weather. Until…the rest of the group showed up and… [do you remember that "things always go epic" when we are all together?]. The weather turned for the worse. Drilling winds laden with sand. Really cold nights. A little rain. Bummer. At one point it was too windy for a fire, and all the kids were tucked away sleeping in tents and campers, so us adults were left to huddle around a small lantern and chat. It was cold. But somehow the memory brings a smile to my face.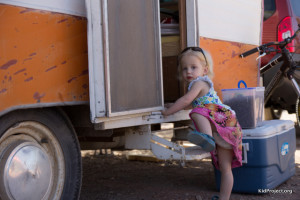 A weeks worth of adventures is way too much for one post. Here is what you can look forward to over the next week: tips for sleeping kids in VERY cold tents, crafts and activities for around camp, and destination reviews on Sandflats Campground [a must], Arches National Park, and climbing with kids at 'School Room' on Wall Street.
The Tip Jar [Top 5]: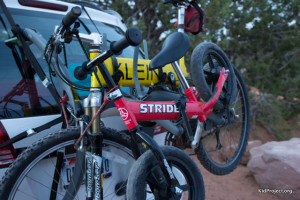 5. Beco II Butterfly Carrier: this honestly might just make it on EVERY top five list, but then maybe after awhile you folks will get how awesome they are! Here is our review of them.
4. Approach shoes: I always had weak ankles, so I've been partial to full on hiking boots with ankle support. Well, I scored a pair of 510 Approach shoes at the last REI garage sale and I never knew I could love them SO much. It seems having climbing rubber on my shoes really does keep me from tripping my way down the trail [increasingly important when wearing a baby on your back]. And the increased traction actually supported my ankles in a way I never expected. They are my go-to-shoes from now on.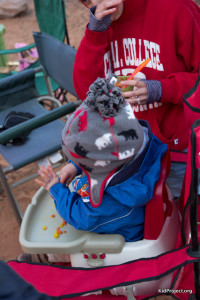 3. Booster seat: We've always brought along our portable plastic high chair for camping. They work great, can strap on the picnic table, a chair or just set on the ground. They keep those 1-2 year olds contained and happy.
This trip I saw another brand that was awesome. It is the Regalo My Portable Chair. Think a booster/high chair, with straps to buckle the baby in, and it folds up like a camping chair. Ingenious and inexpensive!
2. Strider Bikes: While most kids on bikes with training wheels can only negotiate smooth cement, Striders are awesome on rock and dirt trails too. Never, ever, forget the bikes when you head to Moab!
1. Our camper trailer: No, I am not kidding. When that cold weather moved in, I wanted to cry for all our dear friends out in tents, with cold kiddos and sand raining down on them. I know how they felt. Cause we've spent years doing it. And this was our first trip ever with our camper or any camper for that matter. It was awesome.The kids slept soundly, we were all warm, and no one had to get up at 5 a.m. to start warm water for breakfast. In the words of Crush from Finding Nemo, "It so totally rocked."