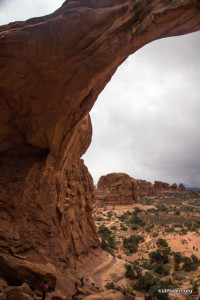 Honestly, looking at the map of Arches National Park last week, deciding on what to hike, I was a little torn. Why? Cause one of my favorite hikes is to Delicate Arch, the same arch we tote around on our Utah licence plate. That one-and-the-same iconic landmark of sandstone. I love Arches, but the remote, serene part of me bawks at the crowds.
So there is the down side to Arches in the spring, the crowds. That, and maybe the "no pets allowed on trails" thing. Being new to dog ownership I am not used to this. Do all National Parks say, "NO" to dogs?Anyways, get an early start to beat the crowds, even mid-week. The rest of this post will be highlighting Arches' awesomeness.
Location: Arches is located 5 miles north of Moab, UT…or as their site summarizes:
110 miles southwest of Grand Junction, Colorado
236 miles south of Salt Lake City, Utah
360 miles southwest of Denver, Colorado
350 miles north of Grand Canyon National Park's South Rim
Cost: $10/vehicle [good for seven days]. And can I just add, if you are planning on being in Utah for some time, just get the annual pass. We have SO many awesome National Parks, it is well worth it.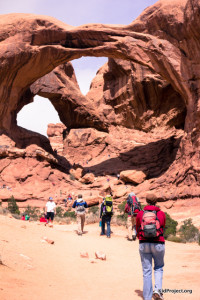 What to expect: Well, other than the crowds, you can expect to see some of the most sought after scenery in the west. There are over 2,000 stone structures to take beautiful posed pictures in front of. Or not :).
One of our favorite things about Arches is this: it is practically designed for kids. This is what I mean:
Most the hikes are the perfect lengths for children. For example, I looked up the hike to Delicate Arch [approx. 3 miles round trip, less that 500 ft elevation gain] marked as strenuous due to length and some exposure. Strenuous. A strenuous hike to me is hiking Long's Peak [16 miles RT, 4,000 ft of elevation gain]. As a single, I sort of hated the lack of challenging hikes. But hey, I am a parent now. Most our hikes are limited to the 1-2 mile range. And I don't necessarily want to spend all day dragging my two older toddlers up a steep incline.
So right now Arches is perfect for my family.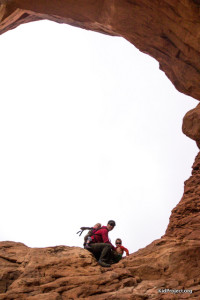 And while most my kids didn't seem to get the infinite coolness of an arch made of sandstone, they did get the infinite coolness of climbing all over the base of them and jumping off rocks into sand.
So if you have young kids, and hiking can be sort of a drag, pack the car up and head to Arches. It might be one of the only National Park perfect for toddlers. Minus the exposure part. But then, as climbers that just doesn't bother us that much.
A few things to note:
Bring lots of water and sunscreen; you should on any hike but the dryness does affect you.
Spring and Fall are the best seasons as temperatures in the summer are often over 100 degrees and winters can be chilly.
You are in a desert, bring lots of layers, as temperatures vary greatly between sun and shade.
Oh and did I mention it is really close to Canyonlands National Park? Make a long weekend of it!