Us Ericksons, do a lot outdoors. But we don't even come close to doing everything. We cover climbing, hiking, camping and skiing pretty extensively. But when we get the chance, we love to interview people doing things that are way beyond us.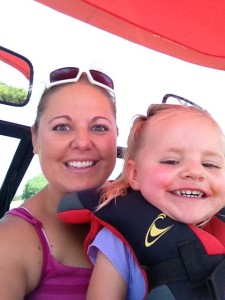 Today [and later this week] I get to share my interview with Sara Kreymborg, a long time friend, wife, mom, water skier, snow skier, and fellow outdoor lover. We have a unique history, having known each other since we were six. Some of my favorite memories were joining her family out at her lake in the summer, while she joined me and my family up on the snow in the winter. A lot has happened and changed over the last 25 years – marriages, babies, school, moving…but a lot has stayed the same. We are always connected by friendship and our love for skiing [on water in its various forms].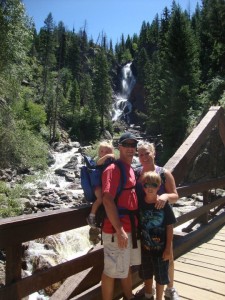 But perhaps one of the things I love the most is that water skiing is a whole family pursuit for them! Grandparents, mom, dad, cousin, sister, brother, and yes…toddler! A lifestyle of being active and outdoors together. And this is something we are very passionate about here at the Kid Project… being together as families.
Sara, how did water skiing impact your childhood? What are your favorite memories?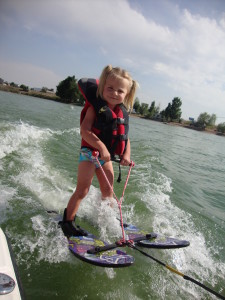 I grew up waterskiing from the time I could walk. I started competing at age 7. Every early spring to fall revolved around week day skiing and weekend tournaments. As soon as the ice melted on the water or even had a very thin layer we would get out on the water run it up and down to break up the thin layer of ice and ski. Not always by MY choice.
I remember my dad picking me up from school with the boat hooked to the back of the van and going straight to the lake to ski. The best part for me was being with my "lake friends" (the friends you only see in the summer). When it wasn't my turn to ski, I was playing in the water with my friends. You would have thought we had gills. I also enjoyed learning how to judge and score the tournaments. I was a rated judge at fifteen.
Do you think having a common sport with your family has been a positive influence overall?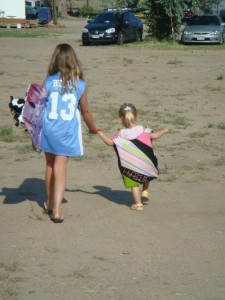 I absolutely think that the common sport of waterskiing has been a positive influence on my family. I think the best part of being around water with a boat is that you can do SO many different things, such as tubing, wakeboarding, wake surfing, and slolam skiing just to name a few.
Now that I have my own family we are still heavily involved in waterskiing for the very reason that there is something at the lake for everyone to enjoy. We even have our 2-year-old on the water.
Isn't there a saying that goes "A family that plays together stays together?" Well, we fit that mold to a T.
As my kids have gotten older, I am more passionate about sharing the things I grew up loving with them. Is that part of why your family pursues water skiing?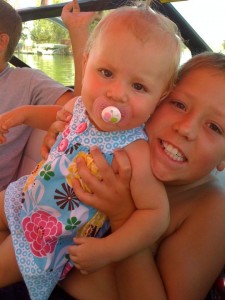 Since my husband and I both grew up waterskiing (By the way, my dad taught my husband how to waterski when he was 7) and we still do it, we never really thought twice about introducing our kids to the water world. It is something that we are both passionate about and I knew what kind of childhood it gave me which I want my kids to experience too.
I may not be as gun hoe about it, as my dad still is today at 72, but my dad pushed me to do my best and try my hardest which I think has carried on to my children. With my son being eleven, he actually enjoys hearing about some of the stuff I did as a kid and he can relate to it. I think we might even have a closer bond because it's something that we can talk about together for a long time.
How does your family balance keeping the family together yet letting the kids also pursue their own interests?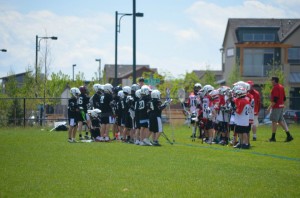 I think that is a great question because we never want to mold our kids into something they don't want to be. And for that reason, we are a very busy, active, family. We are also passionate about our kids growth and development, so if I see my children interested in something else, you bet we pursue it.
I am also a firm believer that if my children see me excited about what they are doing it will only make them try harder. So we make every effort we can to be together cheering one another along the way. We are our kids biggest fans, even if my son says not to wave at him while he's on the lacrosse field. 🙂
Join us later this week as we discuss more of the practicals! Watch a two year old water ski, get Sara's tips on gear, and learn about lake life!  For now, enjoy a video of her son on the water!