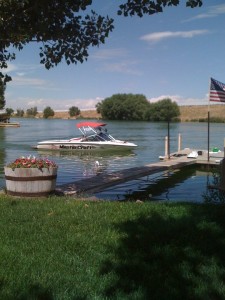 Happy hot summer days everyone! We are back today with the second half of our interview with Sara Kreymborg. If you missed us earlier this week, check out why she believes having a common sport has been beneficial for her family: Waterskiing, A Family Portrait. Today we are getting more practical. We are talking lifejackets, baby floatation, infants, sun and more! 
As the heat turns up, I am more and more driven towards the water, be it pool or swimming hole. And I find myself daily taking up the battle against the sun. [And often losing.] So I am excited for this post, cause I don't know many women who know more about water, sun and kiddos!
Before we get on with the litany of questions can I share this photo? This is what Father's Day looks like for Sara's family. I love it!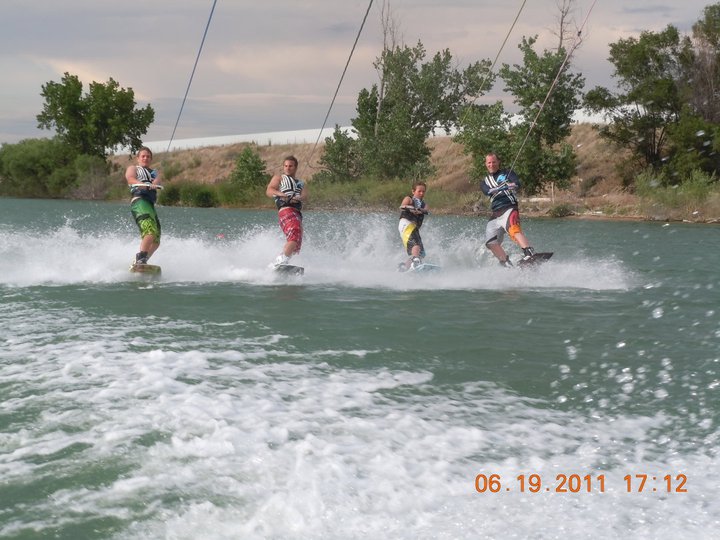 What are your favorite baby flotation devices?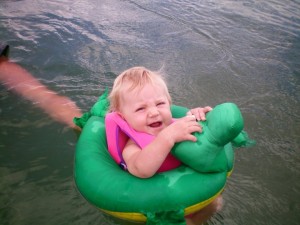 We love the baby spring float. It is circular and you set the baby in the middle where their legs are dangling underneath and they are sitting upright. You can only use them for about the first 2 years but my daughter would just sit in the water and float. [FYI: I found one of these for $4 at Target.]
Have you had a child afraid of the water?
No, they may not like getting in at first but after they get used to the chilly water they love it. My daughter also sees a lot of other kids in the water having fun so she doesn't feel scared. It helps having our kids in and around water every day it's warm.
How old can you teach kids to waterski/wakeboard?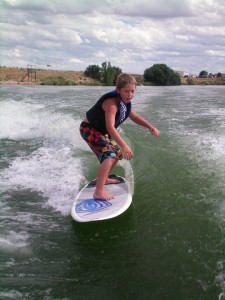 We have had a 20 month up on skis with her dad holding her and we also have my daughter skiing. [Watch the video below.]
When it comes to wake boarding they need to be a little older because the handle is not attached to the board like it is on skis. Therefore, they have to get the concept of leaning back so they aren't being pulled forward.
Just how do you go about doing this?!
The best way to start kids on skis is having the skis tied together and the handle attached to their skis. Start them on the back platform of the boat. If there isn't one then I suggest an adult go on two skis with the child on their skis in between the adult. If you have a platform then slowly slide them off as the boat is going. You don't need to feed them all the way out and you never hook them to the pylon while their handle is attached to their ski. It's easy to put them back on the platform when they are done. They don't even get really wet. It's great.
Video of two-year-old daughter waterskiing: 
Are there baby gear items that you loved when your kids were infants?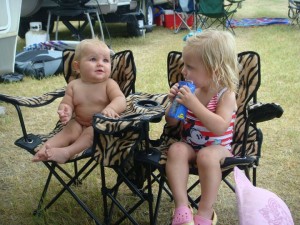 I love the JJ Cole outdoor blanket. It's easy to clean, soft, and folds into a little shoulder bag. I also used an umbrella a lot. It blocks out sun and my daughter loved looking up at the bright colors. When my kids were infants we were pretty basic, just strapped the car seat inside the boat and they would sleep for hours as everyone skied.
Are their gear items now that you couldn't live without?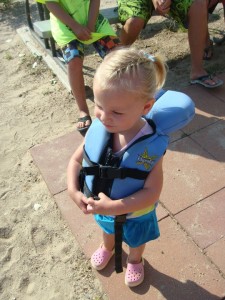 LIFE JACKETS!! My daughter lives in her life jacket. I get the neoprene ones, such as O'Neill. They aren't quite as bulky and fit a little better. I also love rash guards. When they are wearing their life jacket all day it can rub on their arms or tummy, plus it helps with the sun.
Sand toys are also great to have. Clean ones make great snack bowls, and most of the time we are next to some type of beach by the water and they can build for a very long time.
What does a normal day at the lake look like?
After our family practices for their tournaments for skiing [and Braden also in wake boarding], we like to play. We have a great big tube that the kids love to ride on and try to hang on.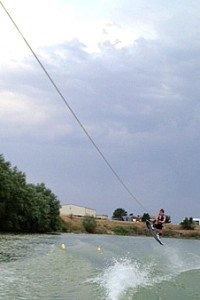 And for the adults, we do what's called "marriage therapy" where the husbands get on the tube and the wives drive and try to get them off or visa versa. It's a great stress reliever. The kids swim, come up with games, play hard and are ready for bed when it gets dark. The lake is the best place to be, great people, positive influences, and enjoying everyone's company while watching our kids do what we did when we were little. PLAY.
Is there a sunscreen you use that works well? My kids got burned yesterday and they were in and out of the water and I tried to reapply often but…it seems impossible to keep them covered when they are in and out of water so much!
I love the Neutrogena wet skin sunscreen in lotion form. For both kids and adults. I am not a fan of the spray because it contains alcohol and Lilah has eczema that really flares up in the summer because of being in the water so often and it being so dry. It is almost $10.00 put I can usually find a coupon on line or in the paper. The only time I use the spray kind is for her head when I have to get the lines where her hair is pulled up. I have also learned that in the summer sunscreen becomes our lotion when the kids get out of the bath.  I know it sounds funny but I really feel that it soaks in. You gotta put sunscreen on before you get in the sun!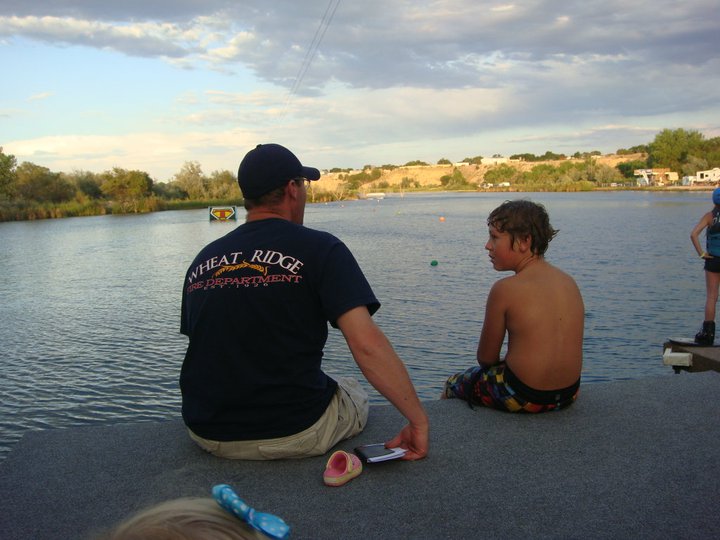 A special thanks to Sara and her family for sharing their story and their lives with us!