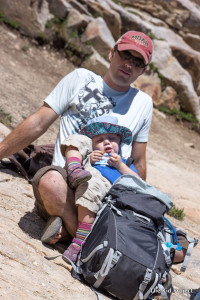 So, this isn't really an "outdoors with kids" topic, but rather a, "I'm a dad that likes to be outdoors with kids and wear clothes while doing so" topic.
I don't know about you [or your husband], but finding shirts that don't suck is a challenge. Old Navy sells crap shirts that don't fit and wear out. I've had good luck with Volcom, but it hasn't really been as "me" as I'd like.
The other week [or month], I was at the climbing gym and there were some people there selling some shirts that were cool, and for some reason I stopped and checked them out. They told me they stayed soft forever, were "cut for a climber's build", triple stitched for durability, etc. My wife offered another spec — they look cool.
Well, I bought one. It is ridiculously soft. It fits perfectly. It is triple stitched and I hope it will never wear out. It looks [as much as I can make anything look] cool. I found their website and ordered three more.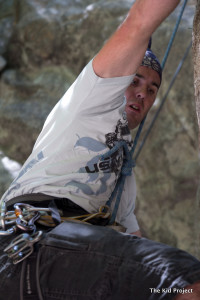 As I've worn them I've liked them more and more, and as I do with anything I like, I had to start blabbing about how much I liked them, which lead me to write this.
So, the company is called Friksn (pronounced, 'Friction"). Their t-shirts are made in Turkey out of a super-supple cotton weave that is durable, soft and maintains its shape throughout its entire life. Talking to Justin, (the guy I spoke with from Friksn) he explained to me that they worked with the manufacturer to develop both the weave and cut of the shirts so their product is truly unique and awesome. Beyond the superb fit and quality, the artwork is original and has sweet climbing themes blended in without being too "Hi, I climb"….which I like.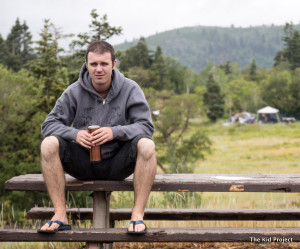 After I decided to write the review I ended up talking with Justin and got some of the more detailed info on the company's history and product. I offered to include a hoodie on the review and he obliged. (Sweeeeet….)
The hoodie is not as amazingly-better-than-all-my-other-clothes as the shirts are. It is pretty much a good quality (rather heavyweight) hoodie with some cool artwork on it. I will make good use of it, and may have to come back to revise this once the weather is more inviting for such clothing. I had hoped for some of the same innovation in the shirts to be in the hoodie, but I'll have to keep hoping. They do have a lighter weight hoodie which may be a better fit for what I like, so maybe I'll try one of those in the future.
So, if you like good t-shirts at reasonable prices which have superior style and support a grassroots company…head over to http://www.friksn.com and order up some of their shirts. Not sure what the deal is with the not-up-to-date website, but my order did show up, and is sweet, so don't let it scare you off!

Friksn works together with Practical Climbing to make and sell truly unique and awesome chalk bags as well. We reviewed some Kids Practical Bags last winter, and totally approve! Here is the link to that post. Check out Friksn's site for more details.  
Kid Project received a Friksn hoodie for this review; however, the opinions shared in this article are in no way influenced by this. They are our real and honest thoughts.