This was our first trip to the Outdoor Retailer Show. A little overwhelming for us newbies and inspiring all at the same time! But one of the things I (and most my fellow bloggers) want to do is share the outdoor gear we are most excited about.
Here is what caught the Kid Project's eye: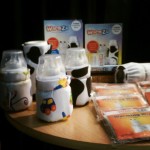 Warmze – On-the-go Bottle Warmer
A travel bottle warmer that will heat bottles up and keep them warm for 12 hours at a time. Sort of like the hand warmers we all know and love! The chemical pack slips in a cute cover and heats bottle to the perfect temperature to mimic a Mom's body heat. We'll be testing these soon!
Boll backpacks and sleeping bags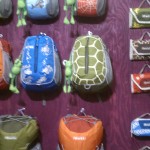 What stuck out? Cute designs for sure but also the thoughtful design of the engineer – interior water bottle compartments, padded straps and firm backs designed for narrow kid shoulders.
The kids sleeping bags have a zipper 3/4ths of the way down that can be zipped up to make the bag shorter, allowing it to grow with your kid and keep them warmer at the young ages. Great idea and the first of its kind that I've seen!
Coming soon to Pink-Tree.com
Cute kids shoes, grow-with-your-kid design! Who doesn't want their kid's shoes to last longer?!
Hi-Tec has a line of shoes that have an inner foot-bed that when removed increases it by 3/4 of a shoe size. Meaning they fit longer, better. And your money can be spent other places.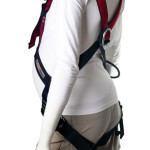 Mountain Mama Maternity Harness
How could we not love a maternity climbing harness, a joint effort with Mad Rock Climbing. So sad I didn't have one when I was pregnant! But honestly, every Mountain Mama product is amazing. One of the biggest frustrations during my pregnancies? The lack of active apparel for preggo moms. Mountain Mama fills that hole! Coming soon!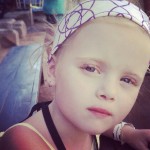 My little girl loves clothes. And loves exercise clothes. And is very picky on how her clothes feel. Soybu is known for their active women's apparel but has a girl's line coming out February. Great fabric, cute design and functional.
Edelrid Fraggle harness and climbing shoes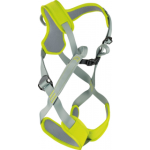 This is the first full body harness I've seen with the leg loops attached to each other. Making it easier to get on. Not sure if it is a smaller design or what, but they informed me it will fit comfortably on a 11 month old [depending on size]. Our current body harnesses are still too big for our 2-year-old but she desperately wants to climb.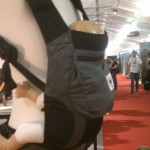 If you've been around the Kid Project long, then you know we are Beco Carrier lovers. But we got to test the Ergo Performance carrier last weekend. Awesome! Light weight wicking materials make this an awesome carrier for outdoor activities. You can purchase a detachable bag for storing all those extras to keep the kids happy.