Hi friends! How is it going today?
Have you ever come across a smiling face, in the midst of a rather hectic day, and felt like you could smile again too? Not only could smile, but wanted to smile? Teresa Delfin is one of those people for me. We met and chatted last year at Outdoor Retailer Summer Market. In the midst of what must have been a stressful and chaotic time as a retailor, she had her two little kids (ages four and ten months) running around her booth with her, and she was still peaceful! 
Today we get to sit down with her over a proverbial cup of coffee and see what drives her to remain active, balance work and motherhood, and what initially drove her to start Mountain Mama. First, don't forget to enter Mountain Mama's Harper Hoodie Giveaway! Only one day left!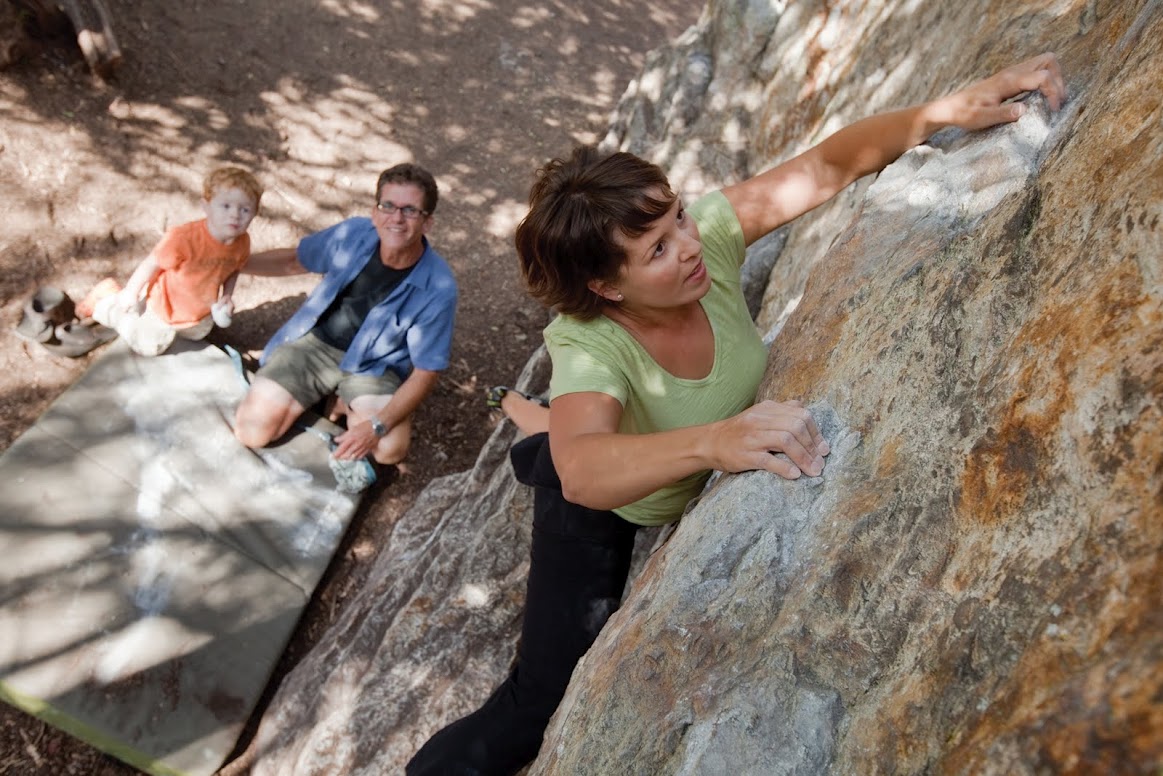 So Teresa, who are the two little boys in your life?
Fausto is 4 and Emil Enrique is 10 months. Everyone always asks about their names! Fausto is named for a family friend and means "fortunate one" in Spanish. Emil is for my grandfather and Enrique was the name of my favorite uncle.
Did you grow up in an active family? 
My family was very active! We didn't participate much in organized sports, but my parents managed to get my twin sister and me skiing proficiently by the time we were four and our first climbing outing was at seven. Camping was also a big part of our childhood, with regular outings throughout California. My dad is a well-rounded outdoorsman, which includes a few interests we don't share, like hunting and fishing. But he's also an accomplished climber and trekker. He loves telling the story about how, after a long day of climbing, he met Yvon Chouinard peddling homemade pitons out of the back of his truck! Like my dad, I'm up for just about anything — ok, except hunting and fishing. My gear says it all: I own a sea kayak, a full trad rack, a road bike, a mountain bike, enough camping gear for three or four families, downhill skis, etc.

Tells us a little about your pregnancies-
I was thrilled when I found out I was pregnant with Fausto but I had no idea just how difficult that first trimester would be! I'm usually pretty low-maintenance, but the slightest things could bring me to tears. My husband came home one day to me sobbing on the sofa. He thought something terrible must have happened! When I finally managed to choke out "I just want to go kayaking" he knew he was in real trouble! He had accidentally snapped my carbon fiber paddle in two a few days earlier.
That said, I was very fortunate to be able to maintain two active pregnancies that included cycling, skiing, stand-up-paddling, yoga, running, hiking, and yes, kayaking. I did have to work around pregnancy-related carpal tunnel with my first pregnancy. With my second, I had several bone dislocations — hips, pelvis, pubic bones, sacrum. With all that going on, cycling was what felt best, and that's what inspired us at Mountain Mama to create our cycling collection.
I felt like my time after having 2 or 3 kids nearly disappeared. Do you have tips or personal experience you could share about staying active despite the busyness and exhaustion of having a toddler?
I hear you, Alyssa! It probably goes without saying that I was in much better shape before I had kids! It takes a lot of discipline to get out there and stay fit! My husband is a competitive cyclist, so we also have to work around his training and race schedule! Fausto knows that he can count on a trip to the mountains every Saturday, in part because that's Daddy's longest day on the bike. We take the jog stroller, which is baby's until F is too tired. Then I'll push the big boy and babywear the little one. I try to get out for two or three trail runs on my own each week, and if I make it to the climbing gym or yoga, that's bonus! We have friends with kids the same age, so sometimes we'll all hit the beach and leave the dads watching kids while the mamas go stand-up-paddling.
Lets talk your business side:
Why did you decide to start Mountain Mama? What seems to be the favorite product from your customers?
I was pregnant and I was cranky! I couldn't believe that just because I was pregnant none of my favorite companies wanted to sell me high-quality performance apparel. I'm a doer, so that's all the motivation I needed to launch Mountain Mama. The hard part was squeezing it in between my work as an anthropology professor and a field anthropologist and script writer for Discovery. (Discovery, by the way, was as awesome a job as it sounds like!).
We've become pretty well known for our Polartec collection. We make two amazing fleece coats that are very different and equally popular. The Fairview is a stylish wrap jacket that's earned praises from People, LA Times, Babble.com, and more! The Lassen is more streamlined, more outdoor, and just as popular! Both are 100% made in USA — down to the

zippers!
Regarding the new climbing harness:
How did the making of this product come about?
Carrie Cooper, best known in some circles for the gorgeous Prana video of her climbing 39 weeks pregnant inspired it! She coordinated a sit-down between Mountain Mama and Mad Rock and the rest is history.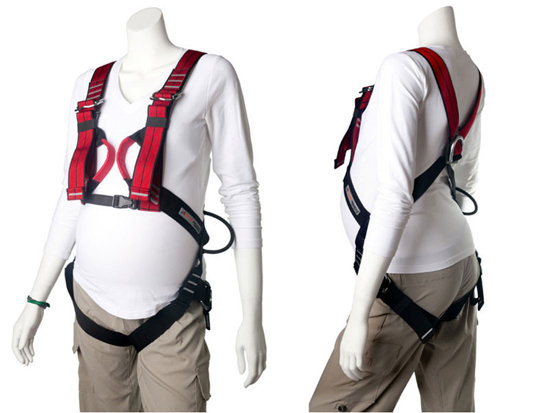 What makes this different than a normal harness or say even a normal full body harness? What makes it specifically "maternity"?
The Mountain Mama by Mad Rock has padded leg loops, six adjustment points for a precise, comfortable fit, and back support. The belly is also exposed, with no webbing pinching or squeezing it. It's the first full-body harness designed by and for women.
Being the brain child (or one of them) behind the first maternity harness, what would you say to those who think climbing while pregnant is dangerous or irresponsible?
It looks like you've been reading what our non-climber friends in the media have been saying! We created this harness because pregnant women are getting out to climb through every trimester with their doctors' consent — but they're doing it in uncomfortable harnesses. We're not encouraging non-climbers to suddenly start sending, nor do we want mamas-to-be lead climbing during their pregnancies. The harness is fully tested and rated to be strong and secure, but we recommend its use only for top-roping.
Thanks so much Teresa! And thank you Mountain Mama for sponsoring our Expect[ing] to Thrive Event!