Better late than never, right? Well, that is my theory for this post. A week and a half ago we scavenged the Outdoor Retailer Winter Market in Salt Lake City. What was so fun this trip was that I got to try out a bunch of gear, that ended up being awesome. (Yes, we've tried gear that we 'vetoed' on past trips.) Here the few items that have recently rocked our world (please forgive any dysfunctional photos!):
Tubbs Flex JR. Snowshoe for Kids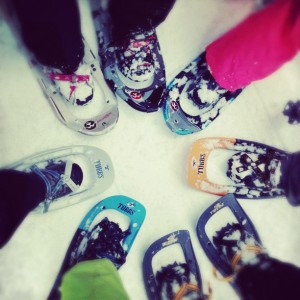 I was able to try out the Tubbs line of snowshoes two times, once with my kids. And had a blast! Snowshoeing is a great all-family outdoor activity and I love that Tubbs works hard to bring the kids along in their product design. The Tubbs Flex Jr. is super lightweight, narrower, with traction rails that allow them to go anywhere. What I liked most? The super-easy binding. It is secure, quick, and easy enough for your kids to do themselves once they learn how.
Hydroflask – Not Just Another Water Bottle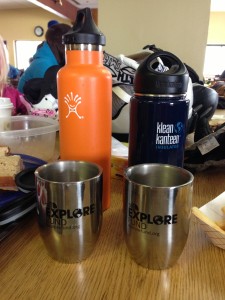 Hydroflask makes a line of double-walled vacuum insulated water bottles. We held our own "coffee showdown" between the Hydroflask and Klean Kanteen's insulated bottle on a 30 degree windy and very snowy ski day. Honestly, I thought the results would be inconclusive. But I had my answer after opening the lid. Hydroflask was steaming away in front of me. Klean Kanteen…nothing. Luke warm at best.
My husband's favorite part? Hydroflask is awesome enough to make a 64 oz. insulated beer growler. Rock on!
Helly Hanson WWH Warm Freeze Half-Zip Base layer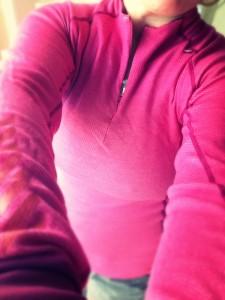 I scored one of these new base layers during the outdoor demo day. I am not a gear head. Or even a clothing junkie. Until recently I always thought, "a base layer is just a base layer, no need for a thousand variations." But I am wrong. I've never had a base layer like this Helly Hanson. Right away I noticed this base layer has two different layers, in one! In their words:
The inner Lifa® fibres ensure you stay dry in all conditions, while the outer, soft Merino wool adds warmth and comfort. This means you get extreme insulation and superior evacuation of moisture.
It works. It works better than all my other base layers. It is so. totally. awesome.
Teton Sports Summit 1500 Pack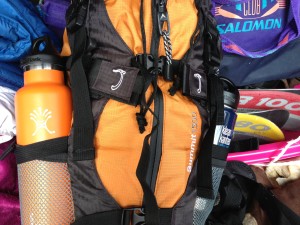 OK, I'll admit it. I have a bag thing. But after using the Summit 1500 for snowshoeing, a ski day with all three kids, as a shower-at-the-gym bag, and a climbing gym bag, I am sold. What I like? The front zippered "map" pocket (also great for trail bait (ie. candy)) for the kids, and the super adjustable shoulder, chest and waist belts. Meaning I can easily slip it on over all my ski layers and still have plenty of adjustability. It is also narrower than most backpacks.
Products that caught my eye:
Hi Tec "Grow With Me" Kids Hiking Boots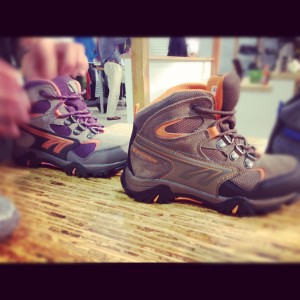 Hi Tec is the maker of some pretty great miniature shoes. And they know how to speak to an outdoorsie mom's heart. 🙂 Pretty much if it says, "grow with me," then I am a fan. As a parent I am sick of having to buy new shoes, new clothes, new jackets, new everything after every growth spurt! Hi Tec added their unique "grow with me" feature to their line of hiking boots this year! And they come in cute colors too!
Columbia Power Drain Kid's Shoes?
Ok, this is merely word-of-mouth. Because being that it is winter, Columbia didn't have their summer line on display. But I heard through the grapevine that they are coming out with a kid's version of the Power Drain shoe! Great idea! I love my Columbia Power Drain shoes and for my boy who cannot help but tromp through every puddle and creek on a hike, the power drain will be awesome. But because it is a whole shoe, there will be no rocks-in-the-sandel problems like we've had with other types of water/hiking shoes.
"Grow with Me" backpacks and  sleeping bags by Deuter and Kelty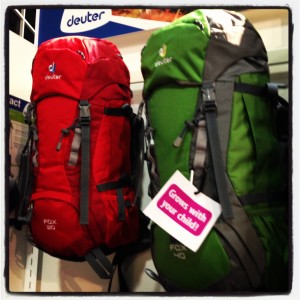 Once again a "grow with me" item. Deuter's Fox 30/40 and Kelty's Lakota 45 Junior kid's backpacks caught my eye because we hope to be doing a bunch of all-family backpacking this summer. Although I do believe these packs are designed for kids ages 8ish-14. Both brands also have kids' sleeping bags that have a zippered compartment at the bottom, that allows the bag to grow with the kids!! The Deuter one caught my eye because of their awesome colors.
Blackpine Turbo Tent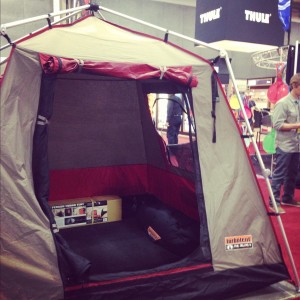 A tent with no pole assembly? A tent that pops up in one fluid motion in less than five minutes?  Yes. This tent comes in two sizes, 4 or 6 person.
Although I am not sure we'd go this direction (think heavy and big), this tent would be great for the devoted car camper with lots of cargo room! Or the family that just doesn't want to waist their time putting up a complicated tent.