I've flirted with climbing in and around the Moab Area. By this I mean, tried a route here or there as we passed through town or on brief afternoons. Wall Street (a.k.a. Potash Road) is a stunning climbing location, worthy of its name. Steep walls jut up from the canyon floor just feet from the road. Many people are easily intimidated by the large number of .11 and .12 ratings, but there are some awesome moderate climbs. It is easy to access, versatile, and a perfect place for families to set up camp for a day or a week, like we did. There is a high return for your investment. Before I get into specifics:
Make sure you hit it in the spring or fall. In the summer the rock can get quite hot, although the wall is in the shade after 3pm most days.

Unless your kids are older, I'd have either a second family or friend along to help watch the kids while one climbs/one belays. Trucks drive Potash Rd. pretty fast and the other side of the road drops to the river below. 
Last fall We headed down to Moab for six days with another family. Altogether there were four adults and five kids ages six and under. We went without many expectations but walked away simply amazed at how much climbing we got in. Here is how it went down…
Day 1:
While we were itching to get on the wall, it was 40 degrees outside, overcast and I had a doozy of a head cold. So we opted for a hike, knowing the weather was supposed to get better. Negro Bill's Trail is perfect for kids, crossing a few streams, and marching under tall rock walls.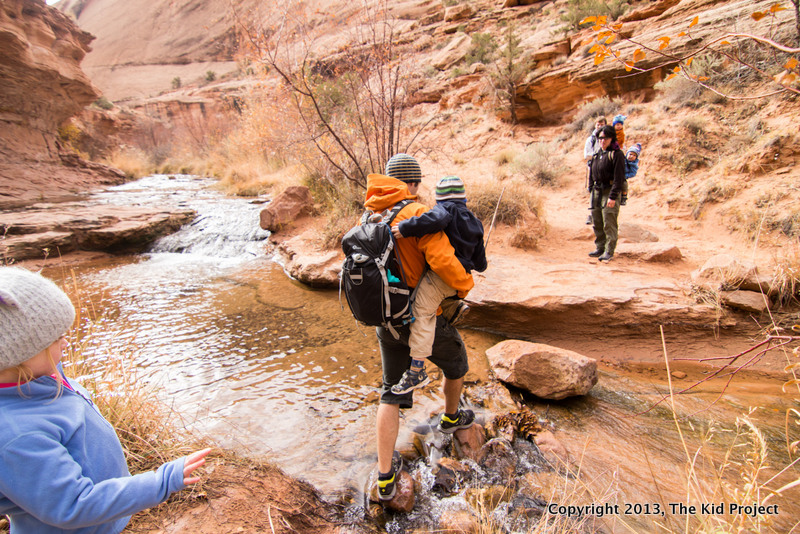 Day 2: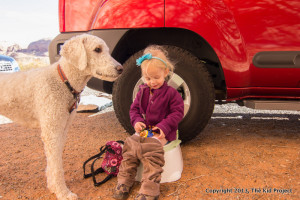 We had a game plan. Eat, pack lunches (this time I would not forget them, like I had on the hike… 🙁 ) and head straight down to Wall Street. Two people would set up a route while two watched the kids. Then we would switch, cleaning the route and moving on. We parked our cars so they blocked off a sandy area for the kids to play. We pulled out the sand toys and the "froggy potty" cause we had a few potty trainers and voila: home for a day. 🙂
Honestly this route leaves much to be desired. It is slabby. It is a great warm up. But nothing noteworthy about it.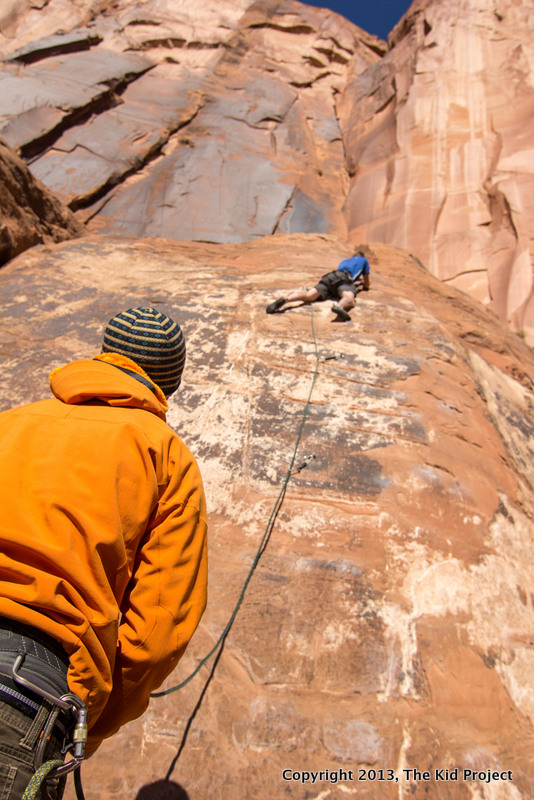 Next, we worked to the right and set up Top 40 (5.8, trad).
This route was new for everyone in the group. And being one of the few Wall Street 5.8 cracks, it certainly holds its own. But if you have time for a single route of this type, choose 30 Seconds over Potash (covered below).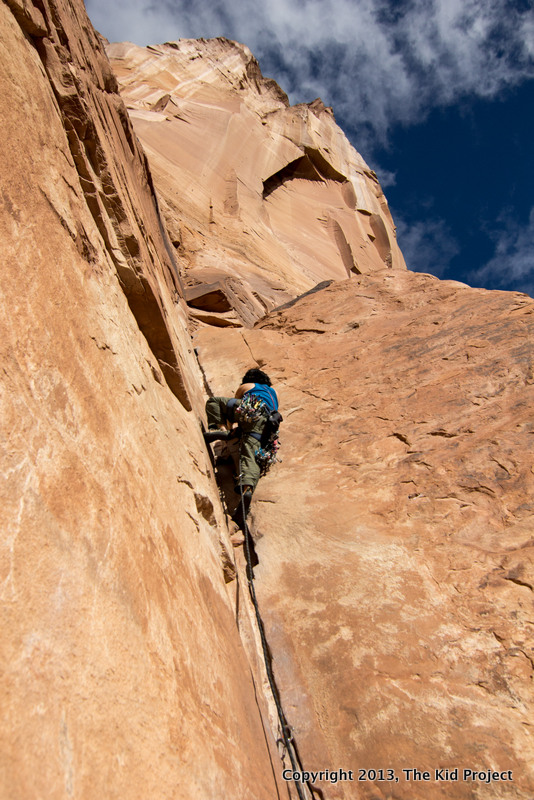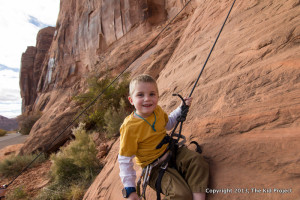 We let the kids climb a bit just down from where we had set up our routes. Then we headed back to the condo for nap-time and put plan #2 into effect. Plan #2 went like this: While the kids napped most the afternoon, Kelly and I'd go climb. Tomorrow the guys would get their chance. It worked great!
So we headed back to Wall Street. Kelly had her eyes on 30 Seconds Over Potash but other groups were already on it. So we began our search…we didn't exactly want to spend our time without kids waiting in line. We climbed:
Honestly, this route was different from any desert route I've done. Not a crack. Not quite a slab. Balance-ey for sure. But it was well protected with the crux higher up near the chains.
Snake Slab (5.8 sport)
This is a popular route, hidden slightly by bushes and tucked back in a gulch. It is everything a desert slab is supposed to be…bring your mental game. I'd climbed this before, but wasn't overall impressed. Kelly was doing the leading this afternoon cause I am new to leading. She put her game face on, knowing she'd fallen on this route before and put a core shot in a new rope. The first bolt is high, not hard climbing, but still heady. After the first bolt you can either cling to the edge of the slab risking slipping to the left and over the edge or brave the slabby face. We opted for the first, moving on to the slippery face higher up.
By then 30 Seconds over Potash was open so we strolled over. Kelly loaded up, and despite having led her fair share of routes already and tired arms she prepared to lead once again. I'll keep the story short, I learned a lot about how to descend using your trad gear when you have to bail.
Day 3:
After having to back off 30 Seconds over Potash, we weren't willing to admit defeat. it was still staring us women in the face. So we headed there first, set up camp, kids and cars, and got to work.
Chris led this route but don't be put off guard by the 5.8+ rating. It is harder than it looks. Sustained sections of layback and jams on the left-facing dihedral made this pumpy and exhausting for me. But there is a reason why it is known as a Wall Streeet. classic. Don't miss this route when you come to town.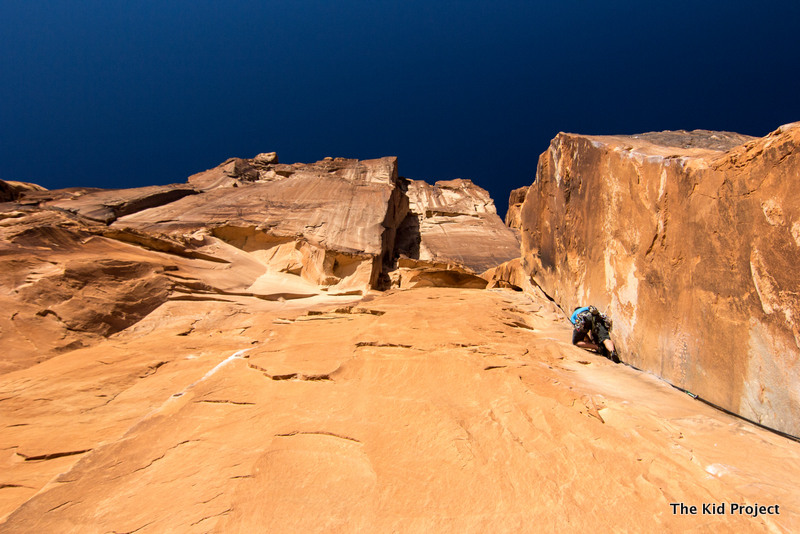 It was the guy's day so we headed home and they headed off to dabble in desert towers, a first for my husband. They did West Chimney (5.6, trad) and West Crack (5.8+, trad) in Arches National Park.
Day 4:
We again opted for a hike and a change of scenery. We thought it would be beneficial for the kids to have a little variety. So we headed to the Poison Spider trail, popular for mountain biking and hiked up to the top of the mesa. While this was not nearly as beautiful or novel as Negro Bill trail, it still led to some great views at the top!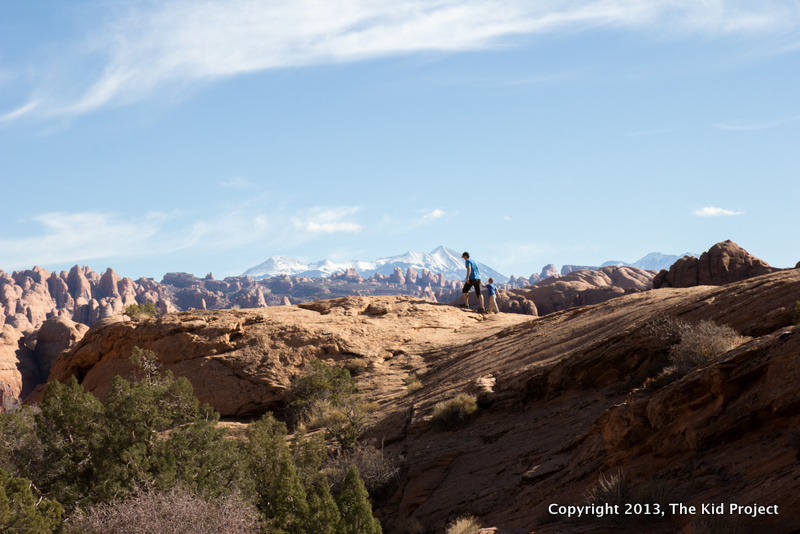 After lunch and once again….naps, we decided to try to get another route in before dark. So we headed BACK to Wall Street again and set up camp under:
This route is obvious simply because it runs to the left of a large crescent-shaped roof. And if you are looking for a route that is visually inspiring, this is your one! Fun finger jams up a right-facing dihedral to a roof. Undercling the roof, work your feet up and pull into what the guide-book calls an awkward lip encounter." Haha. I have no better way to say it. Awkward for sure! When I got there only the slow-moving of my feet higher, the awkward wiggling of my body, and a blind right foot got me to the chains.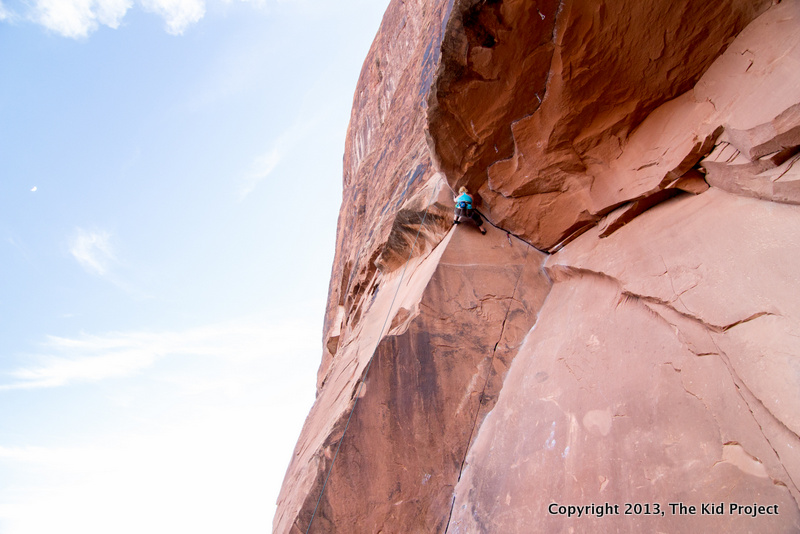 We let the kids climb after all the adult fun was done. Often we find that they are inspired to climb after watching us adults thrash at the wall and cheer each other on for awhile… My son likes to have "the gears" on his harness so he can be like dad.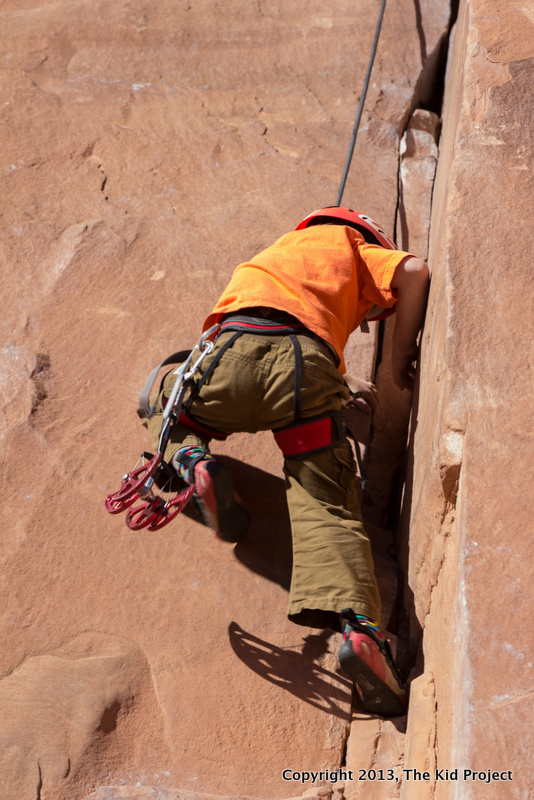 And for those of you who wonder what the kids do MOST the time? They are kids… We do "story time", they climb trees, and play princess. Oh and eat. They eat lots of snacks, lots of crackers…and probably lots of dirt. 🙂

Day 5:
Our last and final day. In fact, we had to be on the road by noon. But there were still routes we had our eyes on, so we packed and cleaned mostly the night before, and made a speedy exit in the morning. First up was:
We agreed with what we read: one of the best routes there. And definitely my favorite.  It is a left facing corner that starts with simple crack moves…by simple I mean I learned a lot about my foot jams. mostly that they didn't work and I needed to learn and quick! You then moved to thinner pocket moves but I found substantial resting stances throughout the route. Undercling left around the roof to the finish. definitely my favorite route on Wall Street to date!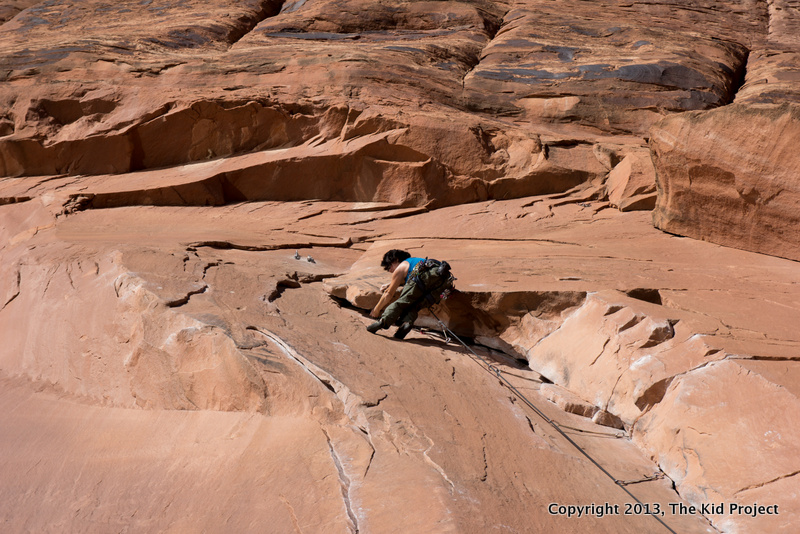 We had a little time and the group was riding that climber's high you get after doing a truly fun route. So we moved down wall to:
This route is just down from 30 Seconds over Potash and works its way up a left-facing crack with mixed face moves. I don't have any beta on the route, as we ran out of time before I got to climb (and my arms were toast) but three cheers for my husband who led his first .10 trad route!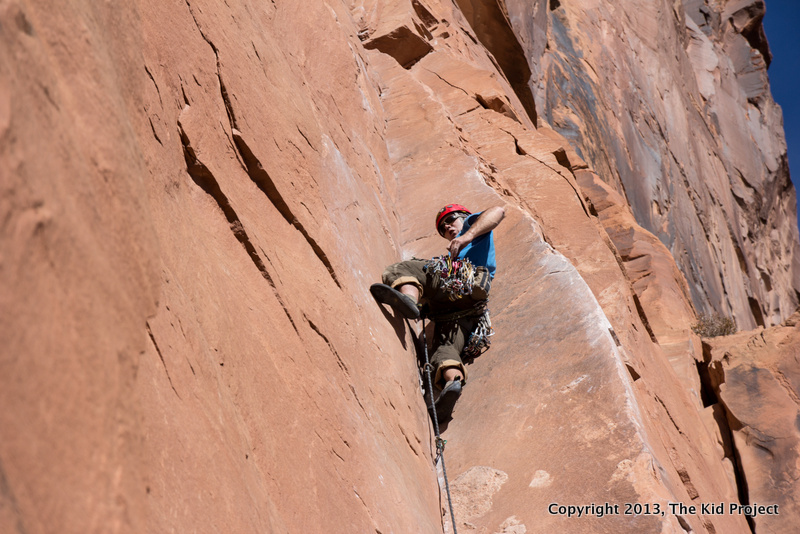 Intermixed into all the adult climbing we setup routes for the kids. School Room 1 and 2 are great. But you can usually find something fun to let them try where ever you are. Here is a previous trip report with more info on kid's climbing routes: School Room Slabs, Moab, UT.