I dreamt of wintry sunshine dancing through the aspen groves last night. Of powder pillows under my skis. The soft whoomp of snow falling from trees and spiraling flakes that move higher and higher in the breeze.
The sun broke through the blinds this morning. And it was time to go. My heart yearned for adventure. And all that came with it.
But then the morning began to unravel. Getting five people out the door for a day of skiing is quite the feat. We are used to this kind of "unraveling" anytime we charge into a day full of skiing or hiking or climbing or… Quite simply getting out the door is all out chaos when three of the five people are under the age of seven.
I scrambled to pull on my long johns and socks, all while coaching my two-year old through the tenuous task of getting herself dressed. Socks, Pull-up (in case a potty wasn't close enough at the right time), long johns, snow pants. Not so subtle in my impatience, I tossed "teaching her to dress herself" out the window and quickly pulled her shirt down over that cute-mop-of-a-bed-head and zipped up her bib snow pants in one fluid motion. I should get some sort of medal for this type of multitasking.
I tossed my hair up in a ponytail, and help my son find his always-missing-the-morning-of ski sock. Luckily the oldest is mostly self-sustaining, although a little emotional. She is fully dressed but I find her collapsed and teary eyed in the middle of the living room floor. "I am feeling very sad. My feelings got hurt," she says.
It is roughly at this moment that I began to wonder, is this really worth it?
I moved on in faith. Sure, it must be worth it, right?
I stilled my crazy mind, cup that cute little chin in my hands and reminded her that I see her. In the midst of flying clothing and lunch makings all over the kitchen, in the middle of gear piling in front of the door and voices hollering from all four corners of the house, I see her. Do I really see her? I think so. She grabbed all the kid's coats and moved towards the car. Good, one down. Now where did that two year-old go?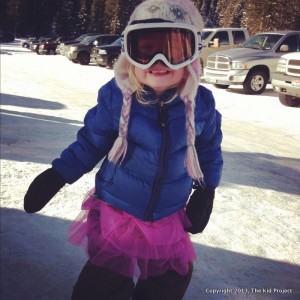 The boy launched himself down the stairs, landing like the Hulk and sprinting off again. Just as long as he is headed towards the car. I climbed the stairs for the 27th time, turned the corner and I found my malicious little toddler. Ok, maybe she isn't really malicious, but it is hard not to think so. For in that moment I found her completely naked, wrestling a Princess Belle dress over her knees and hips.
And the question erupts from the depth of my soul somewhere between my cries of "Ahhhh!!" and, "What happened to your ski clothes?!": This is worth it, right?! Surely, it must be… right?!
Worse than getting her re-dressed is convincing her to release the dress she so dearly clings to with her amazingly strong fists. Man, I wish I had that sort of contact strength when climbing. Then I compromise. The dress had to go. But I allowed a tutu…over her ski pants. It was quite cute actually. I took her by that same willful little grasp and marched her to the car. No more detours for this little one.
Breath, I reminded myself. And for the first time all morning my husband and I found ourselves together in the same room, looking into each other's eyes. The silence was so peaceful.  We did a quick mental check: Are we still on the same team? Are all the kids dressed? Skis? Boots? Poles? Goggles? Money? Helmets? Lunch? Good. Lets go.
We jumped in the car. And noticed, luckily, that we had an extra passenger. Kai, our other two-year-old, a Golden Doodle, decided he had been left behind for the last time. He jumped in the back when we were unaware and stowed along amongst the skis and boots. But we were headed up Big Cottonwood Canyon in Utah. Meaning: No Dogs Allowed. Sad day. In fact, the dog was so upset, my husband had to carry all 52 lbs. of him back in the house…
Finally we are going, going and gone. On our way to that bright sunlight, that crystalline snow, those blue bird skies. It is worth it, right?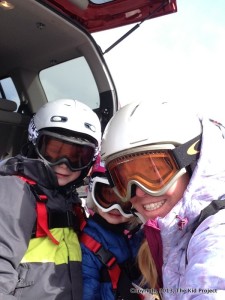 We arrived at Brighton Resort a short time later, and despite our late start, we are only a few measly rows from the lift. We carried and fangled our three-ring circus to the slopes, got everyone clicked in, and were off.
The wintry sunshine danced through the aspen trees. And while I didn't get the soft pillows of powder under my skis, I got to spend the day with a small 28 lbs. bundle of beautiful energy between my skis. I never heard the soft whoop of falling snow but I heard endless "hurrahs" echoing around the mountains as my boy and girl played chicken in the trees. I danced along to my tutu-wearing-girl as she started a little jig in the lift line. Arms swinging, lungs singing, skis stomping to some beat only she really knows. I heard the belly laughs and shouts of glee, I saw the newly carved turns, the glorious wipe-outs and felt the burn in my legs. The sun shined bright, the snow, white and the skies, blue.
It is worth it, right? I began to think so.
Later, skis neatly hung in the garage (ok, they are still piled in the back of the Xterra) and hungry tummies satisfied, my son turns to his sisters and says, "You guys are my very best friends. Ever." Ahhh. Yes. This is what it is about. Love. Unity. Joy.
It was all worth it. It is all worth it.  And my husband's words echo around inside my head:
"Why do we bother? We bother because we want to live an adventure together. We want to play together. We want to live life and grow together. And we are willing to fail most of the time for the times of sweet, sweet success."