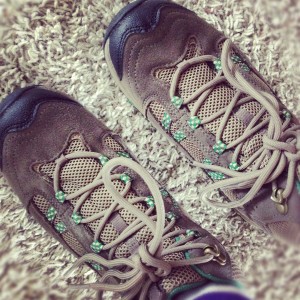 For years we've been trudging along in stiff, hard, HEAVY hiking boots. And then trail running emerged on the scene. Along with it, the shoes began to change. People needed/wanted the lightweight comfort of a running shoe but with more stability and traction. Personally, I think this might be one of the best advancements in hiking footwear. Things are trending more and more towards the beautiful marriage of hiking boot and running shoe, resulting in light weight, comfortable, supportive, waterproof, and stable trail shoes. The Hi Tec Harmony Life Mid has been just that for me.
But shoes are hard to review. We all have drastically different foot shapes, stiffness preference, etc. So here is how I'll approach this:
My Foot Shape
Medium/high arch
Narrow heel
Wide Toe Box
Fit? Great! My heel doesn't slip a bit. The shoe might cut slightly in on my pinky toe, but no blisters or noticeable discomfort and all my shoes do this.
How the Harmony Life Held Up To My Requirements
Traction first! We do a lot of scrambling and hiking over gravel on the way to our climbing destinations. I've also noticed that traction dramatically increases my stability, even more so than a higher shoe/ankle support. The Harmony Life Vibram rubber held on to every rock I asked it to. We scrambled up rock trails, across steep sloping slick rock, and I never slipped. Not once. I was impressed.
Comfortable insoles. I have had enough of feeling like I am walking on boards. I want my hiking shoes to feel like my gym shoes. The Harmony Life did!
Stiff foot-bed. I don't like to feel every rock under foot. And I also double my hiking boots for snowshoeing in the winter. I like the stiffness of the Harmony Life and they worked great snowshoeing! Lucky me, I got to actually try them out before the snow started melting!
Versatile. Comfortable for around town. Lightweight so I can clip them on my harness for multi-pitch and not feel like I am dragging a dead body. Waterproof and supportive enough for snowshoeing/backpacking. Great for hiking!
Other bonuses
Definitely waterproof. This isn't as important to me, I just wear wool socks most the time. But for snowshoeing and "watery" trails, they kept my feet dry.
The Mid ensures that I can support my ankles when I am carrying a heavy pack or a heavy toddler!
Nays
The waterproofing limits breathability in my experience. This is true for every waterproof shoe I've tried. And it is true here as well.
Bottom Line?
I'd highly recommend this shoe. It performed better than I expected in every situation I tried. This shoe is a great blend of the rugged/waterproof/supportive aspects of a hiking boot with the comfort and lighter weight of a trail runner. Love it!

(We'd like to thank Hi Tec for providing these products for review. As always, our opinions are our real and honest perspectives.)