Happy Monday everyone!! It is going to be an awesome week because we are giving away some awesome outdoor gear EVERYDAY this week. This gear has been tried and tested for the last few months and we are excited to share it with you! Join us on Facebook for more conversation on must-have camping and outdoor gear all week!
What is an ENO Hammock?
After years of camping with and without kids, I've come to the decision that everyone should have a hammock. I am not picky on type. Just get one.
And if you don't have one, consider an ENO hammock. Join us this summer as we adventure into the land of backpacking with kids! We'll be taking our ENO with us!
Here are some of the ENO hammock features that sets them above and beyond a normal hammock:
Made from breathable, quick drying nylon
Super light
Most pack down to the size of a grapefruit, but you can get ones as small as a softball!
They come in single or double (2 person) nest sizes
You can get one with insect repellant fabric – sweet!
Using the Altas Suspension system, my husband put it up in less than two minutes.
Why is it a Multi-Tasking Must Have?
After all, a hammock is only ever a hammock, right? True.
But not all hammocks are equal. In fact, I've never had our backyard hammock for lounging be the same hammock my husband packed up in 2 minutes, tossed in his gear bag and hauled off on a 3 day climbing trip, instead of bringing a tent!
Uses Include: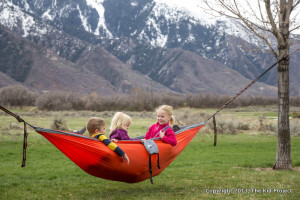 Backyard: lounging and fun!
Picnics or afternoons at the park.
Car camping: It took my husband 5 minutes to set up his sleep area when arriving in Red Rocks, NV!
Camping with kids: They are great for nap time, story time and as a swing during playtime!
Backpacking: Lose the tent and go ultralight. Just make sure you have some trees to hang from. 🙂
This one hammock can satisfy the outdoor mommy and the hardcore backpacker alike!
Giveaway!!
Join us tomorrow for our discussion of the Hydroflask and another sweet giveaway! Happy hanging everyone!