Welcome back to day two of our multi-tasking must-have giveaway week! If you haven't already joined us on Facebook, please do. We are discussing other must-have outdoor items all week!
What is a Hydroflask?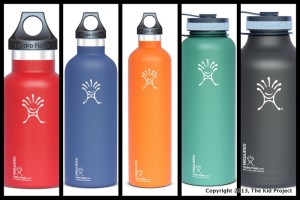 Hydroflask makes a line of double wall, vacuum insulated, stainless steel water bottles and food storage containers. We've had a chance to thoroughly test this awesome product and can say it is the best performing water bottle we've tried. It keeps the cold stuff cold and the hot stuff hot! For our full review read Hydroflask – Insulated Awesomeness.
Why is it a Multi-Tasking Must Have?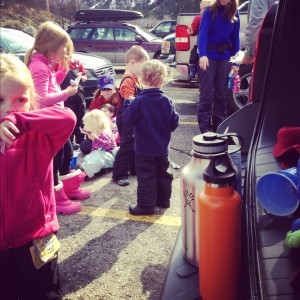 Plain and simple, each bottle can be used for hot or cold! But what I love are the different interchangeable lids. I can grab our 18 oz. Hydroflask and it can be used as a water bottle, a thermos holding roughly 3 small cups of coffee/hot chocolate, or I can screw on the flip coffee lid and take it as a travel mug.
Another one of our favorite items is the 64 oz growler. It is famous for keeping beer crisp and cold on outdoor adventures but I used it to keep hot chocolate warm for a horde of kiddos on a snowshoeing field trip! Here are some of the ideas we've come up with:
64 oz. = 1/2 gallon of milk for the kids
64 oz. = 8 cups of hot chocolate after sledding
64 oz. = 3 Venti Starbucks after a sleepless night (we haven't yet asked how much they'd charge for filling it.)
64 oz. = 8 8 oz. baby bottles of formula or breast milk for the road
64 oz. = 5.3 bottles of your favorite beer after a long day
64 oz. = how many chilled margaritas??

Giveaway!
Hydroflask is giveaway away two 18 oz. Hydroflasks today! Meaning there will be two winners! Yay!