Happy Earth Day everyone!
In honor of our life-filled-spinning-orbe I figured I'd cover a company that cares as much about the natural products their shoes are made of, as they do how comfortable they are. They strive to use natural products like leather, rubber and Jute in the construction of their shoes. Birki's, known by us 30-somethings as Birkenstock, hit that market big time in the mid-90's.  I still remember my first pair and they lived up to their reputation. Cute and stylish, while feeling like I was wearing bedroom slippers.

But in the outdoor community, things are always moving towards comfort and function. And mostly function. Shoes like KEEN sandals, Chaco, and Teva stole center stage. And as far as I knew, Birkenstock's leather sandals were a thing of the past for our family. The leather and cork variety just didn't hold its own against the river crossing, mud puddle jumping, lake splashing fun my kids (and I) were drawn to.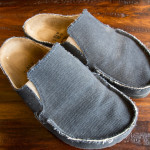 But this last winter I was re-introduced to Birki's product line-up. They still have a whole host of comfortable leather/cork/rubber sandals and clogs. A pair of my favorites even look like the ever popular TOMS that all the stylish people are kicking around in. And Birki's still holds true to comfort. In fact, I wear them all day, around the house, after a run, everywhere. Clogs are a great spring shoe. Perfect for a post-climbing session when your feet are screaming from being cramped in a climbing shoe.
But here is the shoe I really want to share with all the parents:
Last week we celebrated a whole week of Multi-tasking Must-haves. And this shoe definitely makes our list.
Yays!
Upper material is an alternative to leather that cleans up easily, but has a fleecy inside that is comfortable for the foot. Not stiff at all. I hate stiff sandal straps.
Has a soft aqua footbed that is lightweight, flexible, water-resistant and stain-resistant. Romping through mud and creeks, down a beach and through tidal pools is no problem.
The sandal still looks like it's leather Birki cousin, nice enough to dress up and wear to church!
Notice the three buckle construction, ensuring a good comfortable fit on your kid's foot. You can adjust down for narrow feet or bigger for kid's with a wide toe-box. I ordered my son's big so I'd get more bang-for-my-buck and I could tighten the heel strap so it still fit well. So in a sense they will "grow-with-him" through the next year.
Nays
Open toe. While this is the same as the popular Teva and Chaco models, it still allows pebbles into the shoe and doesn't protect from stubbed toes. A KEEN style sandal does protect the foot a little better.
For our younger kids, all the buckles can get frustrating. But to me it is well worth the adaptability benefits.

Conclusion?

Get them. I'd highly recommend this shoe to parents who want shoes that look nice, perform well, are durable and handle a variety of situations. How great is it to have one sandal that can walk through rivers, down beaches and into a nice restaurant in the city?!
(We'd like to thank Birki for providing these products for review. As always, our opinions are our real and honest perspectives.)