This last weekend we were side-lined by a small running injury so we decided to kick around close to home. Which led to a whole host of new adventures up near Rockport Reservoir and the High Uintas. But we also frequented one of our favorite Salt Lake hikes perfect for kids, Bell Canyon Reservoir.
Not on purpose, I got three different brands of kid shoes on my kid's feet and mid-hike realized this was a great opportunity to test out and compare the traction on these bad boys.
The shoes that were tested:
Stride Rite (Toddler) Dallas Sneaker | Hi-Tec Omaha Low | Keen Newport H2

Location Tested: Dirt trail, rocky scrambling and bouldering.
Feature tested: Traction
Duration: 3 miles of hiking, 7oo" vert.
Results: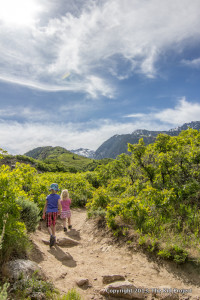 Get ready to be surprised. The Stride Rite sneakers (also 1 yr older with more wear than the other two) out performed the Hi-Tec and KEEN shoes in our traction tests, with Hi-Tec coming in a close second. My husband (without knowing I was thinking of writing this review) commented on how much better the Stride Rites were gripping the rock than the KEENs.
Now we love each of these brands. And would still highly suggest them to any parent. But this challenges our notion that kids need a hiking specific shoe to hit the trail. We have often used simple sneakers (brands like Stride Rite or Nike) and had great results. Not only is traction good, the foot bed tends to be a little more flexible, allowing more natural movement of the foot. We've found our kids are more agile and coordinated in a more "natural" shoe.
Now we love KEEN. Their Newport H2 sandals are awesome for hiking and adventuring in watery locations. 🙂 But last summer I noticed my son was always "eating it" or in other words slipping and falling when he wore his KEENs.
My word to KEEN – we love you guys. We love that your shoes are hard-core and last through several children.  But please put some work in to your rubber compound!