I really don't have any idea how to approach this post. Every person requires a different amount of food. Quantity also depends greatly on age of kids and gender! So what I am going to do is add in a bunch of qualifiers. First, we went with another family of four and there was much sharing back and forth. We forgot the margarine and our fuel ran out so they kindly shared. They misplaced the water treatment they were using so we shared our Miox purifier. One way to safeguard yourself or your family in the backcountry is not to go alone! Just follow the unwritten rule, "The sharing goes both ways."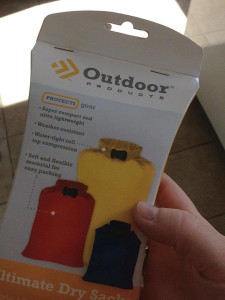 Secondly, if the meal was particularly tasty and portioned correctly I'll add a :).
Third, all our food was cooked on either an MSR Pocket Rocket or an Olicamp Kinetic Ultra Titanium Stove. Both worked really well. But remember, they can have issues if you are above 10,500 – ish feet. We did run out of fuel and were a little surprised by it. Bring an extra fuel can if you don't want to risk it.
Last, I organized our food into three waterproof storage bag I found at Walmart, 3 for $10. They resemble the ones made by Sea To Summit, but are a fraction of the cost. These bags were awesome and can be hung easily from a tree.
Number of Adults: 2
Number of Kids: 3 (Ages 3,5 and 6)
Length of trip: 2 nights
Dinner 1: Subway. I am not kidding. We ran out of planning time and our mileage was really low because of the kids. So why not strap Subway sandwiches on the pack? It was awesome come 5:30pm. No cooking the first night. No clean up.
Dessert: 1 bag Keeber cookies / Beer for the adults 🙂
Breakfast 1: Quaker instant oatmeal (approx 7 servings) with 1/4 cup of chopped walnut/dried blueberry mixed. A spoon full of dry milk/per person.
Lunch: 1 box of wheat thins, 2 tins of Kipper Snacks (adults), 3 foil packages of pre-made Tuna Salad :), 4 GoGo Squeeze Apple sauce. Looking back, I should have brought more tuna. The foil packages are about 100 calories a piece. Meaning my husband alone will eat 3-4 of them…
Dinner 2: 1 package dry gravy mix (no milk needed), 1 package instant mashed potatoes, 1 package Stove Top Stuffing (with a little Parkay margarine to make it), 2 12 oz. cans of chicken. 🙂
We made the gravy separately. But combined the potatoes,stuffing and chicken into one pot. Then poured the gravy over the top. It was totally delicious!
Dessert: 1 bag of Keebler cookies and one (borrowed) package of pudding. If you use powdered milk and really cold water, it actually sets pretty well. We also set it in the pile of snow we collected to chill our beer. Another variation on pudding is to add peanut butter into the chocolate pudding. Very good.
Breakfast 2: Quaker instant oatmeal (approx 7 servings) with 1/4 cup of chopped walnut/dried blueberry mixed. A spoon full of dry milk/per person.
Snacks: 2 cups trail mix, 3 cups dried pineapple, 1.5 cups almonds, 3 Snicker bars, 2 packages of Skittles for "trail bait", 3 granola bars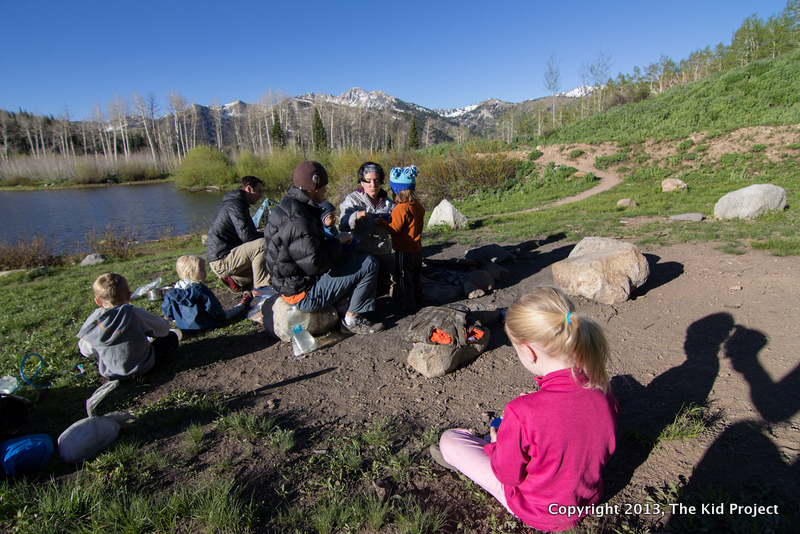 We were a little lean on the snack side of things and my husband was left hungry after a few of the meals. It turned out fine, as he finished most of the kid's meals. Also, like I mentioned, we shared a lot of snacks with another family. Here is a list of the notable ones (ie. I'll bring next time!)
Ritz Crackers and Easy Cheese
Dried Mango
Pringles