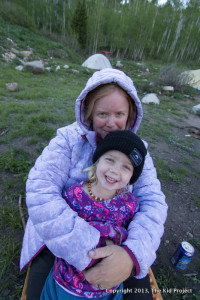 Every once and awhile I have some romantic, glorious idea…albeit ambitious. And last winter, when the snow swirled deep, I was dreaming of sunshine and wild flowers and high mountain lakes. I got it in my head to try taking my kid's backpacking…not a long distance, but far enough to feel like we were getting a "back country" experience.
While Chris and I were sort of "set" in terms of gear, our kids were not. So I started researching hiking shoes, backpacks, sleeping bags, sleeping pads…and of course a tent big enough for us! And so the Backpacking Project 2013 was born.
But like many ambitious goals, there is an undercurrent of doubt. Layered like a cake that is all beautiful and romanticized up top, yet has a whole host of details, planning, and uncontrollable elements (ie. weather) underneath. Somewhere down there I wondered if we'd talk a whole lot about it but never really do it. And if we did do it, I worried that the trip would well and truly flop.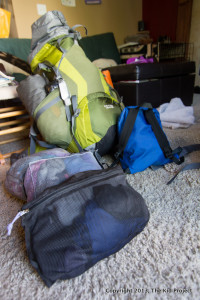 Two weeks ago I put out a call to all our adventurous friends. "We are tentatively planning on backpacking into Willow Heights with the kids in a few weeks." We started collecting our gear, organizing it, making sure sleeping pads didn't have a hole and headlamps had batteries. All the time watching the weather. For quite awhile the nightly lows were in the mid 30s to low 40s. Eeek! I really wasn't sure the kids could stay warm at night…But as the Salt Lake Valley temps soared into the upper 90s, [for once] my hope soared as well. Nightly lows were creeping into the 50s in the Wasatch and the game was on.
Friday afternoon we met another family of four (kids ages 2 and 3) and one brave single friend at the trailhead. We spent a good number of moments laughing at each other's collection of gear. The other dad's pack was truly glorious, with ornaments strapped all over and crowned with a stuffed purple unicorn. Chris's Deuter ACT Zero was rockin' the extra baggage with its super extendable main compartment and adorned on the outside with Subway sandwiches for the first night's dinner.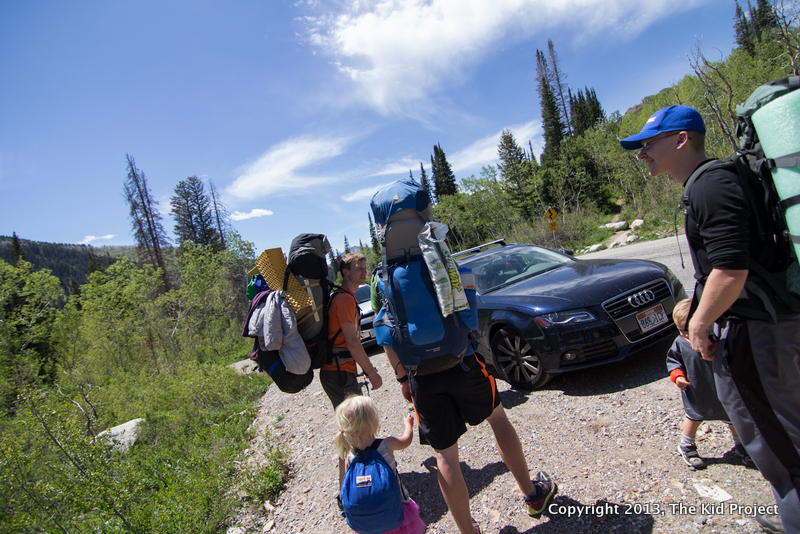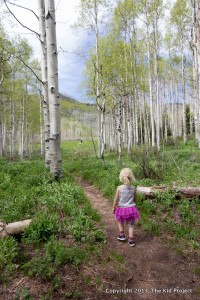 The hike into Willow Lake is only 3/4 of a mile and roughly 700″ of elevation gain. Despite the small distance, the grade was pretty steep for little legs. Skittles came in handy as trail bait and more than one parent was carry a kid's backpack. The trail winds northward from the road and ascends through thick aspen groves. The last 1/4 of a mile the trail flattens out substantially, enters a wide open meadow with a pond and goes up over one last hill before reaching the lake. My youngest chose a tutu as her lightweight, quick drying clothing of choice. 🙂
Once at the lake we began searching for a site. Not knowing the area, we actually hiked the trail all the way around the lake while we sorted out our options. We finally settled on a well established back country site on the west side of the lake, with close access to the lake and just down from the tree line.
We spent the first night setting up camp, eating dinner, drinking beer (we packed a few in and kept them cold in some snow) and watching the sunset reflect off the aspen trunks and light up the lake with ripples and color. It was a perfect first night which led to a perfect next day.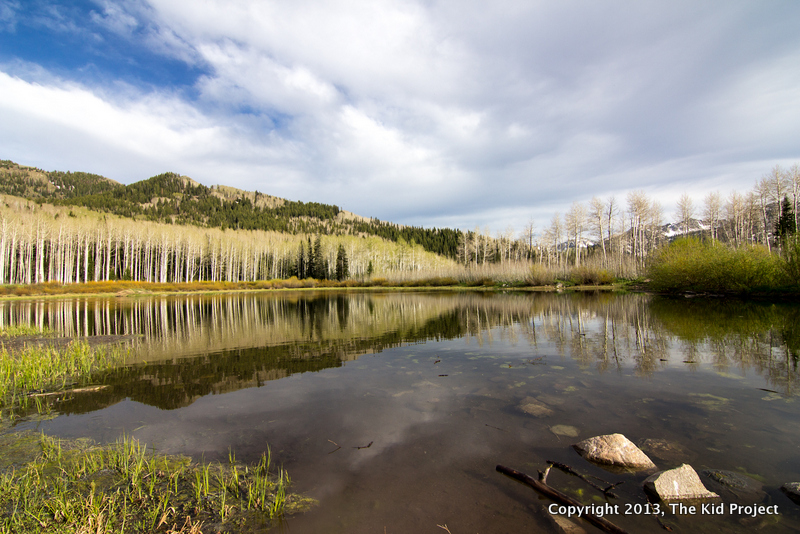 After breakfast we headed out on a day hike with the kids. We didn't really have a plan, but knew that we could follow the trail around the lake to the north end where another trail branched off and headed up further into the mountains. This trail was steep and there was quite a few tears and complaints from the wee-ones but eventually we gained the ridge of a substantial "hill" overlooking the lake. We followed the trail another 5 minutes to a small pond/lake tucked back in the trees and sat down for lunch.
The rest of our trip rolled out from there. We dodged the sun (or failed) in the afternoon, got a little sunburned, played down by the shore, talked to many people on their own day hikes, hunted for more snow (for the beer and pudding that night) played all sorts of games and relaxed a ton. The nights were mild and everyone stayed warm. And because there were multiple parties our "mistakes" made on our first trip (like not packing extra fuel) were slight bumps in the road.
All my anxiety was for nothing. Our gear worked splendidly! The kids and I all slept in the Kelty Salida 4, with room to spare. My husband loved sleeping out in the ENO Hammock. The weather was perfect. The destination scenic. In fact, I could not have asked for a better trip.
Directions:
Head up Big Cotton Wood Canyon from Salt Lake. Approximately 11 miles up you will pass Silver Fork Lodge. JUST after the lodge the road curves and 200 ft later you will see room on the right side of the road for cars to park. The trailhead is on the left side of the road and marked by a large stone that says Willow Heights Conservation Area. It is easy to miss the trailhead.
Red tape:
No dogs allowed in the Big Cottonwood Canyon area.
Special Thanks
A number of awesome companies helped us to gear up for this (and upcoming) trips! We've been testing their gear and brought our favorites along for the ride. Here are a list of the notable gear items that we really enjoyed. Check out our Gear Review page for complete reviews (some coming soon):
Kelty Salida 4 tent
Deuter ultra light adult packs ( ACT Zero 50 and ACT Lite SL)
Deuter kid's packs (Junior and Climber)
Eagle's Nest Outfitters
Big Agnes Little Red and Haybro sleeping bags
Deuter Little Star and Starlight Sleeping Bags
Big Agnes Air Core sleeping pads
HiTec women's + kid's hiking boots (Harmony Life, Elastic Lace Jr, Omaha Low Jr.)
HiTec Timaru Down Jacket
NiteIze mini BugLite
Help stop the destruction of this area!
This a complete aside and for those of you outside Utah, you might never have heard of SkiLink. Just days after this awesome trip I learned that SkiLink will greatly affect the Willow Heights area. SkiLink is a proposed "transportation" connection between two Utah resorts, The Canyons and Solitude Mountain Resort. As a skier I am generally open to expansions…some of them.
But the practical implications of SkiLink is the destruction of some sweet backcountry ski/hiking in the Wasatch in exchange for a gondola that does not adequately serve the skiing public and in fact would cost so much, most of the ski population could not utilize it unless wealthy. Why do I bring this up? Because Willow Heights Lake is the proposed area for SkiLink to come through. Help stop the destruction of this beautiful backcountry location by signing the petition at the link below: Help Stop SkiLink