I have several backpacking pet peeves. Bad (or not enough) food, bad sleep. They can take what would be the most amazing experience and make it unenjoyable.
The first time I saw an ENO hammock was about ten years ago on a group camping trip. One of the guys pulls out this hammock that is stuffed into something the size of a softball, strings it up and sleeps in it. I was jealous.
We recently had the opportunity to test out an ENO hammock (double's nest with insect guard) and pro-fly tarp. They are everything I hoped they'd be. Hammocks are amazing because you can sleep on a mountainside as long as there are trees. Rocks, slopes, branches, bushes? No problem.
Eno Double Nesting Hammock with InsectShield
Location of testing: Red Rocks, NV and Wasatch Range, UT
Best Use: Backpacking, car camping, relaxing
Conditions: Daytime highs in the 60-70s, night-time lows in the low 50s. Favorable weather.
Number of nights tested so far: 5
Yays!
I'll start with the hammock. When I got it I threw it on the scale and it came in a couple of ounces shy of the spec'd weight at about 19 oz.
It is easy to pack into it's buillt-in stuff sack and compresses down to the size of a large grapefruit.
The InsectShield should repel mosquitos (haven't seen too many yet this year, but have never seen them near the hammock) which is a definite bonus if you a) have kids or b) are going someplace buggy. Especially if you plan to sleep in it and don't want to be buzzed all night.
The construction quality is superb, and the hammock is insanely comfortable.
During a hot day the parachute fabric allows enough air to travel through to cool you off, and at night with a sleeping bag and pad I'm able to wrap the fabric around my sides and top to cozy in like a cocoon. If only I came out a little more butterfly-ish.
I've slept in it a number of nights now and sleep much better than I do on the ground. I'm a side sleeper, which is a bit of a sacrifice when in the hammock but I've found I can turn my head to the side and bury my head into a pillow and get about the same effect.
ProFly Rainfly
I've not had a chance to try out the fly yet (maybe that's a good thing 🙂 ) but I'd be comfortable spending a night in a rainstorm under it.
It sets up super easy and provides great coverage.

Atlas Straps
ENO also sent us a set of the Atlas straps. At first I was pretty skeptical that they were worth anything, but have come to appreciate them. They make setting up and taking down the hammock a 60 second operation. It's really nice if you are in a hurry to hit the hay or just want to set it up at a park for a few minutes.
They'll save someone who is a knot wizard a bit of time and if you're not comfortable with knots, they're a lifesaver. To buy webbing to put up the hammock would probably be $10, so they are definitely a premium….but depending on how much you plan on using the hammock, totally worth it.
 Nays
The ProFly is a bit bulkier and slightly heavier than the hammock. (Check out the ProFly Sil if you want to go lighter). Otherwise this is a great fly!
Don't leave small kids unattended in the hammock. It is difficult for young kids to maneuver without falling out.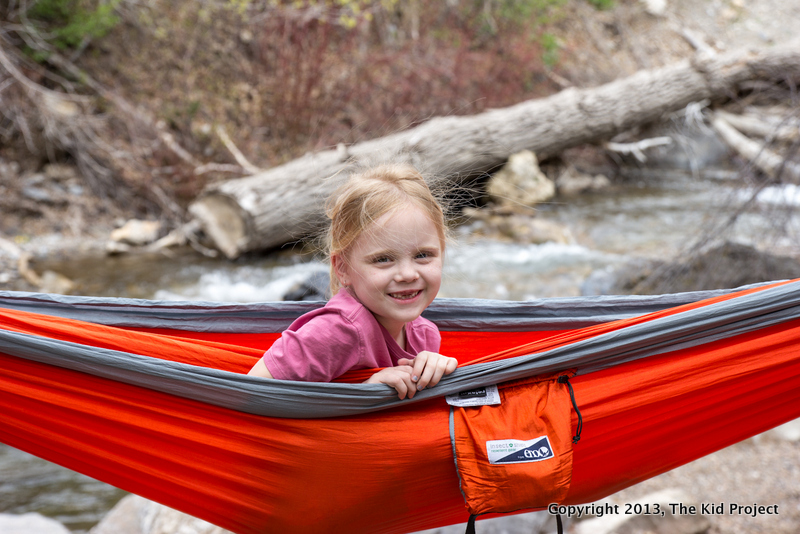 I'm excited to slip the hammock and straps into my backpack for my trip to the Tetons in a few weeks. If I can find two trees, I'll be able to be comfortable regardless of the terrain. Now to find more good backpacking food….
*We'd like to thank Eagle Nest Outfitters who gave us this gear at no cost for the purpose of review. As always, these are our honest opinions.