As a family, we've tried out a ton of different sleeping bags over the years. And for the vast amount of families, you cannot go wrong. Well…too wrong. Most sleeping bags on the market will keep your kids warm in moderate to warm temperatures. But there are significant differences that can affect a good night's sleep for you and your kid. Here is how we broke it down:
Best All-Around Sleeping Bag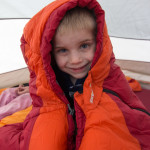 Deuter Starlight EXP – This bag has kept our kids warm in cool and moderate temperatures, is perfectly sized to fit our kids between the ages of 4 and 10 years old, and is light and small enough to come backpacking with us. It also "grows with your kids" and can be lengthened approx. 12″ when you unzip it at the bottom. Did I mention cute and fun colors that are gender neutral? A winner on all fronts!
For Your Tall and Growing Teen
Slumberjack Go-N-Grow 30 – I've got to be honest, this bag didn't make our "highlight" list. Mostly because it is large and bulky, not at all good for backpacking. Like the Deuter it has an extendable bottom portion so it can grow longer with your kids. The funny part? I am 5′ 3″ and I fit comfortably in the bag without it extended! So this is good for long and lanky teens that are still growing. But I'd say for sure keep it to car camping.
For Your Always-Cold-Kiddo
Big Agnes Haybro with Insulated AirCore Pad – I was that always-cold-kiddo and now am that usually-cold-mom when it comes to nights in a tent. I actually took this sleeping bag (I fit nearly perfectly) out for two nights and was so warm all night! It helps that these bags are rated down to 15 degrees. Other perks? A stuff pocket at the top for making your own pillow. By far my favorite feature!
For your Wiggly Toddler
Big Agnes Little Red – I have had three wiggly toddlers. And spent a whole host of nights trying to figure out how to keep them warm when they won't 1. stay in a sleeping bag and 2. stay on a sleeping pad. So we gave the Big Agnes System a try. Their sleeping bags are designed with a sleeve on the bottom side of the bag that the pad slides into. This makes rolling off the pad impossible. Also, I think the Little Red is wider than most kid sleeping bags and this helps keep them in the bag when they are tossing and turning all night.
For Backpacking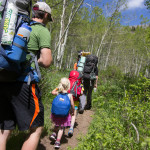 Deuter Kid's Star Light or Little Star – Backpacking with kids can be hard, cause you need high functionality with high "pack-down" ratio. And honestly, most kid's synthetic bags are huge when packed down! And not light weight! What are you to do unless you want to spend all your money on an expensive down bag for your kids? Well, we've tried several different brands of kid's sleeping bags and these have been the lightest and smallest after packing them into their stuff sacs. They do well in a variety of temperatures as well.
Bang-For-Your-Buck
REI Kindercone – A great all-around bag. Fun internal fabric, sized well for elementary kids through early teen, packs small enough for backpacking but ideal for car camping. This is also one of the least expensive, yet high quality bags we've seen.
For Your Too-Cute Infant/Toddler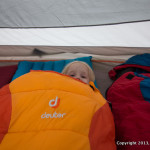 Deuter Little Star EXP – A sleeping bag so small it is adorable? Yep, this qualifies. This is the smallest (when zippered extender is zipped up) bag I've seen. Without the bottom extended, it fit my two-year-old perfectly. But the "grow-with-me" extender wil give her many more years in the bag.
For Indoor Sleep Overs
Any will do, although save yourself some cash and just grab an inexpensive sleeping bag at Target or WalMart.
For more info on other great kid's sleeping bags visit Tales of a Mountain Mama: http://talesofamountainmama.com/2012/08/kids-sleeping-bags-reviews.html