To say we were ecstatic to hit the road might be an understatement And with the Hang Ten Paddle board, a host of bikes, and our running shoes all stowed [not so] neatly in the back – we were ready for adventure.
We are new to the stand-up paddle boarding [SUP] world. You can ready about our first adventure with the kids here: The New Kid Friendly Cool Off
There are many reasons SUP has gained in popularity but the significant reason for us is this: it is very easy to incorporate into a family environment. It takes little to no skill. It works on body coordination, balance, and core strength. And it is in the water! How could it not be fun?!
Our first stop was the north shore of Lake Tahoe. And this was by far our favorite paddling location and a picture perfect day.
East Moon Dune Beach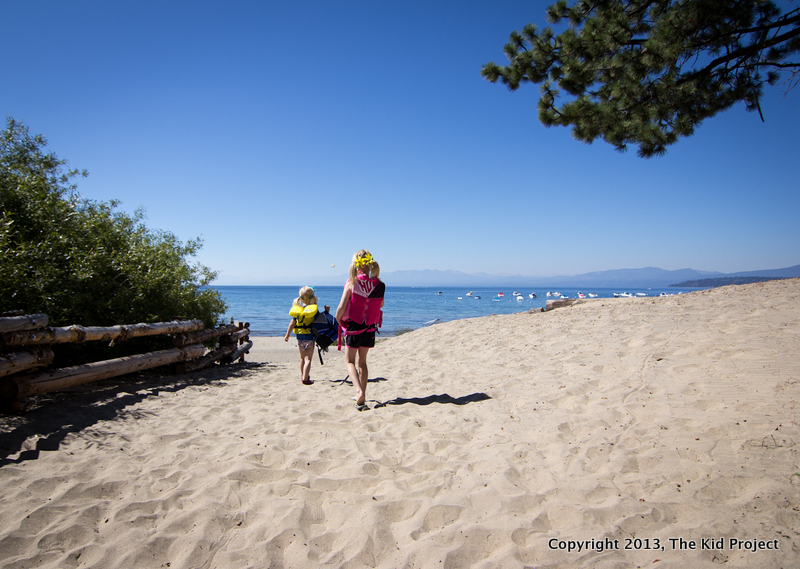 From Hwy 89 and Tahoe City, head towards Kings Beach. This is where the directions become vague. The beach is located on the Tahoe Vista, across from some rustic lodges. Parking is along the road. The beach is marked only by a swimming road sign. We stumbled upon it.
Tip Jar
Bring decent shoes for the trip back to the car. While sands are soft, they also get hot!
Arrive early. Early being around 10am. There was plenty of parking, even on a Sunday, But it became crowded in the afternoons.
There is no or little shade. If you think you might want some, bring your own.
The water is very shallow for a long ways, making it a great place for young kids.
There are no public restrooms at this location.