Kid's Love to create. It doesn't matter if it is with sticks, legos, or massive amounts of  paper, glue, and stickers. So when Nike contacted us to be part of their #FreeYourMoves campaign and design our own shoes, we jumped at it!
Free Your Moves
I've become more sentimental with age. Meaning a company with a good long distance vision can really draw me in. The "Free Your Moves" campaign seeks to encouraging kids (and, by extension, families) to get out and get active. They want to inspire young athletes to dream big.
The Shoes We Designed:
You all want to see my kid's designs, don't you?! 🙂 This was the first day school.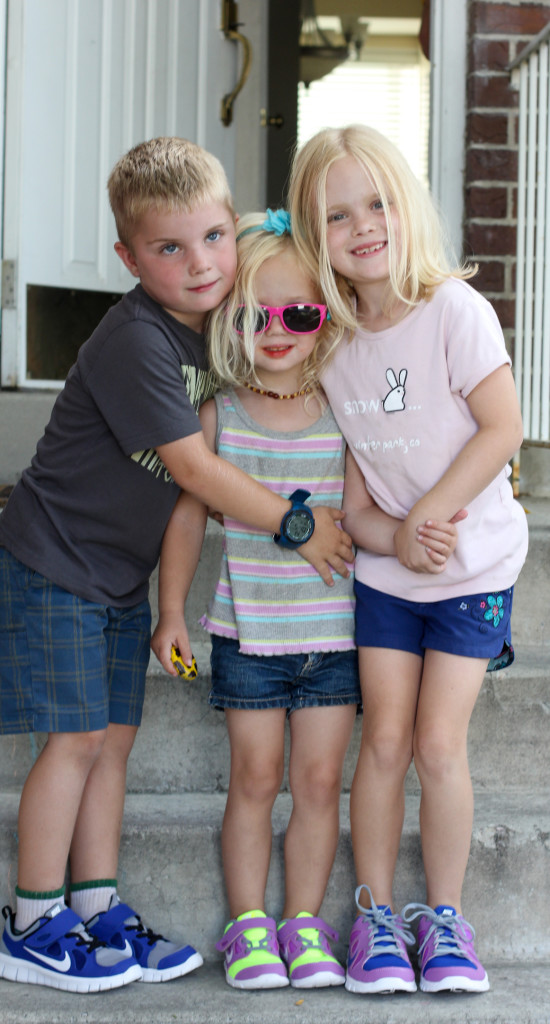 It was so fun seeing what colors they chose on their own. (Mom, trying hard not to interfere!)
Yays!
I LOVE the creation process. And the Nike online program is well designed and intuitive, even for my kids.
So far we are very impressed with the actual quality and characteristics of the shoe. Like:
Velcro strap option for younger kids. Makes getting them on/off very easy…even for a 2-3 yr old.
We've used these for running, walking, hiking, and even backpacking. They have provided adequate support and traction when we needed them to.
I like the "name on the tongue" option in my older daughter's shoes. Not only did it personalize it but works as a "lost and found" option. Only negative is passing them on to younger siblings…
The white soles have stayed remarkable white considering the dirt and rock trails they've been stomped through…
Good soft flex mid-shoe so the foot has support but ALSO natural movement – we've noticed this to be especially important with our daughter who likes to run.
They have them for ALL ages. Yes even babies! (Nike Baby Fit iD)
Nays!
Cost! As a multi-kid family I choke at the thought of spending $50-$100 on a pair of kid shoes. But this is reasonable when compared to other brands of similar quality. And you get to design them yourself!