This is likely to be an "alpine start" I am never going to forget. For those new to outdoorsie lingo, here is a brief definition:
alpine start- 1. To make an efficient start on a long climb by packing all your gear the previous evening and starting early in the morning, usually well before sunrise.
My journey did indeed start the night before…days before as I packed exactly what I needed and nothing more. I woke by head lamp but instead of grabbing my backpack and climbing helmet, I donned my 'penguin costume', squeezing my legs into a wetsuit, tossed on my new favorite Stonewear Designs long sleeve and a down jacket. It was cold. Maybe around 42 degrees.  Fall was all around but instead of sipping warm coffee I was stuffing down a banana and heading to the beach for a swim.
I've started to lovingly refer to the Bear Lake Brawl (yes, I chose a race called a 'brawl' for my first tri) as my hillbilly triathlon. The only thing that would have made my mountain bike more comedic among all the road and time trial bikes would be if I chose to wear a time trial speed helmet while riding it. Sort of like the photo below. 🙂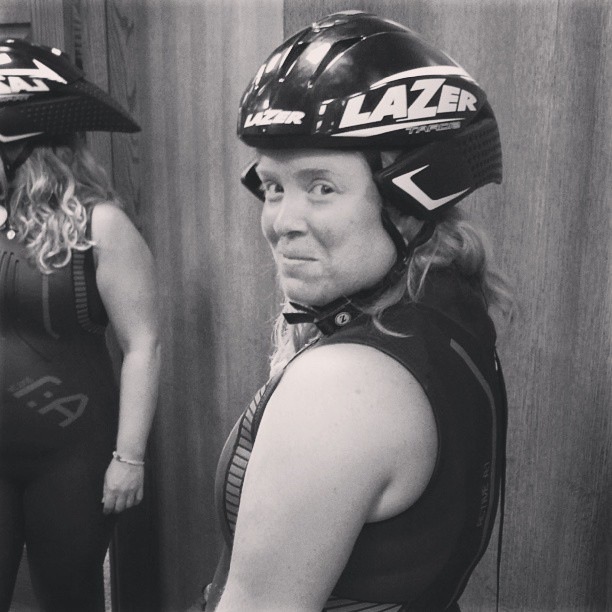 After setting up our transition area and attending the race director's meeting, my friend and I meandered down to the beach. Our waves didn't start till 45 minutes after the first wave of men. But it was sort of like we were kids again. Hundreds of swimmers and spectators counting down each of the waves as they began their swims. I am not sure what was more fun, counting down the swimmers or being counted down. 🙂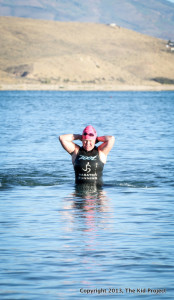 The swim went great. A few thoughts for newbie triathletes:
Don't be afraid of open water, just practice it first.
Choosing a race at a clear lake is helpful because you can see the bottom, which provides a measure of comfort.
I didn't get kicked in the face or anywhere else! It was splendidly peaceful!
If the air temps are cold, this will only help as the water will feel warmer!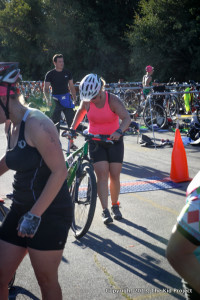 Our transition from swim to bike was made slightly more difficult by a super long beach sprint. But, hey, I made it and didn't even fall over from the dizziness or dysfunction of trying to get my wetsuit off while running.  That is a bonus! I did get my ankle timer caught in my wetsuit though..that cost a little time. 
Then I was off on my hillbilly bike. If you want to do a triathlon but don't have the bike, no sweat. Sure you'll be passed by tons of women that you beat out of the swim, but really you race against yourself. And I wasn't the only one a mountain bike…
And then the run. Not much to share here. Though I must say Chris and I are currently fighting over this handy little running belt: SPI belt Endurance Series. It has room for all your personal items and refueling needs during a race. But I used it for my bike/run race bib. I simply pinned it on the belt and clipped it on during transition. It was so quick and easy! Obviously whomever is racing wins dibs on the belt…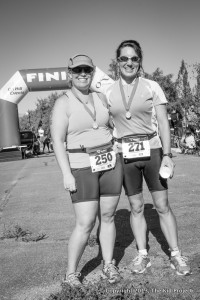 So, I've been sitting here for a day or two, trying to figure out how to sum up my first triathlon. The training journey was so…fun and challenging and long. The race was so… inspiring and full of camaraderie. However, I still cannot sum it up. But I'd like to say:
It won't be my last!
Everyone should do at least one!
I learned so many things about myself that I never knew.
You can do things you never thought you could!
Having a friend to journey with you through training and race day makes it even better.
And there are few life experiences where your family can cheer you through the finish line. It is an experience you shouldn't miss.