I think I found a pant designed for the iPhone 5.
But that is just one of the many things I love about the Rockin' Pant. More on that later. 🙂
I am hard to please when it comes to pants. I'd say I have a hard body to fit – round hips, short legs. Add to that a list of activities I want my pants to flow seamlessly between –  daily mom life, climbing, hiking, and somehow managing to be comfortable or cute?! Let's just say I've tried a lot of pants but not been very excited about many pants. Until now. I've had the opportunity to test out a few items in the Stonewear Designs fall line-up and been overly surprised by just how well they "nailed it on the head."
Location: Wasatch Range, UT
Activities: Hiking, Climbing/Bouldering, Daily Living
Best Use: Climbing, Hiking, Yoga, Casual Wear
Yays!
Fit: Stonewear has somehow managed to design a "higher rise" pant that sits near the belly button, but still looks good in 2013. No 1990 flash back but all the benefits – A higher waist means it doesn't gap when I bend over to tie my son's shoes for the 25th time or even more importantly, doesn't sit awkwardly under a climbing harness.The waist stays place all day or all yoga class. Secondly, the fit is relaxed enough to be comfortable but not overly flowy or loose. I am not exaggerating when I say they've found a perfect balance in the fit of these pants.
Function/Pocket: The fit is a large component in their function. But other things are noteworthy. Like the cute little leg pocket hidden under an attractive zipper. Honestly I assumed, like most pants, that it was there mostly for posterity. I was wrong. My iPhone slides perfectly in the pocket. The zipper opens and closes easily using one hand. I've hiked and climbing with contents in the pocket with little to no discomfort and the pocket sits well below the leg loop of my harness.
And as a mom who is often hiking and climbing with her kids, I always want my iPhone close and accessible without having to hold it in my hands.
Sizing/Length: Nothing awkward about Stonewear's sizing. I'd say they are true to size. If you are in between, order the size down.
Fabric: If you have a thing with soft fabric, go to Stonewear Designs every time. That is what they are known for…buttery soft fabric and patterns that you'll want to wear day after day. What I love about the Rockin' Pant is that the fabric is super stretchy and soft but thicker, implying it will last longer and be more durable than its spandex yoga pant cousin. I can sit on rough granite or hike through scrub oak without worrying about it snagging my pants.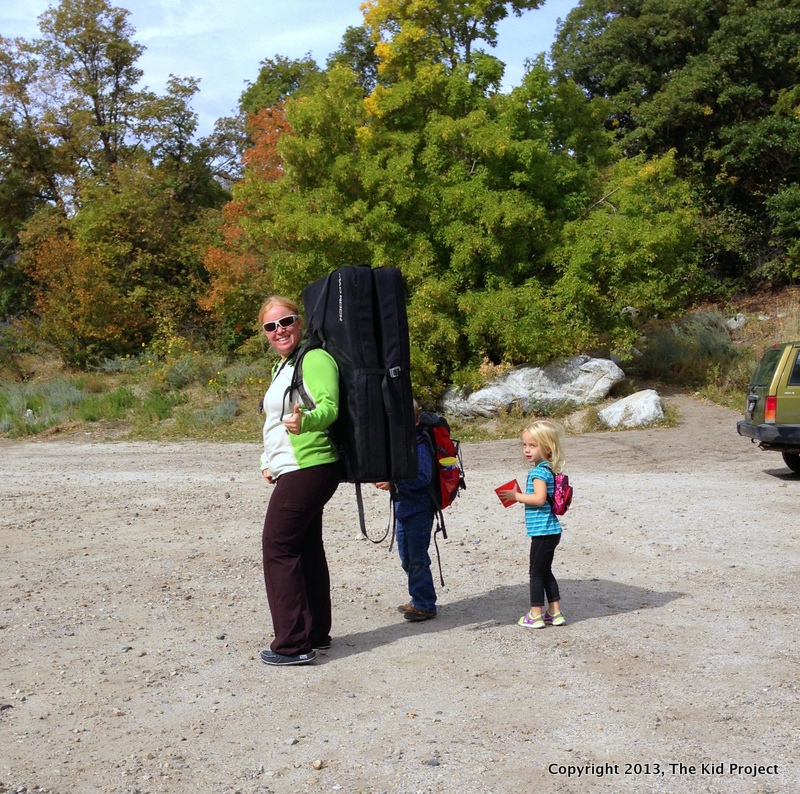 Nays
Not one thing. This is the best pant I've found to-date for climbing and think everyone should have a pair in their fall climbing wardrobe. But it is also great for kicking around town, yoga class, walking, hiking, and travel.
The only thing I'd change for climbing purposes is to purchase the capri version so I didn't have to roll my pants. That is just my preference while climbing…
We'd like to thanks Stonewear Designs for providing this product for the purpose of review. As always these are our honest opinions.