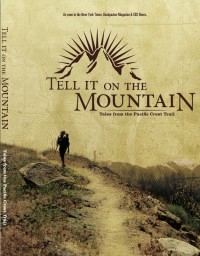 Last month I received a copy of "Tell It On The Mountain", a walking documentary of life on the Pacific Crest Trail (PCT). The PCT is 2,663 miles long and extends from the U.S. border with Mexico to the U.S. border with Canada near British Columbia. This movie documents the lives of a dozen or so people (of the 300 per year) who hike it, known as through-hikers. It holds nothing back, sharing their struggles, planning, tears, fears, and victories.
For these through hikers,
The journey lasts from April to October. That translates into about 20 miles a day, every day—on foot. These brave souls face bone-dry deserts, raging rivers, snow-covered mountain passes, mosquitoes, blisters, torrential rains… and the urge to quit.
I am not a movie reviewer. So I am not going to attempt to be one. But can honestly say it is the most realistic, non-romanticized, and insightful look into the daily grind of through-hiking that I've seen. Even my kids enjoyed watching parts of it, though it did get long and a little slow for their easily distracted minds. We watched in anticipation as one female hiker encountered a bear. We despaired with hikers who had to pull out due to injury.
And I even learned a bit about myself. Like the fact that I started to consider maybe, just maybe contemplating tackling this trail…until the rattlesnake scene. They lost me at rattlesnake. Actually eight of them I believe.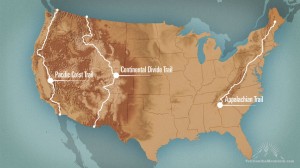 But I'd go so far as saying that anyone considering through-hiking or even backpacking should watch this movie. It felt a little like pulling up a lounge chair next to a good old campfire and talking to the locals for a while.
What was really unexpected were the few things I learned that I can apply to my own adventures as a parent.
Hiking Tips:
Umbrellas. I've always had a theory that a good old umbrella would be a fantastic hiking buddy. Synched in your backpack straps, it can protect you from rain or sun. And can be exceptionally useful if you are carrying an infant in a front pack. They pack down small and are relatively lightweight. But I've never put this theory to the test. It was one of the first things I noticed during the movie; people hiking with an umbrella strapped in back to protect them from the sun and 115 degree heat.  If you are doing any desert or hot weather hiking, consider adding an umbrella to your packing list.
No matter how much you plan, prepare and pack, you cannot avoid the unexpected. Like injury. Or getting lost. Or weather. You have to have a strong grip on your determination yet hold all your plans loosely.
Find your own style. Each of the dozen people they followed as they hiked the PCT had their own way of doing it. A few traveled alone. Two were actually hiking their way to their wedding. Some were elaborate planners. Others didn't even filter their drinking water. As much as we can gain wisdom from those that go before, you also have to figure out what works for you and your family on the trail.
And lastly a tip for the moms who, like me forget that, "When you live outside you just get dirty." Let those kids get dirty. It won't kill them. 🙂