I have a love affair with this Stonewear Designs Dryflex Double Cross top. And a funny laundry rotation going with it right now. It looks like this:
Wear under a cute black hoodie as casual day wear.
Wear as a baselayer on a "low-sweat" adventure. (Ie. Skiing, climbing, hiking)
Wear to a "sweat-a-thon" at the gym (ie. jogging, weights, or cycle class).
Wash
Repeat. That way I get to wear it three times between washes. 🙂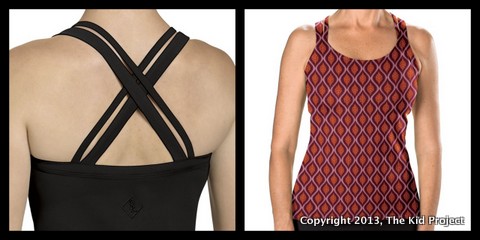 I've seen this tops (and others like it) scattered in fitness magazines. Super cute print. Way cute straps and back. But here is an honest moment. My chest size? 34 C/D. So 99% of those super cute exercise tops that make your back look all sexy will not work for me in any practical way!
Sure, I can layer a sports bra underneath (and usually do) but that sort of detracts from the "cute factor." But then Cassie over at Stonewear Designs challenged me on this, telling me that many "large chested women" love this top and that it is supportive enough to run in.
Ok, well then, I am going to put this to the test. And I have.
Tested in: Wasatch Range (climbing/hiking/road biking); casual wear; swim top at Bear Lake; Local gym (running, cycling, weights).
Cost: $44
Best Use: Fantastic fitness and outdoor top across the spectrum. A base layer for skiing, or stand alone in warmer weather climbing, hiking, cycling, yoga, gym use.
Significant Specs:
Dryflex: 92% micropoly/8% spandex 
22″ long (M)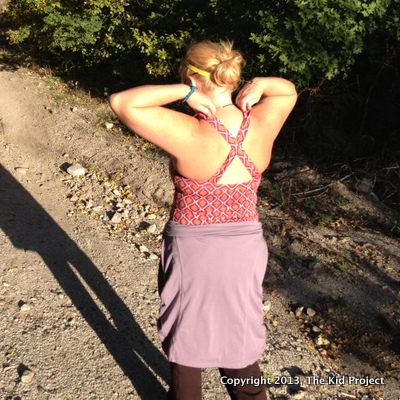 Selling Points: The super cute design and fabric of this tank is a selling point in it self. Add to this the tank's immense versatility and comfortable / quick-drying fabric and well, there aren't many tanks like it. In fact, I've even used it as a swim top while camping near lakes. Not sure I'd suggest it for chlorinated pools, but the fabric is light and dries quickly.
This top did indeed provide enough support to run in. Though I would probably keep it for easy runs and resort back to my "heavy-duty" support for speed work or races.
Desired Improvements: Two things.
I would like it 1-2″ longer. I've just become accustomed to the longer torso in shirts throughout the clothing industry. And sort of like it. Overall, this top isn't too short though.
I wish it had back pockets like you find on cycling cloths. Since getting into the sport of triathlon, I've noticed more than ever how I want my fitness clothes to work across the spectrum. And I've learned why cyclists have those silly back pockets! They are incredibly useful! And not just for cycling! I use them for my iPhone while hiking/biking and for my locker key, iPhone or iPod while working out at the gym. And you can make a pocket "invisible" and not noticeable for those that don't really want it. Nuu-muu's Ruu-muu is a good example of one.
Bottom Line: Great top for every body type and a huge spectrum of fitness pursuits. I'll be buying more. 🙂