Tested in: Wasatch Range, UT; Fall and early Winter conditions
Cost: $100
Best Use: Casual Outdoor Wear in Fall/Spring or locations with semi-mild Winters.
Significant Specs:
Rated from temperate to 14°F/-10°C
Crafted from super-soft, 100% waterproof fabric with plush Vegan friendly lining for extra warmth.
The Summit features 2mm of Neo-TechTM insulation, a dual-density, contoured EVA insole with DuraFresh anti-odor protection and molded rubber outsole.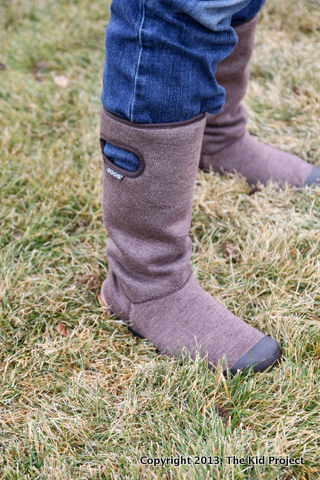 Selling Points:
Design: There boots manage to be super cute and functional. I would easily wear them for a night on the town with my girl friends or a trip to our in-law's horse ranch.
The "handles" on the top are quite useful for putting the boots on and the super soft lining is also incredible warm.
Um, these boots are machine washable! Rock on!
Performance: The 100% water proof fabric is both comfortable and perfect for wet and rainy climates.
Desired Improvements: A slightly thicker sole with heftier traction would make this boot fantastic through a cold snowy winter as well.
The Bottom Line: This a super comfortable, warm and cute boot for those of us who want our casual wear shoes have a bit of rugged adventurer in them as well. Or at least the "toughness" to handle daily mom adventures. This is not necessarily for someone who needs a high performing winter boot or wants a stylish fashion boot. It falls somewhere in the middle. Just like I do most the time. 🙂