Kid's look really cute in rain boots. Yellow. Pink. Blue. Cute. That is why I agreed to test the Stonz Wear Rain Bootz out as ambassadors this fall/winter. But I am finding out they have more uses than just cuteness. 🙂 It turns out I am still learning of new things and new awesome brands.
Tested in: Wasatch Range, UT; fall / winter conditions
Cost: $35.99
Best Use: Rain or chilly weather boot for year round use; walks, outdoor play, mild winters, daily living
Significant Specs:
100% Natural Rubber
Durable and tear resistant, yet flexible and comfortable
Quick dry 100% cotton liner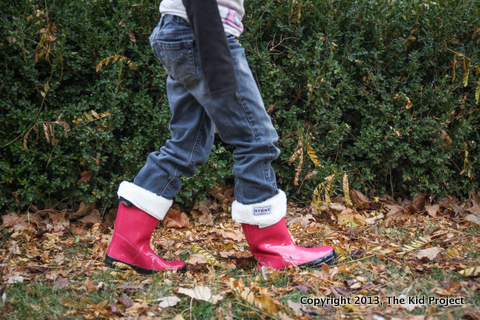 Selling Points: 
Everybody loves a cute rain boot in fun colors. And Stonz delivers with four fun-loving color options… my favorite being the yellow ducky boots. 🙂
Not having ever tried other rain boots I cannot comment on how they compare to other brands. But having once thought rain boots were unnecessary, I must comment that they are fantastic for any outdoor loving kid who delights in something as simple as a puddle. Which my kids do, almost to a fault. It has been a breath of fresh air (for mom) not to have to holler, "Stay out of the puddles!" In fact, I can encourage it.
This rain boot has great traction on the bottom, unlike some rain boots, and you can order a fleece liner for use during the winter. Now I would not suggest you use these as a primary snow boot in temperatures below freezing for extended amounts of time. But with the right socks you can turn them into a three season boot for casual wear, wet weather, and some snowy days.
Helpful tip: Think of the fleece liner as a sort of sock. Have the kid put it on first then put their foot in the boot. It is easier this way. Also, when the liners inevitably come out when your kid takes the boot off, just lay them out to dry. We had a few days where my daughter actually sweat them up, then left them in the boot, resulting in wet liners the next day.
Desired Improvements: none
The Bottom Line: If I lived in a wet climate (like the Pacific Northwest), I would consider rain boots a "must-have" as a parent. Even in our dry climate they are great for fall and spring. The quality of Stonz Wear is fantastic.