Canyons Resort, Utah is Vail Corporation's newest ski area and one of the nation's five largest ski areas with a total of nine peaks and 4,000 skiable acres.
As a parent, I am often scared off by the large resort thing.  I want 1) simple, 2) straight forward, and 3) relaxed. Cause chances are my family will come traipsing in and not be 1) simple, 2) straight forward, or 3) relaxed.
At least until we've skied a few runs. 🙂
But what I am learning is that some large resorts are like a well-oiled wheel when it comes to families; Canyons is a prime example. It is an excellent all-inclusive destination resort with nine lodges at the base and options for a variety of budgets. But even though it is a destination resort, locals shouldn't shy away either.
Our Insider Tips
Parking:
Using the Cabriolet is simple! Canyon Employees pick you up at your car and take you in their "ski sleigh" straight to the Cabriolet. Just flag them down! They even gave us all granola bars.
The Cabriolet is a short and scenic ride straight to the Canyons Village and drops you off at the Red Pine Gondola. From here you can rent skis, buy lift tickets, or access the mountain. Below is my home-made picture map: (click to see large version)

Kid Friendly Skiing
The beginner area, unlike most ski resorts, is not at the bottom. So don't freak out when you cannot see the easy terrain!
In fact, the Canyons is 54% easy or intermediate terrain. Hop on the Red Pine Gondola, which deposits you right in the beginner area. For intermediate skiers, you can access fun double green and blue terrain off the Orange Bubble Express.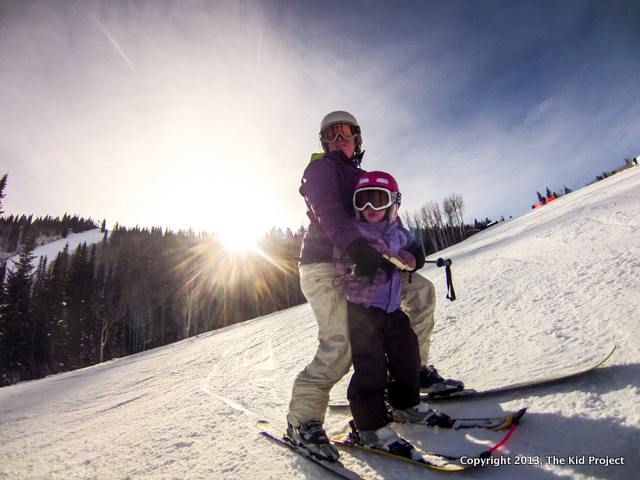 We took the Bubble Lift up first, following our children's pleas. A few notes:
1. The Bubble Express, due to the nice heated (yes, heated) seats and full seat backs, does not have any place for kids to grab on and scoot their butts back when loading. Our small kids needed help on this lift when they don't normally.
2. If you don't want to end up taking an unexpected rope tow, watch your trail map. Luckily we'd mastered the rope-tow-with-kids-thing.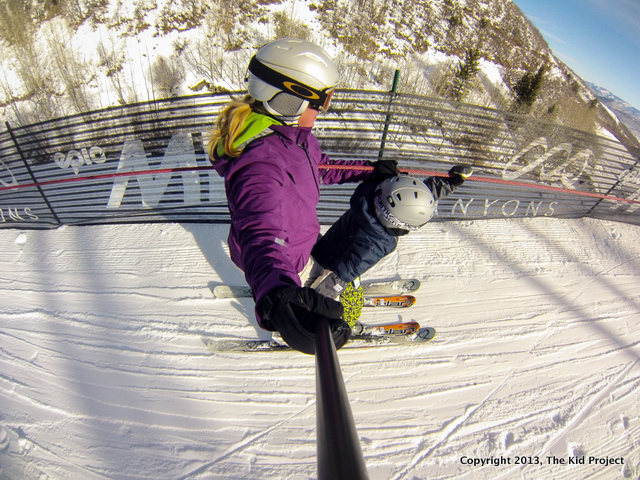 I'd suggest taking the Gondola first. At the top of the Red Pine Gondola there is enough beginner terrain to keep you smiling for the whole day. Magic Carpets (known as the Magic Blankie to my 3-year-old) are perfect for true beginners. Non-skiing family members can even come up to watch or join you for lunch at the Red Pine Lodge.
The two lifts at the top of the Red Pine Gondola both access a wide variety of terrain. High Meadow accesses easy green runs, with a few jumps for all sorts of kid fun. 🙂 The Saddleback Express is for intermediate skiers, accessing blue and black runs. You can find more Family Favorite Runs here.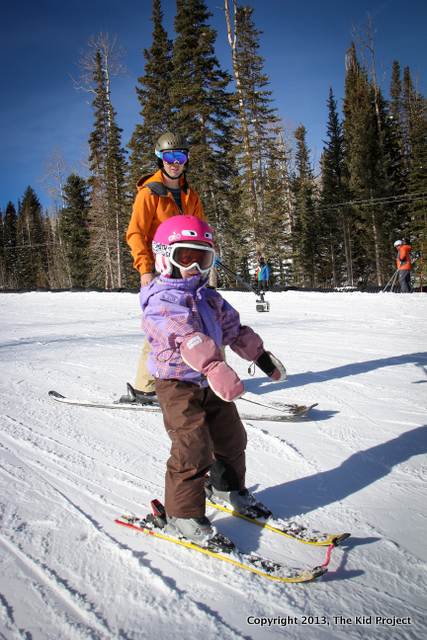 The Canyons has even gone the extra mile to cater to kids with small details like targets on the chair lift seats. 🙂
We had a fantastic day at Canyons Resort! All of our kids, despite their varying ability, were able to ski in the same general area. And having the beginner area mid-mountain helped all of us feel like we spent a day up in the mountains, not stuck at the bottom.
At the end of the day we took the Red Pine Gondola back to the bottom and were back to our car in 15 minutes total from top of the Gondola to our car door.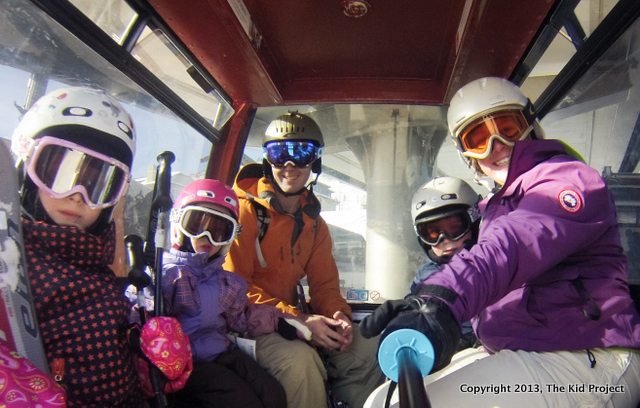 Dining:
Red Pine Lodge is a fantastic place for lunch, allowing you to eat and access the mountain quickly in the afternoon. There is outdoor seating for sunny days.
For a nicer sit-down option I'd suggest the Red Tail Grill located in the Grand Summit Hotel just off ski beach. They offer a southwest menu with many options that are kid friendly like chicken wings, quesadillas and tacos. But they also have fantastic southwest seafood dishes for mom and dad.
It was truly a pleasure to spend a day at the Canyons Resort. If you are looking for a fantastic destination for your next ski vacation look no further. If you're a local, be sure to check out what the largest resort in the Wasatch has to offer.