If you've been around the blog with us, then you know we are more of a "teach our kids ourselves" sort of ski family. But this time we took a parent's day off and entrust our ski-cuties to the Canyons Resort Ski School.  We prepped our youngest (age 3) for her day in Canyon Cubs, a daycare that includes a mid-morning outdoor excursion, lunch, snacks, and a private ski lesson in the afternoon.
On Thursday I asked, "so, what are you going to do in ski school?" Fully expecting her to say, "Have fun!" She actually said,
Listen to my teachers.
Well… that works!
The night before we came up with a game plan, because dropping off three kids at all their perspective classes while completing registration forms can be quite the hassle. But it wasn't, so I'll walk you through what we did.
1. Register kid's for classes before we went. 
Day care or Canyon Cubs (Cubs comes with a ski lesson) ages 2-3
2. Drop off Toddler at Canyon Cubs located in the Grand Hotel.
This is our youngest with all her ski gear…just before she fell over backward. 🙂
On non-weekend days you can drive right up to the Grand Hotel drop off area, and run them inside. Finding the 2-3 year old room can be confusing, since it isn't in the same location as the younger daycare. So plan time for getting lost.
The childcare workers in the Canyons Day Care are terrific. We made the classic mistake of NOT bringing her precious blankie… so of course she was in tears. They handled it well and got her smiling within minutes.
They even asked if we wanted to be called when she headed out to ski, so we could watch from a distance. Yes, of course! (As long as she doesn't see us. 🙂 )
While I dropped her off, Chris got the kid's ski gear on and ready.
3. With ski boots and ski gear on, we then split up.
I went with the older two to get them registered and to their classes while also picking up our lift tickets. My husband went to park the car in the lot adjacent to the Cabriolet.
The Cabriolet is a quick ride from your car to the base village, dropping you off right in front of the ticket kiosk.
We walked a flight of outdoor steps next to the Grand Hotel, which deposited us right in front of the Red Pine Gondola.
4. Find the Ski School Center to left of the Ticket kiosk.
Inside, we completed registration forms for our daughter age 7, got her ticket/EpicMix* card and walked her out to ski beach to meet her teacher. From there I said goodbye. 2 down, 1 to go.
5. Find Canyon Cubs, which has a separate registration area nestled among the shops right off ski beach.
They had everything for my five year-old right there from our reservation process. It took roughly 5 minutes to get him totally set with a class and then we were home free!
One word of caution: In Canyon Cubs they use a tool to attach the kid's mittens to the jacket. It is similar to tagging items for retail sale and will leave holes (though rather small) in their jackets. With most jackets this isn't a problem, but it you have an expensive down jacket with a nylon shell? Um… we lost a few feathers and ended up patching a small hole. Maybe just ask that they not attach their mittens if you are worried.
All this sounds crazy confusing, but realistically all of it is only a short distance from the base of the Red Pine Gondola. We are talking a snowball throw away.

6. At this point we could finally take a deep breath and focus on us!
Here is what we did all day:
We had lunch at the Red Tail Grill located in the Grand Summit Hotel. They offer a fantastic southwest menu and a beautiful apres ski dining location. If there is a large group of you, they have the first two and a half foot burrito I've ever seen! And yes, it was delicious. 🙂
Here is what they did all day (we snuck some photos 🙂 )
At the end of the day, after relishing the steeps with smiles shining, we returned to our crew of man cubs and found them smiling too! Our kids had a great experience, asked multiple times if they could go back, and couldn't wait to show us all the runs, jumps, and lifts they had traveled on sans parents.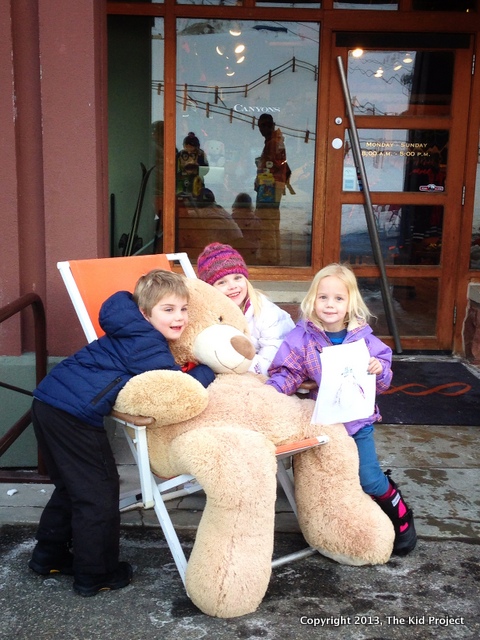 EpicMix
EpixMix is a new program put in place by Vail Corporation and uses RFID scanners that are located in various locations across the mountain at Vail, Beaver Creek, Breck, Keystone, Canyons, Heavenly, Northstar, Kirkwood, Afton Alps and Mt. Brighton.
EpicMix should be included on the hard lift ticket you receive. All day, while we skied, it traced our vertical, runs, and general stats. By activating your account you can track all this info as well as photos that are taken on the mountain! Just make sure to have the card in an outside pocket by itself and not next a cell phone or credit card.
Why should a parent love this? I can see where my kids went all day long while they were off adventuring without me. And I can take this info, like runs they skied successfully, and use it next time I am skiing with the kids. As a newbie to the Canyons, it also helps me find runs that are at their skill level for our next family ski day.