Last week we went to the Outdoor Retailer Winter Market. And while we only spent a brief afternoon at the show (other more important things to do, like skiing) we cruised the floor looking for gear that pertains to adventure parents. Below is a brief list of what to look for in the next year.
Deuter Kid Comfort Air
Deuter redesigned all their kid carriers, but the Kid Comfort Air is their first carrier with the Aircomfort system – in short a special suspended mesh back that provides back ventilation from three sides. It is lighter and better designed for summer time hiking. Look for it early spring in REI and in more retailers after April, 2014.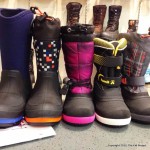 Kamik
Kamik has a new line of lightweight kid's boots hitting the market next winter. Made in the USA, comfort rated to -30 degrees, 100% waterproof, and 23% lighter. One model is a three season boot, making it a must-have for parents that want one boot for rainy weather and the same boot to perform in winter conditions.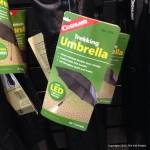 Coghlans Trekking Umbrella
I believe an umbrella rigged into a backpack is the best way to shade your child while hiking, if they are riding in a backpack or front pack carrier such as an Ergo. Coghlan's just came out with an all new trekking umbrella, super lightweight (less than .75 lbs.), with a vented canopy, no metal – all fiberglass (making it safer in alpine conditions), and a small LED light in the handle for map reading, etc.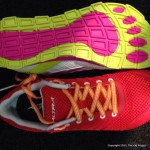 Altra ZeroDrop Kid Shoes
Altra is all the rage in the zero drop running world. Their signature "wide toe box" allows your feet to spread out, increasing stability and comfort while decreasing injury. Now they have a youth shoe, available in sizes 1-6 so our kids can have all the benefits of healthy foot development in a shoe designed for everything from the playground to the trails.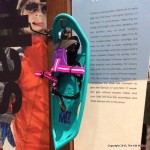 Atlas MINI 17 Snowshoe
We are always looking for new snowshoes at OR Demo day to try out. And Atlas didn't disappoint. This snowshoe worked very well on each of my three kids, ages 3-7. The binding was easy  and quick to adjust between kids, it has excellent traction, and the narrow design was easy for them to walk in.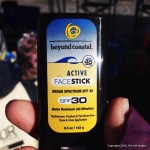 Beyond Coastal Facestick 30 SPF
In the winter, when we are usually only screening our faces, I love the "facesticks". They are easy to apply and keep my hands grease free. I've used the Beyond Coastal stick now and it is the one I exclusively go to every time we head out the door. The coverage is great, but I like the way it feels. Even after an hour+ of running, it is still there through the sweat. And it smells good. 🙂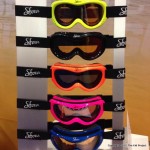 Sunbelt Kid Goggle
While these aren't new to the market, they are new to me! We always suggest goggles, over sunglasses, for winter outdoor adventures. Especially for the really little ones. Until now, I've only known of the Smith youth goggles. Now Sunbelt makes the SFour for kids, retailing at $24 and fitting from roughly age 3-8 (though that depends on the kid). I'd probably say they will work for kids ages 18 months and up.