My boy is a toy kid. Some kids aren't that into toys (my daughter) but my boy is obsessed and motivated with toys of any kind. So naturally, as an outdoor loving mom, I look for toys that motivate him to head outdoors instead of staying in. The Shredz Terrain Park toys are perfect for indoor and outdoor play. And with all the hype over Olympic Snowboarding, it captures a piece of their imagination as well. 🙂
Tested: Indoors and Outdoors on snow
Cost: Approx. $18.99 for set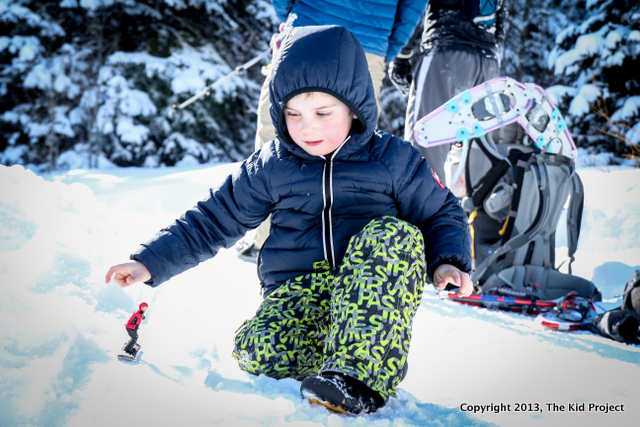 Selling Points: The Shredz figures are extremely life-like, complete with moving arms and helmets. The person detaches from the weighted snowboard. But when attached they balance so they will actually slide down smooth snow and go off jumps.
The set comes with a big air jump(s), a straight box and Rainbow box which opens so the figures can be stored inside. My kids have spent hours playing with these indoors, even though we are skiers.
But what I love the most is that the toy motivates kids out the door! They are designed to perform in the snow, where kids can design their own terrain park and obstacles and then let the boarder fly.
We also, love outdoor friendly toys that are small enough to pack on overnight trips, camping trips or hikes. And that is exactly what we did, taking it on a snowshoe trip to Donut Falls.
Desired Improvements: Perhaps some increased quality in the arm joints… my son broken one arm within the first few days.
The bottom line: A great toy for your outdoor kids who love to ski/snowboard/skateboard. But equally fantastic for a kid who needs extra motivation to play outside each day. These toy might just help.