Important: Family-friendly means easy mileage and easy grade, but not always safe from avalanches! Please educate yourself and visit the Utah Avalanche Center for daily avalanche forecasts and more information! Often, while you are on mild terrain, avalanche terrain looms above you, increasing risk.
---
We've recently found ourselves exploring some new trails by snowshoe, and they are perfect for families or beginners.  We've also learned, that on many of these packed trails, you don't even need snowshoes. A pair of Micro-spikes or Yaktrax on your boots works really well too.
Here is our first installment of Family Friendly Snowshoeing Trails Near Salt Lake.
Donut Falls / Big Cottonwood Canyon
Distance: 3.8 miles RT
Location: Travel up Big Cottonwood Canyon road 9.0 miles, and you will come to a large parking lot with restrooms. Park on the right, across from the Mill D parking lot. This area is also a very popular sledding area in the winter time.
Donut Falls is a fantastic easy trail during all four seasons, but it is slightly different in the winter. Mainly because the access road is closed further down, making the round-trip distance slightly longer than in summer. Follow the road to the south. Shortly after passing some cute cabins and houses, the road will become trail. Because of the popularity of this trail, it will most likely be packed trail, unless you are breaking trail after a big storm. The trail winds through beautiful forest, across small creeks, and under towering summits.
As you near the falls, the trail will drop into a drainage to the left. Trail may become icy and everyone should hike with care. You can ascend the falls up to the "Donut" and watch the water cascade through the hole. If you want to take a snack break, I'd suggest heading back down the trail until you find some sun, as the falls is usually shaded and cooler. With three kids ages 3-7, it took us approx. 3-4 hours to complete this.
Bell Canyon Reservoir / Granite trail
Distance: 1.5 miles RT to Lower Reservoir
Location: The Granite Trailhead is located just East of the intersection of Wasatch Boulevard and E. Little Cottonwood Rd., on the south (right) side of the road. There are 23 parking stalls and restrooms.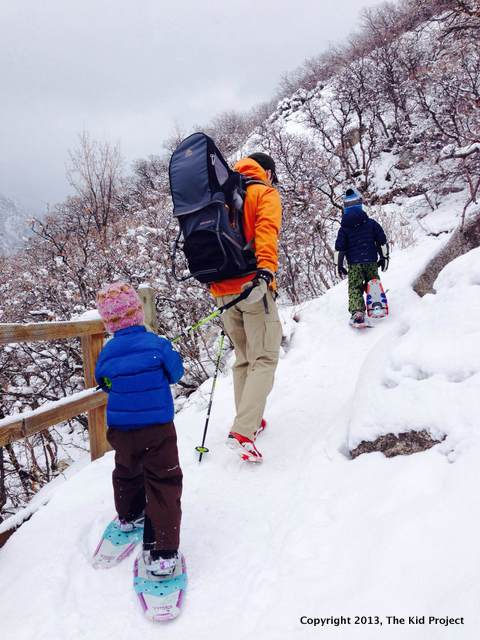 Bell Canyon is one of our family favorites all year long. The Spring is exceptionally fun, as many of the higher trails are still muddy from melting snowpack. Granite Trail is .71 miles long and has a vertical gain of 560 ft. The trail has a gentle incline with little or no tricky footing. Here is a trip report for summer hiking in Bell Canyon.
This trail is very popular all year long, attracting locals and trail runners. The distance to the lake is perfect for kids, and has beautiful views of the city and Little Cottonwood Canyon. Depending on the group, you can continue higher up Bell Canyon from the Lower Reservoir.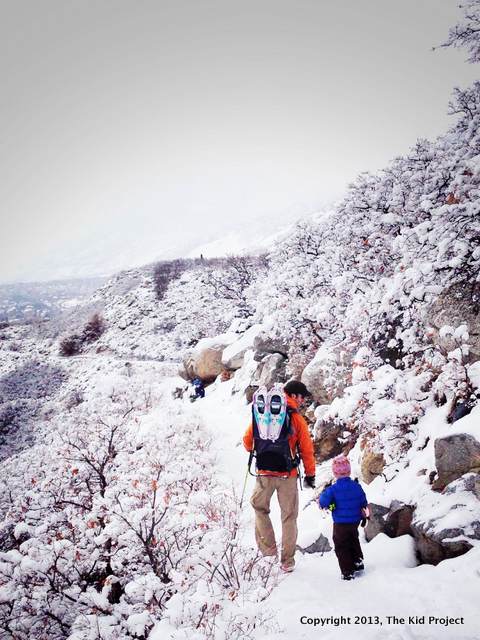 Neff's Canyon
Distance: Depends… up to 5.5 miles. (We cut it short as a family)
Location: Continue east on 3900 S (turns into Jupiter Dr.) from Wasatch BLVD. Turn left onto E 4280 S/E Oakview Dr. Continue until Parkview Dr, turn left. Take the 1st right onto S 4260 E and continue until you arrive at the Neff's Canyon Parking Lot.  There are signs throughout the neighborhood.
For those who consider a canine as one of your dearest family members, this is a great trail for you! Dogs are welcome on and off leash, which can be hard to find in the Salt Lake area. The trail leaves the parking lot, heading south east, and climbing steeply for just under .5 miles. Then the trail levels out for a short while. There are some fun forest areas to let the kids play and roam in, even a rope swing if you can find it!
For those more ambitious, you can continue hiking for approx. another 2 miles before turning around.