It is Sunday morning and despite being early March, it feels like April. Temperatures are encouraging us out the door and even though I am operating as a single parent for a few days, I am still meeting some good friends for a hike in Mill Creek Canyon. But I'll be honest: I am tempted to stay home. I am tired. I don't want to be "on duty." I don't want to carry all the gear. I don't want it to be all up to me.
But it is. And so I am operating on faith. Faith that we/I will feel much better after the hike than I do right now. I toss in a few extra snacks and a bag of cookies. We will need extra trail bait today. The Deuter Comfort Air is tossed in the car, complete with water for all five (yes, I count the dog). I am hoping the youngest will power through on her own legs today, but I am prepared for all outcomes.
We meet our friends, hit the trail, find a snail's pace (it is a pace though) and enjoy the Wasatch Mountains as early spring snows recede on southern exposures. Our hike is short, with many breaks to climb rocks and play animal mystery. And I am comforted that adventuring solo isn't the scary thing many of us believe it is, especially when you are with friends. Friends that pack extra snacks cause they already know your kids will want some too. 🙂 Top notch, I'd say.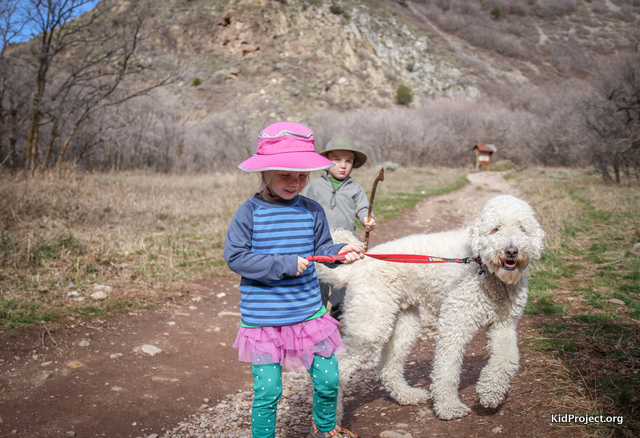 Just the simple everyday caring for your children is harder and more exhausting when you are going it alone. But what about getting outdoors? Dare we even attempt to do things like hiking, biking, or vacations?!
I don't want to undermine the hard work many single parents put into providing for their kids and managing their schedules and needs daily. I know so many parents are plain old tired. But sometimes being soul weary is worst than physically weary. And sometimes the great outdoors can refresh us in ways nothing else can.
I also want to encourage those of you who would like to camp/hike/adventure with your kids but are a little hesitant of going solo. You can do it! And you can thrive even if there is hard work involved.
Being that I am not solo much of the time, I asked a group of devoted outdoor parents their wisdom on adventuring as a single parent.
1. Replace doubt with determination.
Sharon from Active Kids, Active Family said, "Last summer I was determined that even when the husband was working, if I was off, I'd make the most of those precious summer days. We didn't do anything crazy, just biking, hiking (to the top of a mountain even), water parks etc… One summer, we created a bucket list and it was great and gave me ideas to get done spur of the moment. Don't be afraid and invite a friend along for company and an extra set of hands. I really think the keys are flexibility, patience and a willingness to try."
2. Be flexible. Be Patient.
Overwhelmingly, all parents agreed that they needed an extra dose of patience. Below is a funny but true interaction between two adventure moms, Amy from Garage Grown Gear and Jennifer from Mommy Hiker:
Amy: And patience is key … Took more than a half hour today to get out of the truck, get the chariot set up for skiing, get her goggles on, let her ride her strider ski bike first to get out wiggles, get my skis on … And then finally start down the trail.
Jennifer: Wow Amy!! 30 minutes?! That's IT?? You're doing good! haha
Amy:  Patience with kids, yes, but patience with logistics that's the part that I have to remind myself about…
3. Go with friends!
I love this story from Tanya at Family Adventures in the Canadian Rockies: "Last summer we did a group camping trip and two moms had to come without their husbands. They still came and they teamed up together to take care of the 4 kids, cook meals, set up camp, and do other camp chores. Meanwhile, because we were in a large group, we could all help out with supervising their children too. It worked well and we parented as a tribe that weekend."
 4. Do what you know.
Val, from Val In Real Life, says, "In a broad sense it's a matter of framing your adventures to fit the abilities/limitations of your crew, including yourself. I always say start small and local to build your confidence. But it is very doable and worthwhile."
5. Prepare ahead.
Meghan, from The Adventures In Parenthood Project, says, "I'm not single but I'm often the one adventuring with my kiddo because one of us has to work! It's totally doable on your own. Planning and preparing the day before is a sure way to make it easier to get out the door. Do as much as you can in advance so that all you have to do is go when the timing is right."
More tips on single parent travel:
California Road Trip Adventure
Solo Camping for the First Time
Want to toughen up your little adventurers? Spoil them More!