Everything is just big! Huge!
Our eyes were wide at the endless expanses of granite towering over our heads. Chris nearly pulled the car off the road. It was everything we've always been told it was. Mind-boggling-massive.
That night we perused the guide-book by fire light. Inside I had a sinking feeling. Everything was long multi-pitch routes up towering cliffs – not kid friendly. Inside I was having a mental argument. "See, Alyssa, this is why you were going to wait till they were older to come to Yosemite!"
Luckily, we were there with friends who had climbed Yosemite before they had kids, when time was much more available. They spent a month getting to know the ins and outs of the place and remembered just enough to find the group some crags that were great for kids.
Sunnyside Bench / Lower Yosemite Falls
Our first day climbing we ventured to the right of Lower Yosemite Falls, a super easy hike from the bus stop. The crag was decently busy and the base of many of the climbs were on a steep hillside. So we set up camp at the bottom of the hill and let the kids boulder a little while two adults headed up to set up a route.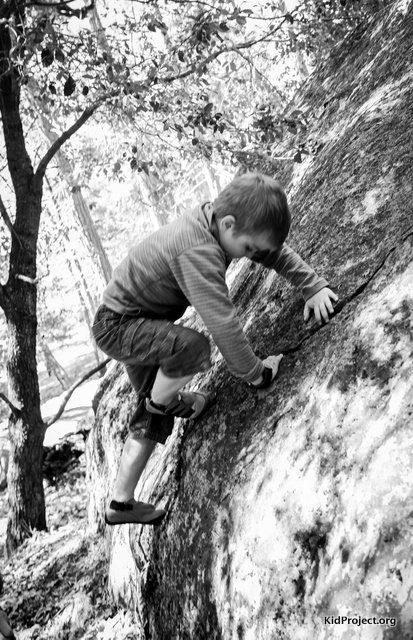 Soon the crowd cleared out and we moved the group to the base of the climbs. We started on the first pitch of Jamcrack 5.7 (5.9 pitch 2). I'll be honest and admit this was a humbling climb for me. We joked about me attempting to do everything I could to avoid the crack, never a good plan.
This route was also the kid's (age 6 & 7) first real crack climb. And they rocked it! There were much more natural at the movements than I was. 🙂
From there we set up a top rope on Bummer (5.10c) and Lazy Bum (5.10d).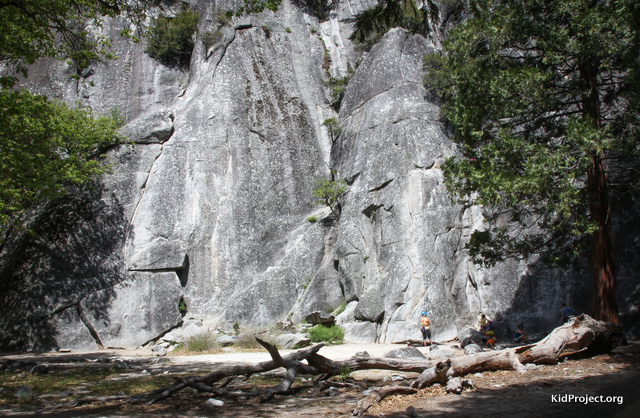 The next day we decided to check out an unknown crag we'd spotted just east of Camp 4.  We showed up late-ish morning without a clue as to what we were looking at but knowing it was good. This wall is pretty much fully in the sun until late afternoon, a great choice for spring, fall, and cooler summer days. We started with Penelope's Problem (5.7), and then set up a top rope and letting the kids climb Swan Slab Gully (5.6).
Of course the yellow tutu made an appearance.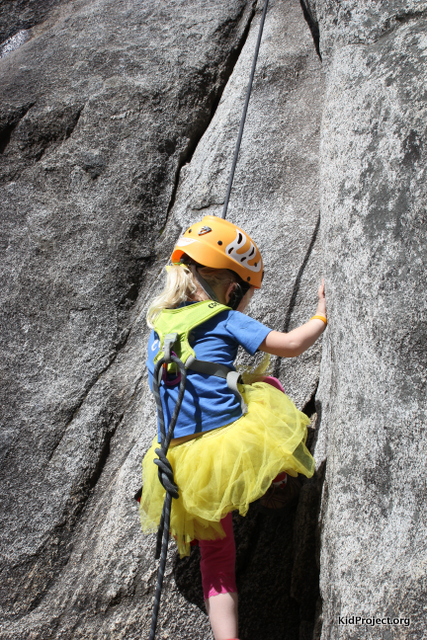 I wish we'd had more days to go back. This area has a ton of climbing ranging in difficulty from 5.6 to 5.11 with a lot of moderate climbing, great for families. My son even had fun learning to place gear and then coming up with a way to "aid solo." 🙂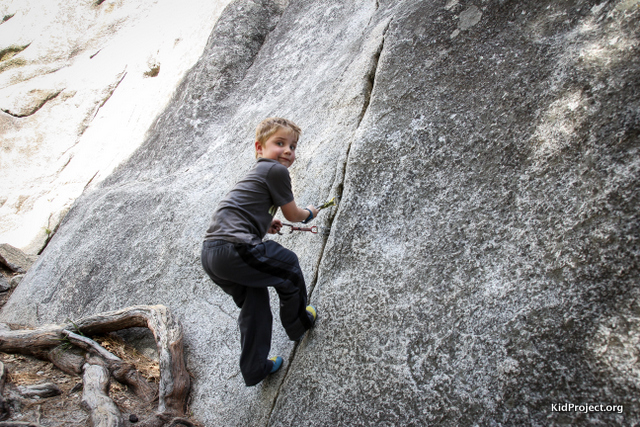 Having pushed the kids on a long climbing day at Sunnyside Bench the day before, we opted for a shorter day with some time at the beach.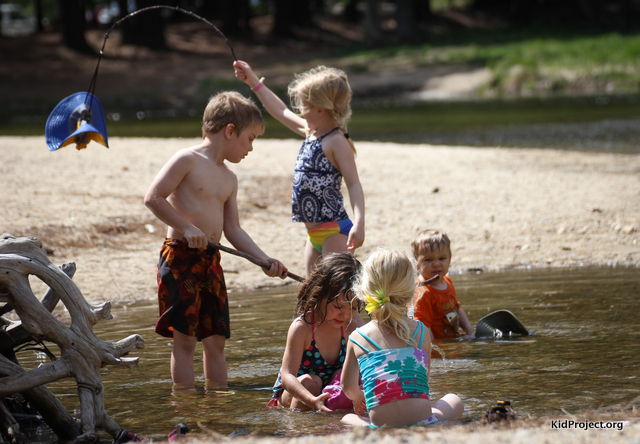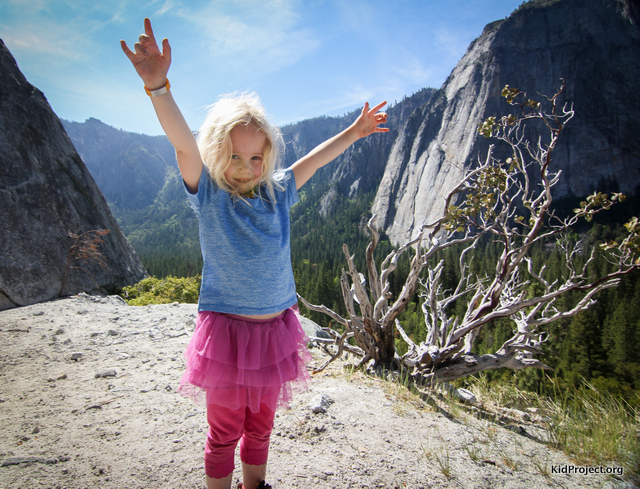 This area definitely gets the win in terms of scenic awesomeness. Not to mention you get to climb routes that are starts to many of the big wall climbs up El Cap. There are a ton of routes, ranging in difficulty.
As we headed in, there was a group of guys with their huge haul bags. We chatted with them briefly, inquiring if they thought we could harness the kids up, toss them in a haul bag, and tow them up the cliff. (In jest, of course.)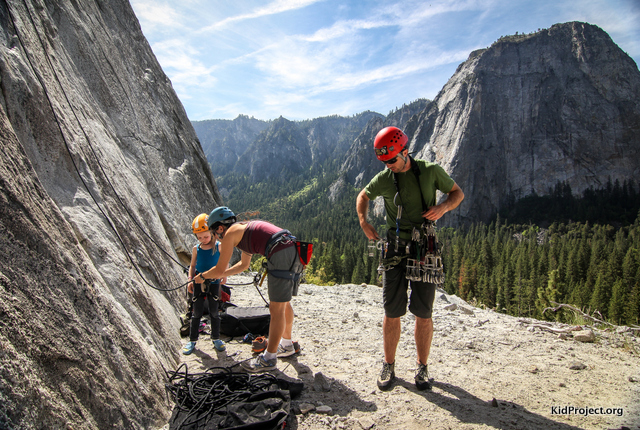 The approach to the base is short, leaving from the meadow just off the road, it took us roughly 15 minutes to reach the crag, with our little ones in tow. We were short on time and headed to Lake Tahoe, so we opted for one 5.fun climb to round out the trip: Pine Line (5.7). The base was large and open, but has some exposed edges, so watch your little ones. You could retreat back down the trail 50′ and play in a reasonable safe forest if you'd prefer.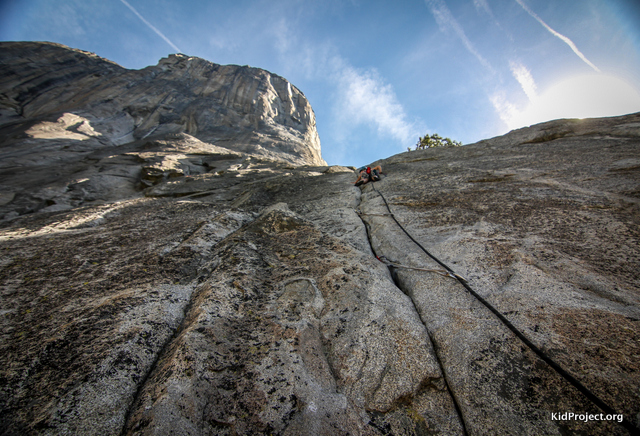 Bells was stoked after this climb, and said it was by far her favorite.
If there was one thing I learned, ok two things: 1. Yosemite has a huge variety of climbing and isn't just for the hard-core pros. Even families can find easy stuff. 2. The quality of climbing in Yosemite is just as good as every one claims… it is truly epic and everyone should go!