Dare I say I've lived in Utah for almost 4 years and never visited Goblin Valley? Until last weekend this was true!
Goblin Valley, a secluded valley in central Utah, is filled with hundreds of unique sandstone formations known as Hoodoos. These Hoodoos take many forms, most looking like overgrown mushrooms, nobs and spires.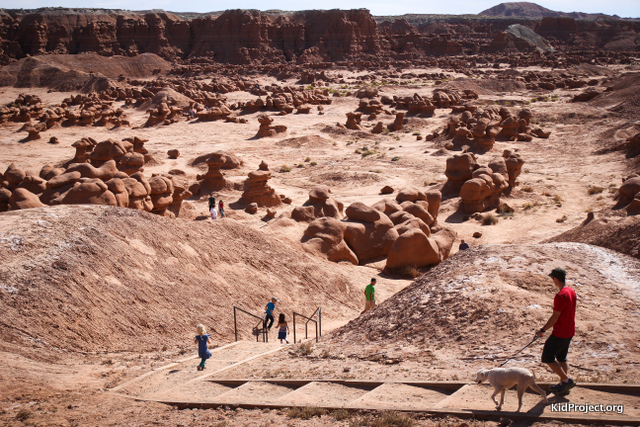 The most unique aspect of Goblin Valley is the "run anywhere" form of the park. I expected to arrive, be ushered on to a designated trail and told to keep my hands off everything. Sometimes the "take only pictures, leave only footprints" rule is a bit of a bummer for families.
And while I agree with the principle of respecting natural habitats, I also love letting my kids experience nature first hand through all their senses. Goblin Valley is a hands on park. A hands, feet, and bodies on sort of place – which also makes it a fantastic place for kids!
I like to call this a nature-made playground. Run, climb, scurry, and jump all you like. Just don't topple the Hoodoos… or you'll find yourself in a mess of disgrace.
There is camping in the park, but we chose to go the free route and hit up the immense amount of BLM land just minutes outside the park. You can snatch some amazing sites along the road to Little Wild Horse Canyon Trailhead. If you are headed there on a fall weekend, expect to join many others looking for sites. We arrived on a Thursday night and were thankful for friends who got there early Thursday to get a great site.
Tip Jar:
Dress in bright colors (red, blue, lime green) as you can quickly lose the group and/or your kids. Stick close, stay visible. And make sure to explain to the kids a "plan" should they get lost. We went with meeting at the parking lot, as it is visible over the valley from most locations.
There is little shade, so bring lots of water, appropriate layers, and sunscreen.
Don't underestimate how dry it is here!
Redtape/Fees/Camping:
Park hours: 6 a.m. to 10 p.m.
Day-use fee: $8; $4 Utah seniors 62 and older
Camping fees:
Main Campground: $18  ($8 extra vehicle fee); $20 March – June/ September – November
Yurts: $60; $65 March – June/ September – November
Group Overnight Camping: