We have received a ton of interest and inquiry over our recent trip down to Goblin Valley and the popular Little Wild Horse and Bell Canyons in Utah. We have been looking forward to the trip for months and it did not disappoint!
This area is located approximately 25 miles south of I-70, just west of Green River, UT. It is north of Canyonlands National Park and a short jaunt away from Moab and Arches National Park, making it an excellent addition to a family trip you have planned to this area. But it is also a worthy destination in itself for a long weekend.
We arrived on a Thursday, acquired a free campsite [BLM land] along the road to Little Wild Horse Trailhead, and spent Friday exploring Goblin Valley State Park, practically a natural-made playground for kids.
We woke early, with our gear mostly packed, for a start up Little Wild Horse Canyon on Saturday morning. We wanted to beat the crowds but secondly, as a family with young kids taking on somewhere between 8-10 miles of hiking, we knew time was our greatest asset. [Along with water and food. 🙂 ]
The trail head has quite a bit of parking and room for perhaps 4 tent sites should you be lucky enough to acquire one of these sites. The hike starts by hiking up a wash for roughly .5 miles before encountering a signed junction for Little Wild Horse Canyon heading to the right and Bell Canyon heading to the left.
We chose to head up Little Wild Horse for a variety of reasons, and descend down Bell Canyon, but you could go either way.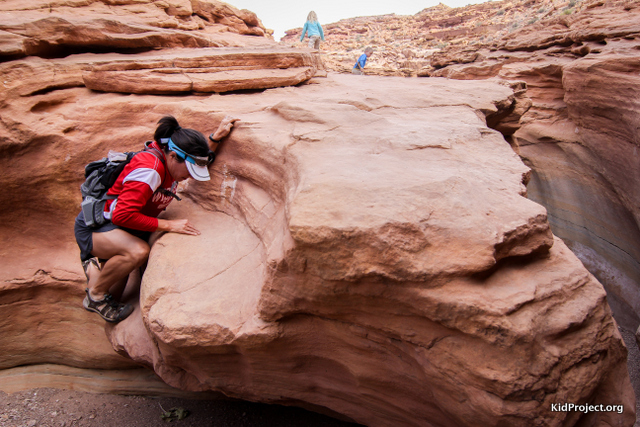 Little Wild Horse is by far the more dramatic of the two canyons, requiring a bit of route finding should you want to avoid water, some scrambling skills, and some awesome narrow sections. The kids had a blast traversing the rock walls, listing to the voices echo down the steep walls, and generally climbing everything in sight.
A brief note on dogs:
Kai, our Golden Doodle did great. Dogs are not recommended and in fact, strongly discouraged on this hike. For a variety of reasons we ignored such suggestions, many having to do with the hassle of having dogs on a very narrow trail with crowds.
If you are wondering whether or not to bring your dog, here are my thoughts:
1. We were told to keep him on leash so he wouldn't "push past" other people or cause problems in narrow areas. But having a dog on leash in areas where they and you have to scramble is a disaster, and a safety hazard. Bring your dog off leash… meaning: bring your dog only if he is well-trained to obey voice command and will stick close to the group. We were rather confident in his abilities and obedience.
2. The narrow sections are awkward for dogs because they are very narrow at the base. A short-legged dog, or dog with wide shoulders will get stuck in places. Kai's poodle legs certainly helped him out!
3. Be prepared to assist the dog in areas. Kai is roughly 50 lbs. which is big but not so big that we couldn't easily lift him up large obstacles.
Many people chose to turn around at a few of the obstacles in Little Wild Horse, which is wise depending on your skill level… or desire to get wet. We came prepared to ford the water sections and had prior knowledge that they weren't impassable, though they appear to be. We carried each of the kids across on our shoulders, knowing the adults would handle the wet and cold a bit better.
On the far side is a tricky exit and another shallow pool which required another scramble to exit. We brought over packs and kids separately.  People should note that the depth of the pools varies based on recent weather. It hadn't rained during the weeks prior to our visit and the deepest pool was waist level. The bottom was slippery and mucky, so proceed with caution, especially before fording with a small child.
As you emerge out of Little Wild Horse Canyon you end up on a well established trail that turns into a jeeping road for a few miles. We climbed for a mile or so, enjoying fantastic desert views before heading down into Bell Canyon.
Bell Canyon seems tame in comparison to what we'd already done! There are a few obstacles that took some scrambling skills to overcome, but nothing to worry about.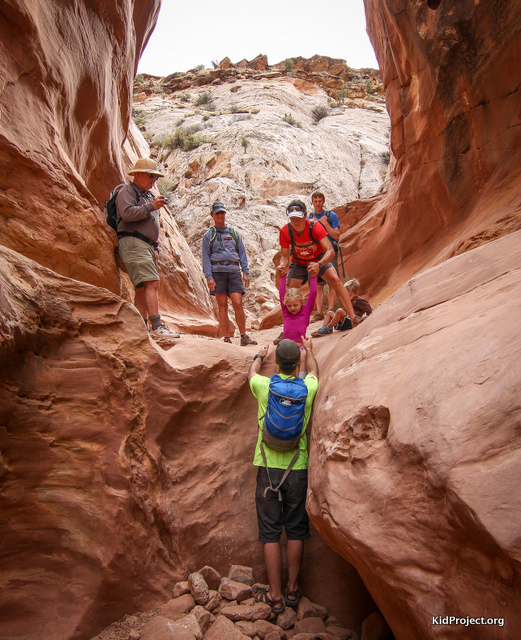 Descending down Bell Canyon, some more "pass the kids".
Tip Jar:
1. Bring ample snacks and water as you will most likely spend the entire day in the canyons. Bring water for your dogs too, as there isn't any for them.
2. Use caution regarding weather in the surrounding areas before entering the slot canyons. Slot canyons are very dangerous during rain storms.
3. Bring packs/gear for carrying small kids if needed, so that you have two hands free for any scrambling.
4. There are scrambling routes around the water sections we encountered. Some with varying levels of risk. Just use common sense.
5. Pack out what you pack in, including dog poop should you bring your dog.
Overall Stats: