We burrowed in close, hugging an aluminum cup of wine, watching the sun tuck in for the night behind the amazing towers and spires in the Wind River Range of Wyoming. There we were, four girls and nothing but stars over our heads for four days. We spent countless hours talking through life and gear and inevitably the conversation turned:
"Wouldn't it be cool if we had..?"
We've all been there. Hiking along and stumbling upon some amazing idea (or fictitious hope) for some product, some design, some something that we'd love to have in the backcountry. Funny thing is, so many of the world's greatest ideas have come about through this simple process of dreaming. Today we are introducing you to an amazing new company whose mission is to introduce us to those wildly inventive types, those people who dreamt up amazing gear and are now making it a reality.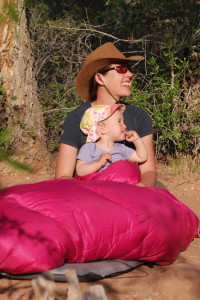 Amy Hatch is not a stranger amongst our group of adventurous outdoor families. Not only is she the founder and CEO of Garage Grown Gear but she's a mom, back country skier, trail runner, pack rafter, and adventure enthusiast. She has within her the deep love of wandering among the wild open places.
And like the brands she works with, her business is also "garage grown," starting with her laptop on the kitchen table.
Also not a stranger to our family, are so many of the brands that she has hand-picked for her online store! Looking for custom branded leather gloves, insulated bottles with a magnetic lid, ice climbing tools for indoor gyms, and brew concentrates that let you make beer and soda in the backcountry? She has found them. Her mission?
We connect you to independent outdoor brands making innovative, high-performing and wildly cool gear. We scout for the innovators of today and the icons of tomorrow, and share their products and stories through our store and magazine.
Now you have a chance to win a $50 gift certificate from Garage Grown Gear to use on so many of the brands that we have also tested, reviewed, worked with and loved. Enter below. These brands make our favorite and used-all-the-time gear: 
Skida– Bring fun-loving style on your adventures
Farm to Feet – Merino made in the USA
Giveaway!
Details: Entrants must be 18 yrs or older. Open to US and Canada. Shipping is not included in the $50 gift card, winners will be asked to pay shipping even on orders less than $50.