Us parents we are always looking for great winter boots. Even better if the boot is three-season, meaning my kids can wear them as rain or snow boots.
But I have more unique issues as a mother of a special needs child. My son's feet are very small for his age. And any boots we buy need to have a flexible and wide opening for his orthotics… not something easily found in the children's footwear industry. So I jumped at a chance to try out the MyMayu boot for my son!
Tested in: Northern Colorado; Sledding, Walking, Snow Play, Winter Wear
Cost: $58.95 for boot plus liner. Just boots $48.95. Just liners $16.95.
Best Use: Rain or Snow boot for infants and toddlers, sizes 1-8. Great for rain, snow, & mud. Casual three-season suited when layered up or down with Muddy Munchkins fleece liners
Selling Points: Great boot for active little ones that also meet a unique need for kids who wear orthotics. They're basically a boot and gaiter in one, (ie. they're a booter. 🙂 )
1. Small sizes. My son is 2 but only wears a size 3/ 4 shoe. That alone had me chomping at the bit to try these.
2. The collapsible upper makes this boot compact and easy to pack. Not only does it make the boot super easy to get on and off, but it also means we can get them over my son's orthotics. Parents of special needs children are constantly talking about boots and shoes that will work with orthotics, and these are a winner!
3. The boot is super lightweight. The big bonus here is no more clunky, clumsy boots which is great for all kids but especially for special needs kids who may need assistance walking. My son uses a walker/gait trainer and both of his legs turn to the right when walking. These boots eliminate the added burden of heavy footwear while still being able to wear his orthotics.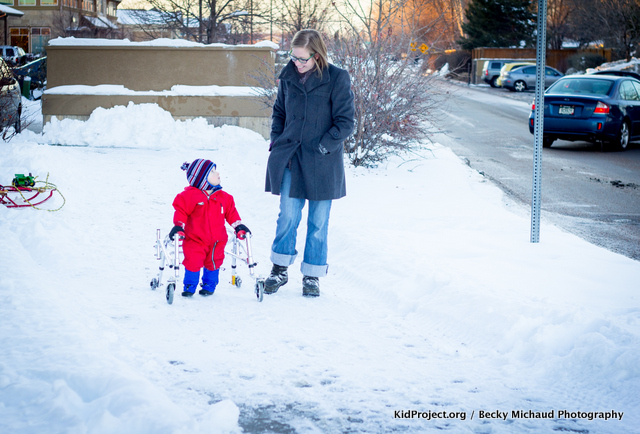 4. Bungy straps to cinch the boot at the ankle and just below the knee. Super helpful for having a loose upper to get feet (with or without orthotics) in and then pulling tight to secure the boot on the foot to prevent it from slipping off.
5. The boot performs like a gaiter. The boot upper goes to just under the knee and cinches tight, which means no snow inside the boot even when crawling around.
6. A variety of colors including some with fun characters.
Useful Specs:
Constructed of Waterproof Materials
Three-season suited when layered up or down with Muddy Munchkins fleece Liners
Upper made of durable, 100% waterproof, breathable coated nylon
Flexible, lightweight, TPR rubber sole
Dual toggle system: enclosed elastic at top with toggle to prevent water ingress and enclosed elastic with toggle closure at ankle for a customizable fit
Designed to fit just below the knee for maximum coverage
Quick drying
Collapsible – folds up easily to fit in your bag or pocket
BPA free sole
Ultralight for developing feet
Brush clean when dry or hand wash
Made in North America
Vegan
Coming out with bigger kid sizes in the spring!
Desired Improvements: Better traction… my son seemed to slip a bit but I don't have a comparison because these are the only boots on the market in his size. I also wish they kept my son's feet warmer, in all fairness he has poor circulation and we haven't found anything that keeps them warm.
Bottom Line: These boots are practical, cute, and versatile. I would recommend them for all infants, toddlers (and kids), and I am happy to say that includes children with special needs.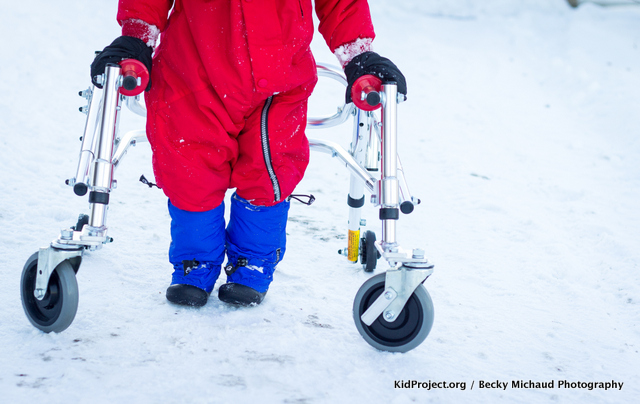 Samples received from MyMayu for the purpose of this review. All opinions are our real and honest experience.