If you have engaged in the running or triathlon community for even a little while, you will undoubtedly have heard of Headsweats brand headwear. They are, after all, the official visor brand for Ironman branded races, amongst many other well-known events.
I was first introduced to them last year at the Outdoor Retailer show (not being an avid triathlete until recently) and I learned what everyone else has learned. They are awesome. My Headsweats visor comes with me everywhere, on nearly every run, to every triathlon and last summer on the majority of hikes. It does not show sweat strains, washes simply in the sink or my front-loading washer, is bright and reflective, and stays put on my head thanks to the nifty elastic band that they use instead of a velcro adjustment.
If you are a girl with long hair like me, then you probably dread the velcro adjustment and its sophisticated ability to snag, tangle and pull your hair while running. For this reason, I'll never wear anything but Headsweats visors for running again.
This last year, Headsweat joined the throngs of outdoor athletes embracing the "Trucker Hat Movement" (I can think of no other name for it), designing their own unique hats that also incorporate Headsweats' awesome features. I took my new favorite hat to Kauai, and proceeded to wear it for most of my 9 days there. Below is my review of the product.
Tested in: Winter(Utah) and Summer (Tropics), rain, sweat and mud! 
Cost: $24.00
Availability: Headsweats.com
Best Use: Everything?!
Selling Points: In general, trucker hats are no longer for fishermen over the age of 50 and those who make a living on the road. 🙂 And for good reason. As a fair-skinned athlete I am always looking for sun protection, but I also overheat like crazy. Trucker hats provide coverage but excellent venting due to the mesh around the back. Headsweats made an excellent decision to pursue this design!
Headsweats trucker hats pack well. I stuffed my hat in my over-packed carry on, all crushed into a ball and it came out looking fine rather than permanently misshapen.
The colors and designs are eye-catching as well as appeal to those of us who not only run but hike, cycle, backpack and climb. I received a ton of comments on how cute my hat was!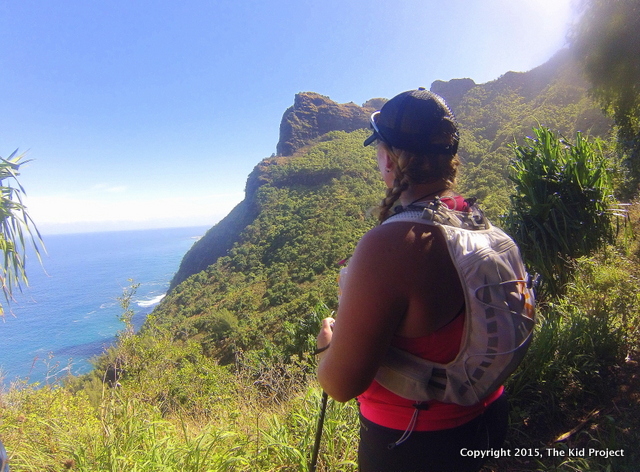 The inside of the hat has the same high wicking material found on many of their headbands and visors, making the quality seem much higher than other trucker hats you find floating around.
Like my visor, it did not sweat stain! And trust me, after hiking 14 miles of the rugged Kalalau Trail in 80 degree weather, I was dripping from head to toe.
Stats: 
Traditional 6-panel baseball cap styling
Eventure woven shell
Eventure terry sweatband wrapped in Eventure knit
Eventure mesh back
Black undervisor to reduce glare
Snap back closure with ponytail opening
One size fits most
Desired Improvements: I got this hat repeated soaked, either by dousing it in a water fall or wearing it on a 10 mile trail run/hike in pouring rain. I noticed that the front fabric bubbled a little bit after drying, specifically around the Sasquach. Many of the bubbles worked out by rubbing them for a bit. But some remained.
The crux: Killer hat, made by a brand that knows how to design a hat for athletic use and abuse. I'll be purchasing another one in the future!
 This sample received by Headsweats for the purpose of review. All opinions are my own.