Today's trip report is courtesy of Kristen Bonkoski, a local Utahn and owner of Rascal Rides, an online bike retailer. She is passionate about getting families out on the trail and opening up opportunities for that to happen!
————————————————————————————————————————-
Finding family-friendly mountain bike trails can be a challenge. You want a trail that isn't too technical, doesn't have too much climbing, and that has bail-out options if you need to make a quick retreat back to the parking lot.
The Round Valley trail system in Park City meets all of those criteria, which has made it our family's go-to ride.
From our house in Salt Lake City, Quinn's trailhead is a 20 minute drive–an ideal car-time to ride-time ratio for our 2.5 year old. The trail system is in the desert east of the Park City ski resorts, just off of Highway 40.   We like to park in the lot for the Ice Arena which is close to the trails as well as a nice playground which our little one likes to visit after we ride.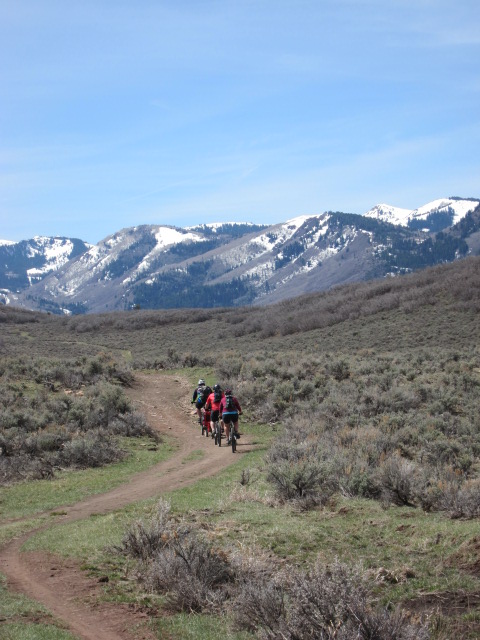 On our most recent visit to Round Valley (which was also our first visit of the season), we had my parents with us and it was fun to have three generations on the trail together. It is typical to see this wide range of ages and skill levels biking here, and you will nearly always run into other kids out on the trail.
Our son, Parker, started the ride on his balance bike. He managed the initial climb up Rambler all by himself and continued riding until reaching the intersection with Ramble On. This made for a very slow-moving ride, but is so worth it to let him explore, burn off energy, and build confidence in his skills!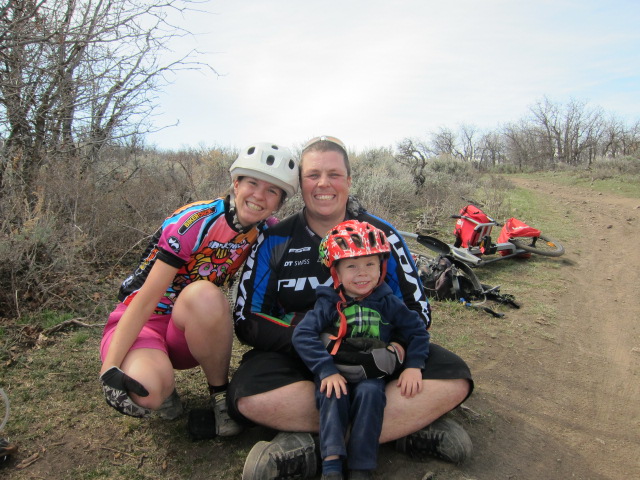 Once he tired out, we had him climb in the Weehoo trailer-cycle and my husband towed him for the remainder of the ride. (From his first birthday, up until recently, he's been in the iBert seat, but now that he's getting bigger we've transitioned him to the Weehoo). I haul his balance bike in my backpack which is somewhat challenging, but doable.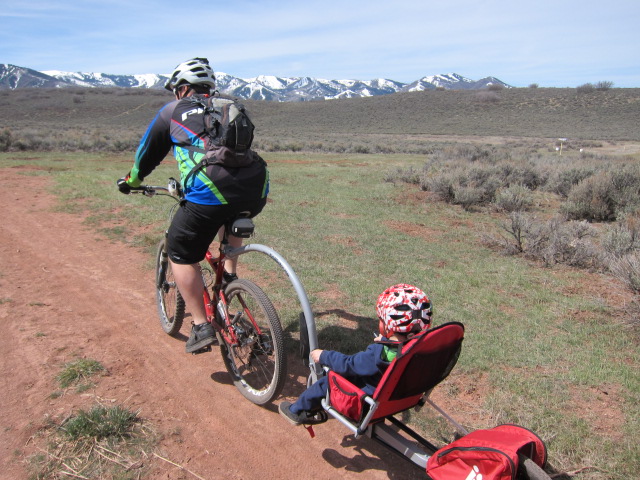 Our favorite ride is a loop that starts at the Ice Arena, follows Rambler up and over the main hill thru the 4-way intersection, and then returns to the parking lot via Round Valley Express, Cami's, and Matt's Flat. We've done many variations on this loop, but this ride seems to be just the right length (two hours with LOTS of stop/playing time). The loop is probably best suited for kids being hauled (in a Weehoo, iBert, or similar) or for older kids (7+) who have some experience mountain biking.
For younger kids riding on their own, or beginners, Fast Pitch, Matt's Flat and Round Valley express are all easy trails and can be combined for a quick out-and-back. As their skills progress and your family is ready for harder or longer rides, there are a myriad of trail combination to go explore. The only area you probably want to stay away from is the western most section of Rambler which turns into a technical, rocky decent.
Whichever ride you pick, remember to bring plenty of water and snacks. The trail system winds through sagebrush and oak, and can get hot in the summer months. The trail system has beautiful views of the mountains to the west and south, and provides a sense of adventure without venturing far from town.