"You are never to old to set another goal or to dream a new dream. " – C.S. Lewis
I glance in the rear-view mirror, yes, my bike is still there. Is it wobbling more than normal? My paranoia runs rampant. Surely, just a few days before my first Ironman 70.3 some "game-ender" would happen.  Like my bike falling off the back of the car. Surely, right?
For the last 4 months I've been training intensely for my first 70.3. I'd been tossing around the idea of Ironman St. George 70.3 for the last year or so. Two years ago my friend Kelly and I joked about doing an Ironman after we'd completed our first sprint triathlon.
What started in jest, turned into speculation, and finally evolved into a dream.
So 6 months ago we committed, made more real by the large amount of money we had to put towards entry. Four months ago I hired a coach, because the stress of figuring out how to train was more than I could handle, and I got my game face on.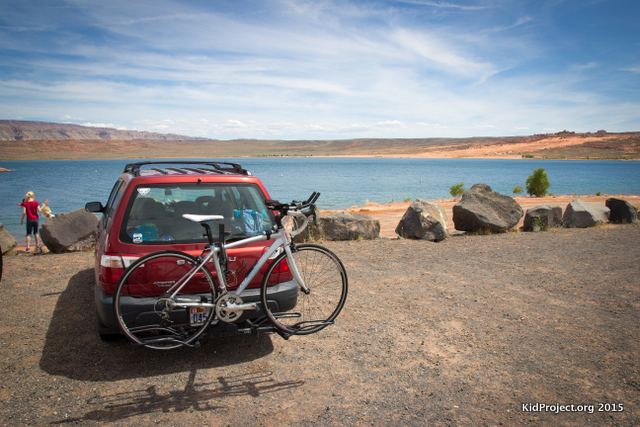 Now I'm cruising down I-15, turmoil churning in my stomach, not quite believing this is happening. This feeling continues for much of the next 3 days. It is surreal. It feels even a bit fake. When I walk into Ironman Village I am certain I am merely someone "dressing up" as an Ironman triathlete, not actually one. "I did train for this, right?" I ask myself.
While the Ironman crowd is intimidating from a distance, [think bikes worth more than double our car, bodies whipped to perfection, and confident postures] they have to be one of the most welcoming groups of people I've encountered. People ask where I am from, if this is my first 70.3. They share their past race experiences, their fears for race day, and any secrets they might have learned along the way.
All along the voices I hear say, "You've got this. You are going to kill it." I keep moving forward, buoyed by their belief in me.
Somehow I imagined I'd have a lot of free time the 2 days before the race. I was wrong. Thank God! Because free time before a race equals one thing = doubt. My coach, Stacey, had outlined my days going into the race: water consumed, types of foods eaten, a glycogen depletion sprint workout, etc. We'd walked through my fueling schedule. We'd scheduled lots of time with the foam roller. 🙂
And on top of this, the race details were a tad overwhelming. Friday was punctuated with athlete briefings, bike check-in and setting up T1 and T2 (transition zones for you non-triathletes). Yes, you set it up the day before. Something that was a huge blessing come race day!
The night before we have an early dinner of burritos at Qdoba, our family's favorite. Yes, I know. Mexican the night before a race? But we do a lot of burritos and I know my system can handle it well. I did scale back on quantity though.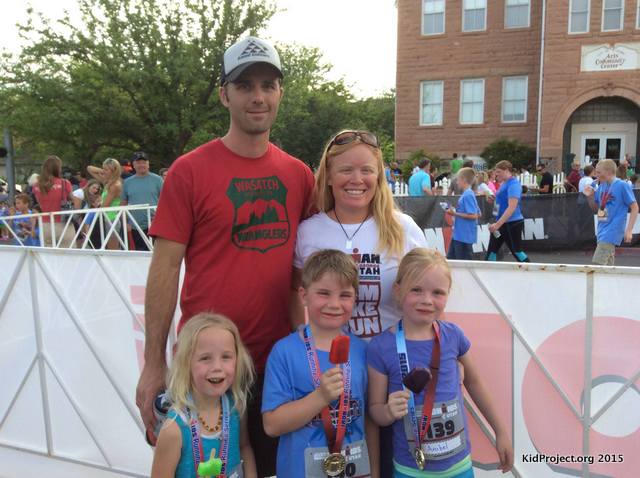 We head back to Ironman Village and the kiddos do the Ironkid's 1 mile race. They all got real medals (not the fake plastic kind) but were more excited about the popsicles.
Race Day [Gulp]
The alarm goes off at 4 a.m. Not that I need it. I'd been up since 2 a.m. I stumble through the dark to the hotel bathroom where I'd set up everything the night before. I turn on the lights and just stare at myself. What am I doing??
Thank goodness I'd written down instructions for myself:
Turn on hot pot.
Prep coffee pour over.
Go to the bathroom.
Get bike shorts, bra, tri-top, and hoody on.
Braid hair.
Put sunscreen on my face. (Even though it would wash off. I will try my best not to fry.)
Hot pot is ready. Make coffee. Make oatmeal. Toss my two hard boiled eggs in my morning bag to eat on the bus.
Check. Check. Check.
Seriously without these instruction, I'd probably still be staring at myself in that mirror. I grab my pre-packed morning bag, my coffee, oatmeal and head out to meet Kelly at the car. We hug. We stare. We mention the surreal-ness of it all. Then we head to the athlete shuttle… just like our todo list told us to.
I am not kidding, without these lists, I would have been so lost in the hugeness of it all.
Life Lesson #1: When you don't know what to do next, just take the next small step.
We arrive at Sand Hollow State Park just as the crowds of athletes are arriving, nearly 3,000 of them. Nothing like 3,000 nervous athletes to fill the porta-potty lines! I add the needed fuel to my bike bag, take one last look to make sure I have everything for T1. I checked my tire pressure. I load my water bottles. I take a silly photo just to loosen the nerves.
In reality it is remarkable to compete on the same course, in the same race as Olympians and Pro-athletes. It is some sort of awesome. Even if they finish in half the time it takes me. 🙂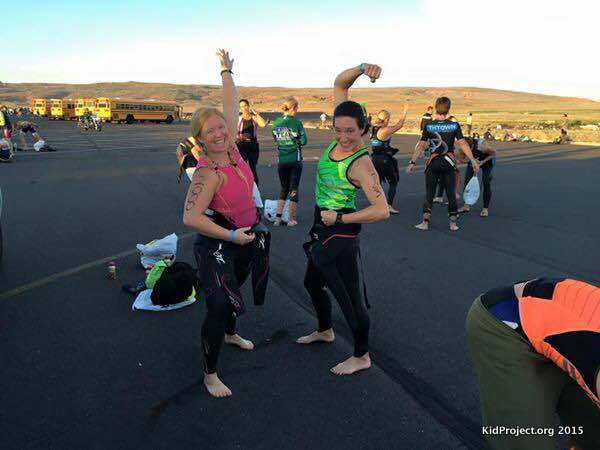 The Swim, 1.2 miles
I thought waiting the hour after the pros started would be killer. Yet time flies by as I suit up, join my herd of yellow caps and wait to enter the water. We have 2-3 minutes to tread water at the start line. Then the cannon goes off.
The water feels great. Sure there is some kicking and arm brushing. There are a few swallowed gulps of water. But I focus in on every buoy passed, on trying to feel the water go by. It is peaceful. It is quiet and cool… probably the last time I will feel this way today.
I hit the shore, jog/walk up the boat ramp to the wetsuit strippers, thanks amazing volunteers! I head to the porta-potties cause the last thing I wanted to do on my bike was stop to pee.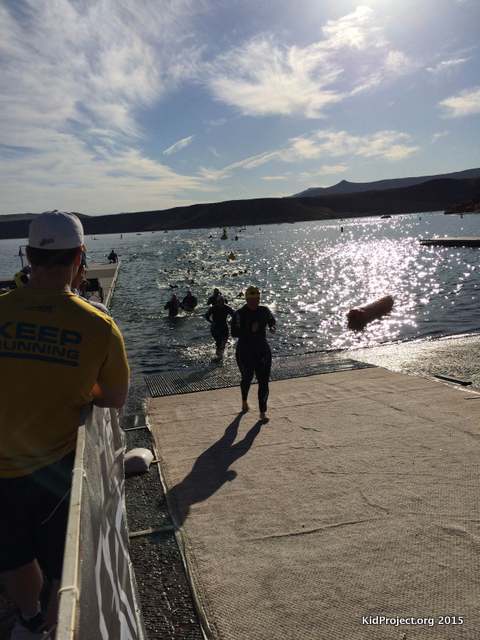 The Bike, 56 miles, ~3,500 feet of gain
Now for the part I was most nervous about. The bike was by far the discipline I had focused on during training, and so I had the most expectations for myself during it. But the bike also has the most things that could go wrong outside of my control. Flat tires. Mechanical issues. All things I was slightly prepared to handle but desperately hoped I wouldn't have to…
At mile 1 I pass water bottle carnage and wondered what on earth happen so early in the race so as to cause this. But it does remind me to grab a big gulp from my water bottle.
I have divided the course into 6 sections mentally. Looking at the whole thing was just too much to handle. My sections included five significant hills and then the infamous Snow Canyon climb at mile 44. Every hill I count down: That is 1 of 5. I get to the top, gear down, stand up and push hard for another 10 seconds to build my speed for the down hill and drop into aero. I speed past aid station 1, knowing I have enough fuel to make it to aid station 2 at mile 28. I feel fast. I am still cool from the swim. The views are epic.
At Mile 15 I hit hill #2. I check in: 1 bottle of tailwind down the hatch and 3 GU chomps. Perfect. What is not so perfect is a group of riders that slow way down .1 mile from the start of the uphill – causing me to slam on the breaks (no room to pass since they all were side-by-side 🙁 ) and I lost whatever momentum I had going into the climb. But my legs feel strong and I have a 5-10 minute downhill coming at the top… just enough to recover.
And so the bike course continues, enough hill to get me huffing, enough recovery to feel strong the whole way. For the first time I experience the exhilaration of racing a bike course. No traffic, no stop lights, just me and road. I want to hoot. I want to giggle. This is so FUN!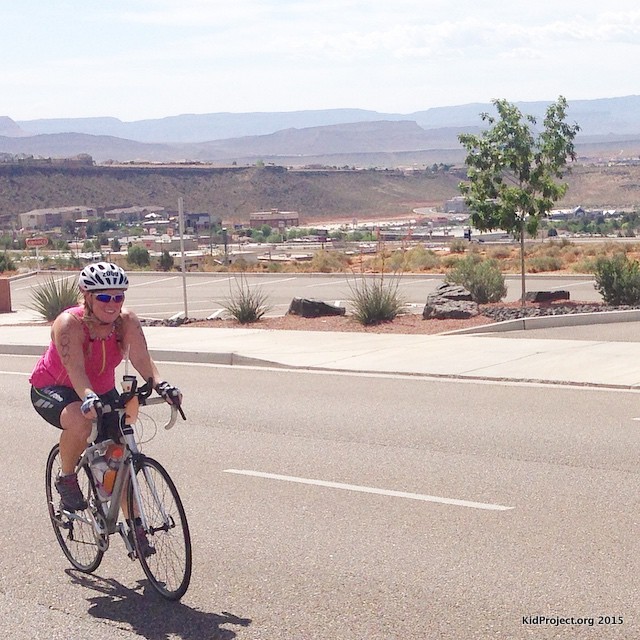 I roll into aid station 2, grab a Gaterade. I am being militant about hydration and my bottle/hour plus 100-ish calories of Chomps or UCAN bar is working well. The new bag I got that sits behind my handle bars is amazing. Everything is so easy to reach.
And the fans and volunteers are heaven sent. All along the voices I hear say, "You've got this. You ARE killing it." I keep moving forward, buoyed by their belief in me. I'd reach the half way point faster than I expect. Rockin! And only 1 more climb before Snow Canyon.
Next I come to a long flat section to Red Bluff's Parkway. I take the time to refuel. It is starting to heat up. I hit climb 5 out of 5. I chat with the older guy next to me, we leap-frog for the next 26 miles, cheering each other on. I only hope I am as active as he is at that age! I see Chris, my husband, and Chuck on top of the bluffs and they give me a boost of adrenaline. They remind me of the faces I am moving towards at the finish-line.
Before I know it we are at Snow Canyon. I make a brief mental note that the forecasted winds haven't picked up yet. And in the shelter of the canyon it is crazy hot. My legs feel strong, my lungs feel strong, but I am overheating. Dumping water through my vents and on my chest is doing little. I know I won't be setting any PRs today in the canyon.
We hit the last mile of the Canyon which I think is around 8% grade. EVERYONE is WALKING their bikes. I am not kidding. Only one other guy is on his bike. I vow NOT to get off. Sure, I am barely going faster than them, but I have done this climb 3 times! I can do it. There air is stagnant. I think of an oven. I think of hot yoga. I try not to panic.
I reach the top. I grab my last bottle of tailwind and re-fill the bottle on my aero bars. In my glee I gear down and stand up hard on the pedals. My only thought is to pick up speed and get the air moving around me.
And then my worst nightmare happens. My inner quads start cramping at my knees and spread all the way up to my groin. By now I am coasting at a decent speed. But I can't pedal at all. I can't move my legs. I'd heard a lot about this but never experienced it. It had never happened in training… ever.
I choke back a sob. And then I don't choke it back. The tears roll freely down my cheeks. The pain is fine. What is not fine? The thought that my body was already giving up and I still have a hilly half marathon between me and the finish. I pray. I try to spin it out with zero resistance. It isn't working.
Then I remembered my husband: "If things go wrong with cramps or heat, you can come back from it," he told me the night before, "You CAN recover." Being an trail runner, he'd experienced his body shutting down to the point of crawling up the trail, and then recovered from it to keep running.
Salt. I thought. Salt up! Thank GOD Tailwind (BEST ENDURANCE DRINK EVER) has a ton of sodium. In the last 6 miles I down 24 ounces of Tailwind and a GU. I hit transition with my legs feeling good again and my spirits back. I was back in the game.
The Run, 13.1 miles, ~1,500 feet of gain
I come out of T2 hot. I fill my hand-held water bottle with water to douse myself and put my cooling towel across my neck and shoulders. Only .3 miles into the run I hit a steep but short hill up to a long false-flat uphill. I start overheating. I start walking. There is something defeating about walking so early in the run. But nearly everyone is.
I realize this is the game: walk the hills, run the downhill, make it to the next aid station. Luckily there are amazing aid stations every mile. And so every mile I dumped ice in my hat, ice down my back, cold water on my cooling towel and re-fill my handheld. There are even popsicles! And I understand why my kids were more excited about them than any finishers medal the night before!
The first 3-4 miles is uphill, minus a short downhill through rollers. I am ecstatic to reach the downhill. But once again my legs cramp up two steps into it. Learning from earlier I don't panic. Instead, I grab a GU and stuck half a NUUN tab in my water. Once again I salt up and once again the cramps subside. I cruise the downhill from mile 4-6.55 and of course then I turn around and have to go back up….
Life Lesson #2: Just because your circumstances make you feel like quitting, doesn't mean you should. You CAN recover.
And along the way my friend Chuck shows up, jogs along side me and distracts me as he fills me in on how Kelly is doing and gets a ton of photos!
And the aid station volunteers are amazing. I want to kiss each one of them. And their voices say, "You've got this. You ARE killing it. You are amazing."
I stick a recording of their voices on repeat in my head. I pass Fireman Bob, who is working to set the Guinness Book of World Records for doing 70.3 races in his fireman suit! Wow.
At mile 10 I pass a 69 year old woman with one leg. No excuses people. No excuses.
My body continues to oscillate between cramps and recovery. I have my last GU at mile 10 just before the 3 miles of downhill. I pick up my pace. The winds finally show up as predicted. I've never been so excited for a head wind!
Two miles out, a kind gentle man dumps a gallon of ice water on my head. Thank you! Thank you! I keep running.
I am doing this. I am almost done. My faces are waiting for me at the finish. The tears start to flow again but this time because I know I am going to do it. And I am going to do it sub-8 hours despite the crazy heat.
At mile 12 a beautiful girl soaks me with her garden hose, have I mentioned the fans are equally fantastic?!
I cruise to the finish. I see Chris. He jumps in the air. Oh man, I shouldn't do that, I might collapse. But I feel strong. I can sprint. I am actually finishing strong! And that is when I know I've officially beat the heat.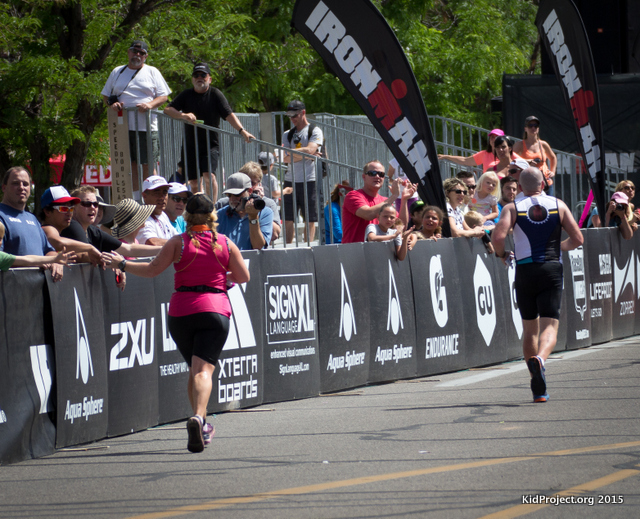 I crossed the finish line at 7 hours, 45 minutes.
Life Lesson #3: Indeed, you are never to old to stop setting goals or to stop pursuing a new dream.