Second to asking for more trail bait (ie. candy) while on adventures, are the never ending requests to "take pictures" with my phone or camera.
Most the time I oblige, but inwardly I cringe at the knowledge that when I get home I'll have 500+ photos to delete. 🙂 To be fair, they DO get a good photo every once in awhile.
However, having a camera FOR them, designed to be abused in ways only kids can imagine, is… perfect! So we put the Vtech Action Cam to the test.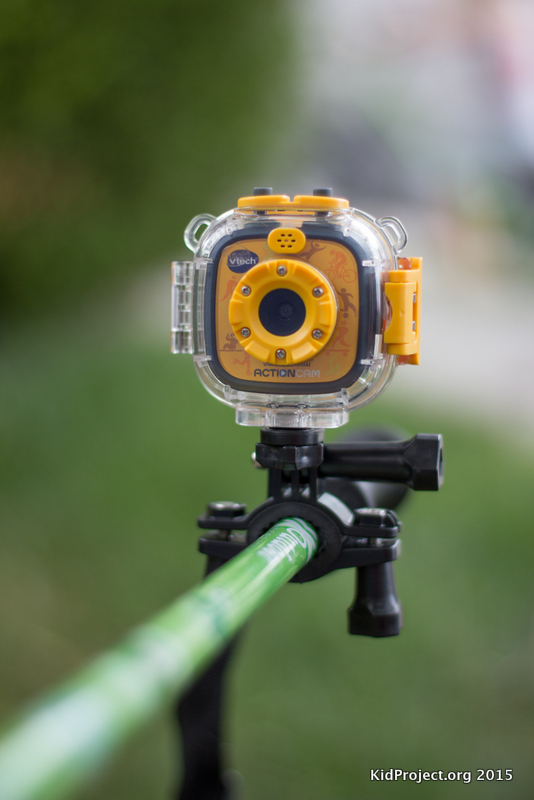 Tested in: Water, Biking, warm weather adventures
Cost: $59.99
Best Use: Kid specific camera for outdoor adventures
Selling Points:
This camera is designed just like a GoPro but for kids. The camera fits in the palm of your hand and comes complete with:
Waterproof Case
Mounting Case
Handle Bar/Pole Attachment
Bike or Ski Helmet/Skateboard Mount
Wrist Strap
Micro-USB Cable
Each of these attachments is easy to use, as is the camera itself! My kids had the most fun with the handle bar attachment but at the end of the day, the waterproof case was the most useful. 🙂
All of the parts seem to be designed well and decently durable but only time will really tell.
Photos taken with the Vtech Kiddizoom:

Desired Improvements: 

We noticed multiple things we'd like improved about the VTech action cam.
First, while we did get a few good photos, the large majority were highly pixelated, as you can see above. Some of this was due to motion blur or low light conditions, but mostly it was due to the low resolution. The max resolution is 640×480 which is really LOW.  It seems with the huge improvements in cameras across the industry (cameras, phones, etc.) and the commoditization of camera sensors VTech should be able to get quality AT LEAST equal to a smart phone and still keep the price reasonable.
Second, the Digital display is hard to see while taking photos, especially in bright light… but then the photos won't turn out unless you are in bright light. This goes back to problem #1.
Third, they can drop the "games" they loaded on the camera. My kids have way more fun taking photos/videos and watching them that playing the games on the tiny LCD screen.

 The crux:

VTech did an excellent job making a rugged adventure camera for kids, that will allow them to take photos whenever and wherever.  My kids have had a lot of fun with this camera and I like that I don't have to worry about them dropping it in the lake or on a rock, etc. However, it seems they spent most the time designing the cases and mounting hardware and less time on the actual camera which is poor at best. Higher resolution images would make this an amazing camera, not only for kids but for families looking for a "GoPro" type camera without the cost of one.

"The

VTech

product, gift card, information, and additional gift pack have been provided by

VTech

."