We are eeking out of the bunny-hill years but honestly the most questions we receive regarding teaching kids to ski is about how and when to teach your young kids.
We started all our kids when they were 2 years old, something I was comfortable with, having also been taught to ski when I was two.  But "how" is the difficult part.
While we hardly used a ski harness with our oldest, the younger kids used one many times, mostly because they 1. wanted to be with their older siblings and 2. we were loosing patience with the host of other approaches to teaching we were using. For other ways we helped teach our toddlers to ski check out this post: Five Positions for Teaching your Toddler to Ski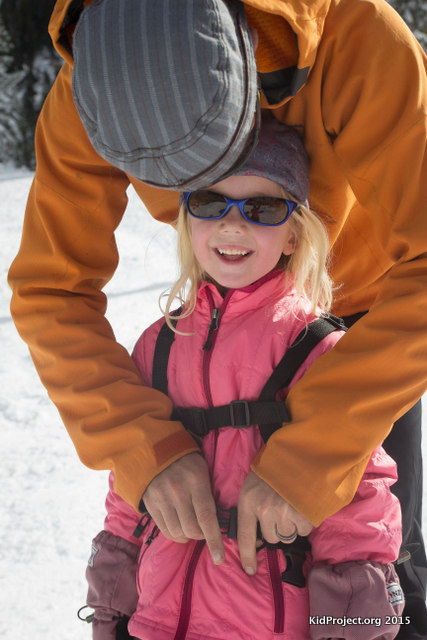 But for now this is a review of a new ski harness for kids called the Lil' Ripper Gripper.
Tested in: Skiing, easy terrain
Cost: CAD$84.00 + CAD$12.00 for shipping. Given the current CAD/USD exchange rate, it works out to about USD$75 delivered.
Availability: www.lilrippergripper.com or Amazon. For a list of retailers: http://www.lilrippergripper.com/#!retailers/gjq1y
Best Use: Young Beginner Skiers and Snowboarders (I'd not suggest a ski harness with any kids over the age of 5, IMO)
Intro: 

Lil' Ripper Gripper is the first ski & snowboard training harness to use retractable leashes.  No more fighting slack, or turning your child into a human Yo-yo on the way down the hill.  The locking leash holsters and rear safety handle also make this a far safer harness around the lifts.
Selling Points:
The first test and most important test of note is the swing test. Hey! It passed! 🙂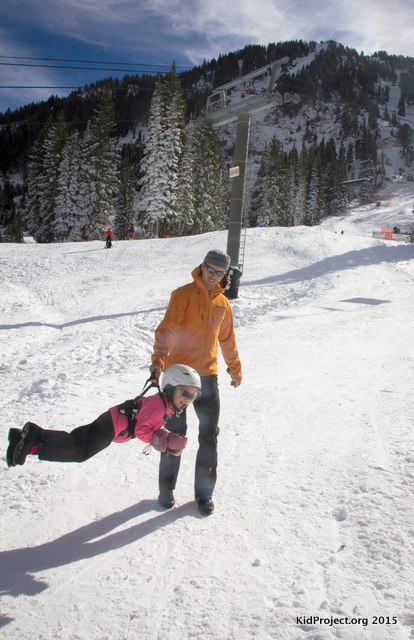 Perhaps the largest selling point for this harness (in our opinion) as opposed to others such as the Lucky Bums Ski Harness, is that the harness is designed to pull from the child's hips rather than their shoulders or torso. For kids that are learning to ski or snowboard, this is crucial! Critical to learning to stop and turn, is correct weighting over the middle and front of the ski. When a harness is pulling on the torso, it naturally shifts the child's weight back. Sure, this can also happen when it is pulling from the hips, but the child can still lean forward with their upper body. Other ski harness designs make this very difficult.
The second bonus are the retractable leashes. Both leashes stow easily using a devise very similar to retractable dog leashes. And believe me, re-stowing leashes or managing them in lift lines and while getting on the lift is a hassle! As well as a safety hazard…
The retractable leashes also make for a more "natural" feeling of learning to ski independently, while still allowing the adult to have control over the child's speed.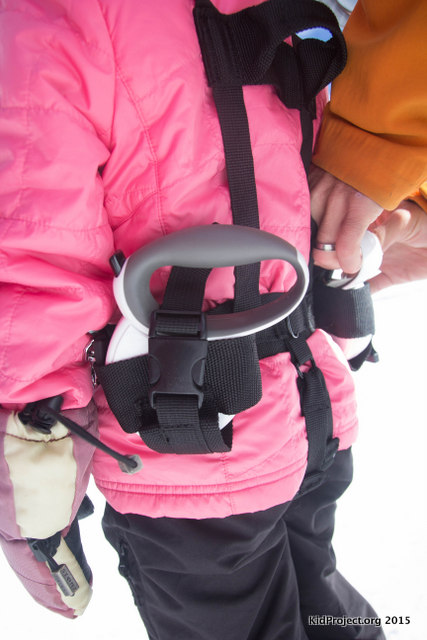 This harness still has all the features we love such as the back handle, great for helping a fallen child or for simple "boosts" onto a chair lift.
The harness seems to be made with high quality materials and is durable, though only time will tell.
Desired Improvements: A bit heavy – This harness, over other harnesses that we have used, seems bulky and heavy.
A bit more complicated to get on, but less complicated to use – Other harnesses we've used are simpler on the "getting on stag,", slipping over the shoulders and buckling in the front. The Lil' Ripper Gripper is more complicated with a total of 6? buckles. On the plus side, this harness is extremely adjustable, and can be fit perfectly to a variety of children.
The bottom line: This is a high quality harness that will work well with a variety of young kids! Ultimately, I think the retractable leashes will help both kids and parents enjoy and learn more than many of the traditional harnesses we've used. However, I think cost will be a limiting factor for many families.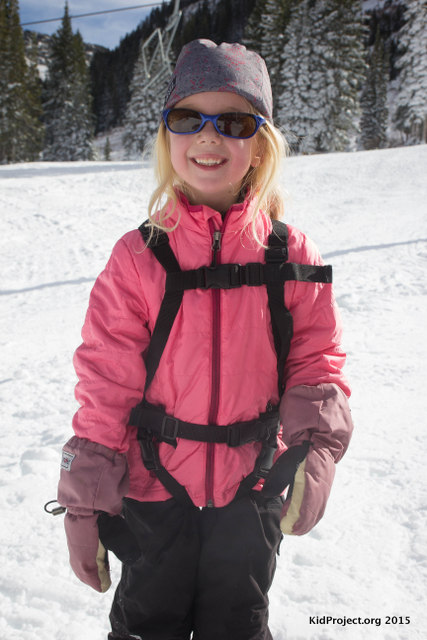 Sample harness received for the purpose of review. All opinions are our own.