If you've been following along on Instagram, you've no doubted noticed we've been touring around the desert southwest a bit during the last few weeks.
Most of this was due to my first ultra race, the Antelope Canyon 55k.  This is one thing I love about racing! It opens up so many opportunities to explore new places! And that is just what we did.
Page, Arizona, located roughly an hour north of the Grand Canyon, is a true gem for the hiker and explorer. A great year-round destination, boasting beautiful winter trails and proximity to Lake Powell for the hot summer months.
This is by no account a complete list of things to do in the area. In fact, if I learned anything at all, it was that we could explore down there for months and probably not see all there is to see in the area. But here are the few hikes we did do:
Rimrock Toadstool Hike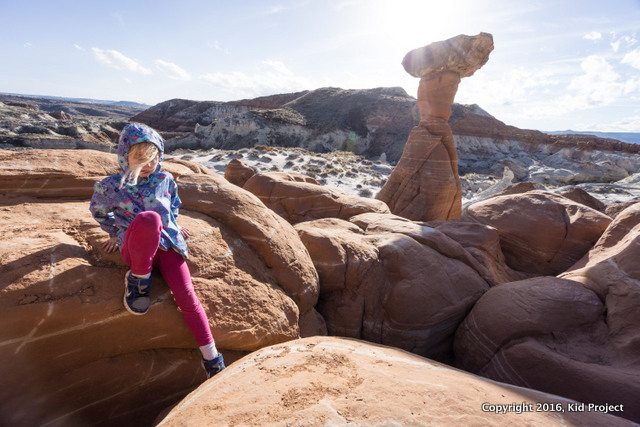 If you search for Wahweap Hoodoos online, a variety of hikes will show up with a variety of distances and difficulties. Here is a sampling of them: http://www.zionnational-park.com/wahweap-hoodoos.htm
On our way into town, we decided to stretch out our legs with the short 1.2 mile hike (round trip) to the Rimrock Toadstool.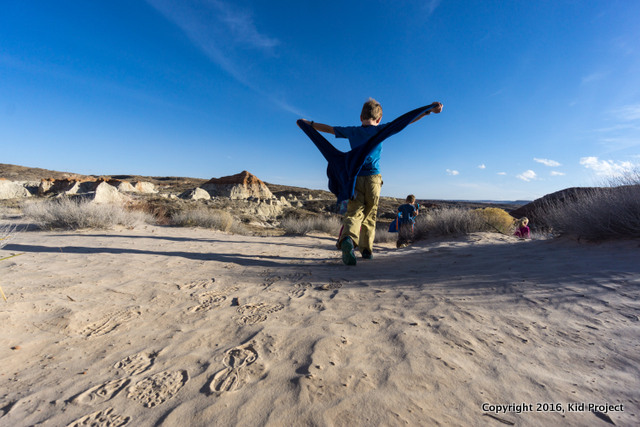 Location: From Big Water, drive 12 miles west on Highway 89. Look for a small parking area and trailhead kiosk on the right side (north) of the road. There will be a register box and a hiker's gate to pass through.
The hike is basically flat, winding up a short wash, and climbing up onto some sandstone where the actual Rimrock Toadstool is. You can adventure around the area a bit. This hike is perfect for young kids.
Horseshoe Bend Hike
The Horseshoe Bend is a dramatic viewpoint of the Colorado River 1000 ft blow. It is located roughly 5 miles downstream from Glen Canyon Dam and only minutes from Page, AZ.
Location: The trailhead is just south of Page, AZ on HWY 89.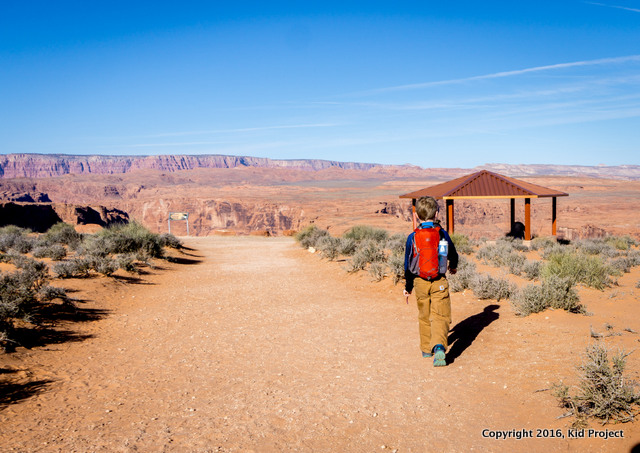 This Horseshoe Bend hike is an easy (but sometimes sandy) .75 mile hike out to the overlook.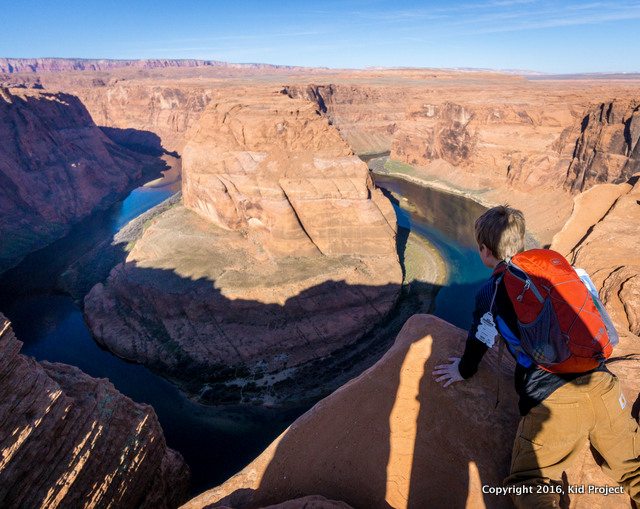 It is probably good to mention: watch your young kiddos. The sandstone drops off 1000 ft and there are no fences, etc. Like most boys, ours ran up to the edge, nearly giving his dad and grandparents a heart attack.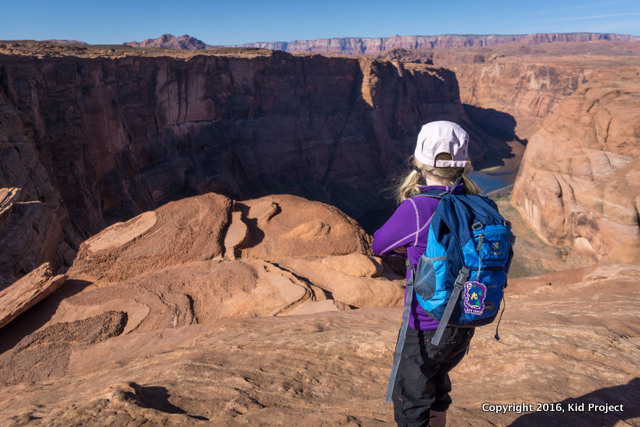 Buckskin Gulch via the Wire Pass Trail
Location: (via BLM.gov) From Highway 89, travel east from Kanab 38 miles, turning right onto House Rock Valley Road (BLM Road 1065) just before the sharp left turn markers. Or travel west from Page, Arizona 34 miles on Highway 89 over the dam, past the Paria Contact Station (which has updated road and canyon conditions) and turn left onto House Rock Valley road just after the sharp right turn markers. Drive south on House Rock Valley Road, an unmaintained gravel road, approximately 8  miles crossing Buckskin Gulch to the trailhead parking area located on the right(west) side of road.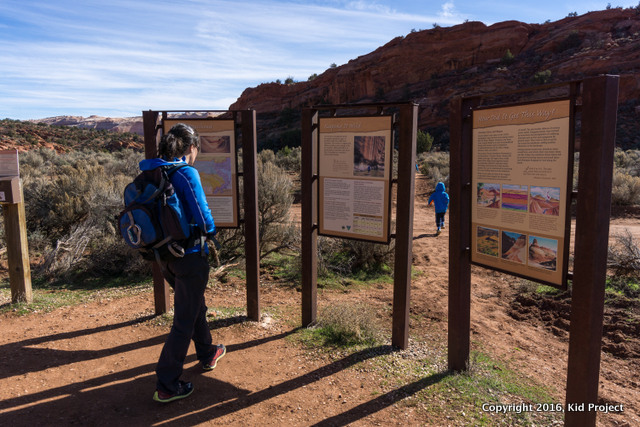 (Disclaimer: We were advised not to attempt the dirt road into the TH if it is wet.) 
The distance of the hike can vary. It is a minimum- 3.5 miles out and back from Wire Pass trailhead to petroglyphs and Buckskin confluence, though you can stop and turn around whenever your crew has had enough.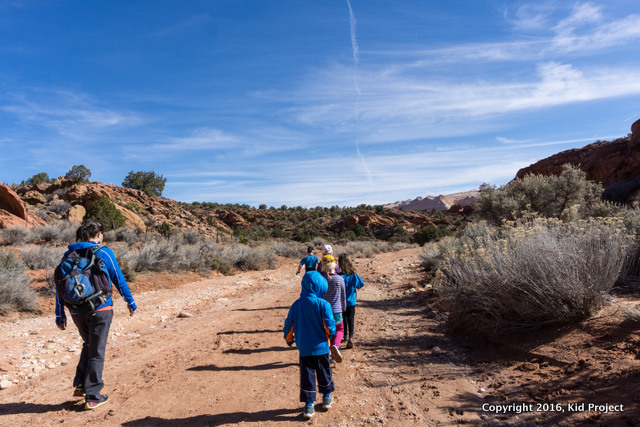 The trail meanders through the desert and down a wash for 1.7 miles or so. Then you enter the narrower slot. Buckskin Gulch is the longest continues slot canyon in the United States.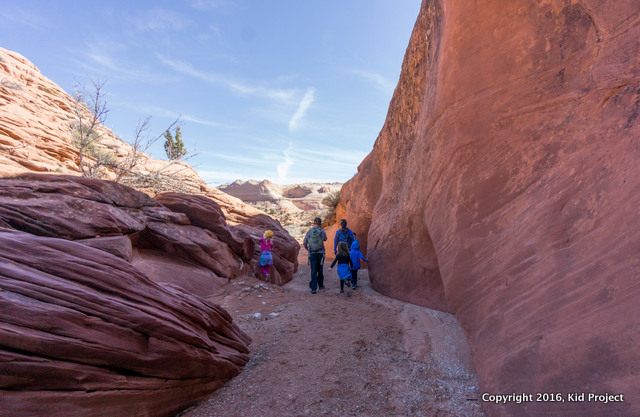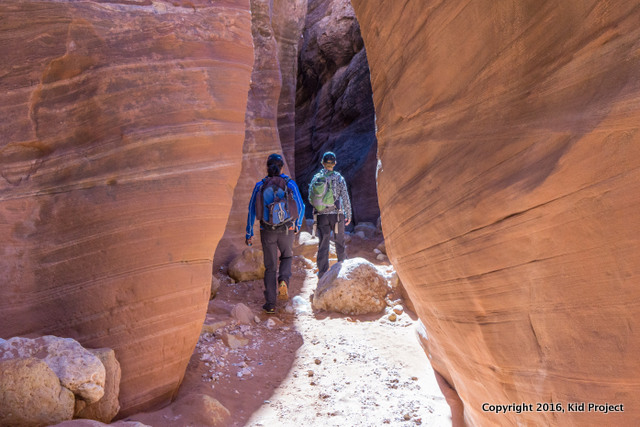 Due to some difficulties in our group, we decided to stop at a large drop off (it was passable for most) and turn back.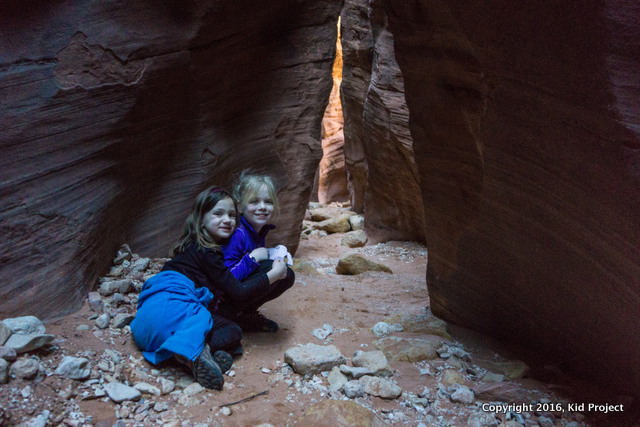 The dads did explore down to the confluence and reported very cold and wet feet!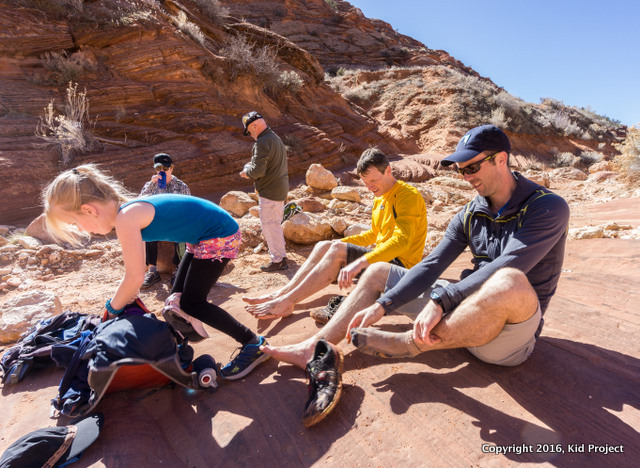 Lastly, I'd like to mention a visit to the Navajo Village Heritage Center. We spent some time there because the Grand Circle race I was doing worked closely with the Navajo. Aside from the race, it would be a great road-trip stop to learn about traditional Navajo living.