We are totally stoked when we get a chance to try out a new (to us)  brand making quality gear for kids. I only recently learned of Showers Pass, a company born in the Pacific Northwest, and rooted strongly in the cycling community. Having a husband from Oregon, I understand the deep "wetness" of the weather up there, and it makes sense to me to trust companies located there to make quality rain gear.
Their desire is to,
develop clothing and gear that would get more people out on their bikes, no matter the weather. 
Tested in: Rain, Hiking, Biking – so far only short rain showers
Cost: $69.00
Availability: ShowerPass.com
Best Use: Any outdoor activity in adverse weather (rain, wind, snow, or night-time)
Selling Points: Man, I really like this rain jacket! There are so many positives, but one huge negative (see below). As for the positives:
The jacket is made of a high quality waterproof-breathable fabric. The colors are bright, vibrant. The jacket does the job, it keeps you dry.
The cut – specifically the drop tail in the back, is awesome. Obviously this stems from Showers Pass' strong roots in the biking community, and it helps to keep the spray off your butt while biking in wet conditions. I also like it for hiking, playing and walking in the rain as it provides added coverage without looking like a poncho.
Showers Pass uses reflective material liberally along the back, chest and sleeves. Major perk! This sets the jacket apart from other rain jackets we've had.
After trying out their kid's gear I would love to check out the quality of their adult gear as well!
Significant Specs:
ArtexTM Hardshell 2.5-layer waterproof-breathable fabric
Elastic sides help the hood stay in place
Adjustable drawcord at hem with bike friendly dropped tail
Adjustable Velcro Cuffs
2 hand warmer pockets
Available in 3 Colors: Powder Blue, Rust, and Chili Pepper Red
Available in sizes XS-LG to fit children between the ages of 4 and 10.
Desired Improvements:  In reading through reviews from other customers, they mentioned the sleeve length being short. So I ordered up – a size 10 for my just-turned-8-year-old son. (He isn't big, 50th percentile on the growth charts and usually is short in the arms and legs compared to other kids his age.) They weren't kidding. The jacket fits him perfectly right now but the sleeves will be too short before summer's end.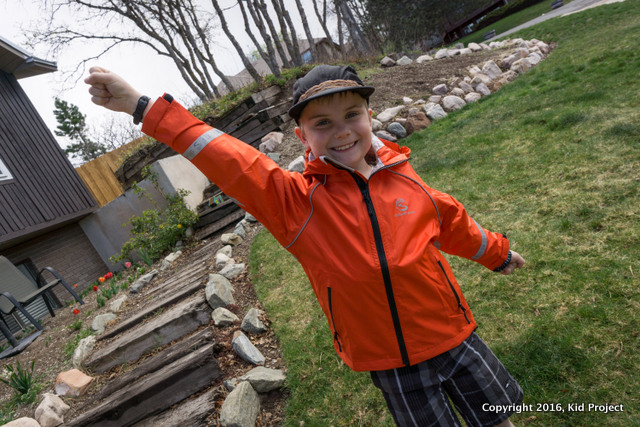 Major bummer because I like to order up a size, tighten the velcro cuffs so the sleeves are still usable for my kid, and then get multiple years out a jacket.
A second suggestion (which would make this jacket truly awesome), would be to increase the size of the hood so it would fit over a helmet. Seems a next logical step to me!
The Bottom Line: Majorly cool jacket with a "sleeve length issue." I would strongly suggest parents be sure of the sizing before ordering and order up a size. If Showers Pass is able to remedy the sleeve-length issue this would be one of my first choices in rain gear for my kids.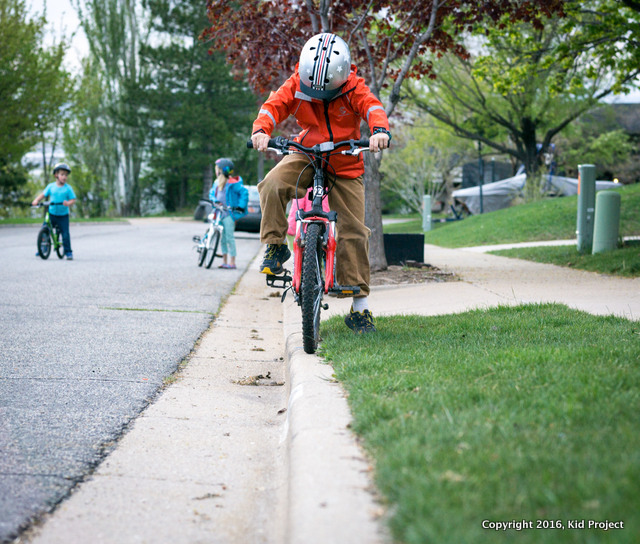 This sample was received for the purpose of review. All opinions are our real and honest experiences.